'Masters Of Sex' Has Been Abruptly Canceled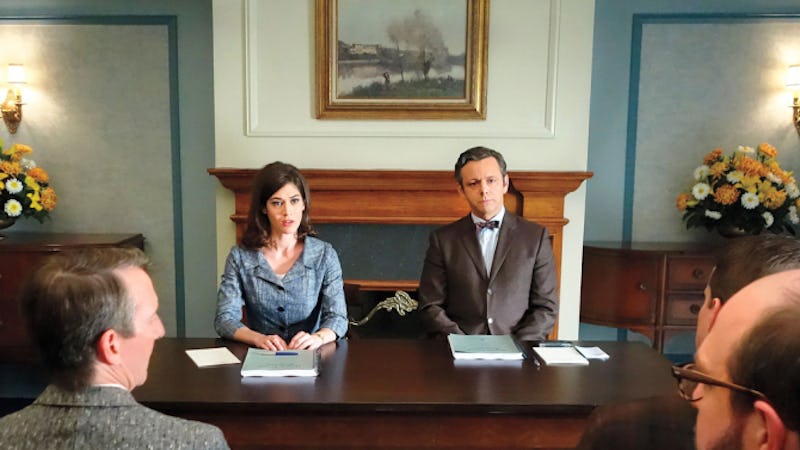 I hope you got your fill of the Showtime drama during its Season 4 finale, because Masters of Sex has been canceled, according to Deadline. It's a huge bummer, and one that I was personally blindsided by, because I was so excited to go into Season 5 seeing what a marriage between Bill Johnson and Virginia Masters would look like, after all the insane back-and-forth drama they went through to get to this point. Just weeks after fans watched as iconic, real-life sex researchers Johnson and Masters — played to perfection by Michael Sheen and Lizzy Caplan, respectively — exchanged long-awaited "I dos" in the finale, it was announced that Showtime elected not to renew Masters of Sex for Season 5. It's depressing, yes, but don't despair. A show this great, and at such a pivotal moment in its own story line, could quite easily get scooped up by a streaming network and given new life.
Maybe this is me being too optimistic, but cancellation could actually be a great thing for Masters of Sex. For one thing, it's been suspected for a couple weeks now that the period drama might get the axe, given that Showtime typically issues its renewals before a show's final episode. So that would've given any interested parties fair warning to start getting their ducks in a row and thinking about whether they might like to swoop in and save the day. It's a compelling notion, given the way that Masters of Sex has performed in the past; in their article announcing the cancellation, Deadline calls it a "modest ratings performer", and Variety puts Season 4 viewership in the "450,000 range" per episode. It might not sound great when compared with Showtime's big guns, Ray Donovan and Shameless, or the million viewers an episode that the show started out with in Season 1, but traditionally, streaming platforms don't need to pull those kinds of numbers in order to remain viable, and Masters of Sex could be the star on a service like Hulu or Amazon.
According to Deadline, Showtime has declined to comment thus far, but sources say that they felt the finale wedding was a good end to the story, and that's a large part of why they elected not to move forward. And while that makes sense to me, the fact remains that these are real people, and Masters of Sex is based on a real story, so there's plenty of potential for more plot left, right in the histories of these sex-research pioneers. You have a ready-made couple at a pivotal point in their lives, and years and years of real-life history to plumb for future seasons. All I'm saying is think about it — it's not over 'til the fat platform streams.
Images: Showtime; Giphy