The 'Sherlock' Season 4 Teaser Looks Super Dark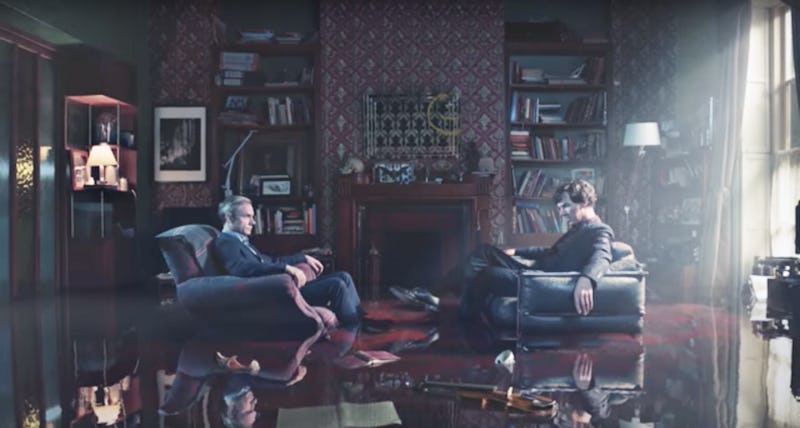 The fourth season of Sherlock premieres on New Years Day and from the looks of this new enigmatic preview, it's shaping up to be the most somber one yet. The latest Sherlock Season 4 teaser — "It's Not A Game Anymore" — takes its title from classic Sherlock phrase "The game is afoot." (Though to be fair, Molly already planted this idea in our heads when she said, "Christ's sake, Sherlock, it's not a game!" in the trailer released this past summer.)
For fans of the nefarious aspects of Sherlock, all this talk about things not being games, i.e. things getting serious, is good news. It's also a subtle hint that the evil and brilliant antagonist James Moriarty might come back to play. Regardless of whether or not that happens (please?), there's definitely a new villain in town ready to throw his non-deerstalker hat in the ring. I'm talking about the one and only Culverton Smith (as played by Toby Jones.)
Whichever villain decides to wreak havoc on the lives of Sherlock Holmes and his right-hand man Watson, one thing's certain: it's going to be a blood bath. So to speak. Actually, I don't really know if there will be blood, but, from the looks of this teaser, there will at least be water. Lots of water. That, or this is just a clever symbol and way to hint at all the ominous things to come. Just take a look at Sherlock's submerged violin. So disheartening.
Water can symbolize many a thing. Change. Renewal. Thirst. Flooding, on the other hand, points to some darker plot points. Sherlock and Watson struggling. The concept of drowning in one's own surroundings. Ruin. Decay. You see where this is going, and none of it is sunshine and rainbows. But, then again, who tunes into Sherlock for the sunshine and rainbows?
All of this darkness can be corroborated with executive producer Steven Moffat's own words. He described the plan for Season 4 as "devastating," when he dropped some hints about it backstage at the 66th Primetime Emmys. "We have a plan to top [Season 3] — and actually I do think our plan is devastating," he revealed. "We practically reduced our cast to tears by telling them the plan. Honestly, Mark [Gatiss] and myself are so excited with what we've got coming up, probably more excited than we've ever been about Sherlock... Honestly I think we can [top the last season]."
Plus take a look at these ominous Season 4 episode titles.
All right fine, no more ominous than "The Empty Hearse," but still. We don't know the titles of episodes three and four, but those, dear Watson, will probably be especially somber. Mark my words. Or just wait until Sherlock premieres January 1, 2017 to see it for yourself.
Images: Sherlock/YouTube