Kim K.'s Game Got A Makeover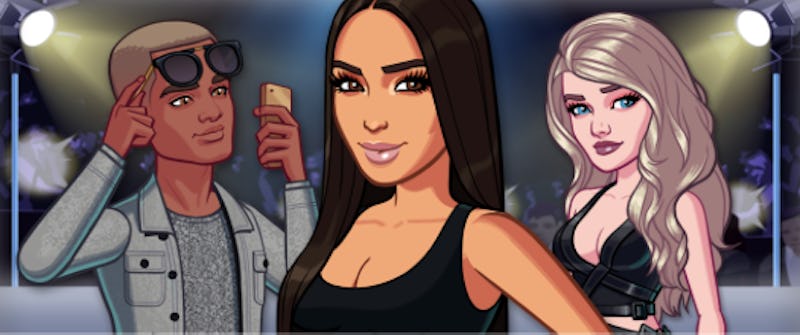 Just when you think you are doing a good job at keeping up with Kim Kardashian: Hollywood, the app that changed the mobile game game back in 2014 goes and changes its whole look. On Thursday, Kim Kardashian's iPhone game got a makeover. And Bible, it is all things gorge and mayj.
The app's facelift is evident right out the gate: the game's charming original step-and-repeat loading page has been replaced by a chic gold title and a gold-tinged backdrop. How do I feel about the renovated loading screen? Uh, it had me at "all gold everything." And much to my delight, all gold everything is now the whole game's aesthetic.
In addition to freshening up the app's look, the update also added some new gameplay features. Now, if you happen to be anything like me, when you read "big KK:H update," you can't help but worry about Simon Orsik. What if the update, I don't know, replaced your avatar's bumbling manager with a character who actually understands how to use modern day slang and modern day technology? Sure, all of that might help your avatar's career in the long run, but it would be such a bummer. You know deep down that KK:H would never do something like cut Simon Orsik; this game would feel incomplete without its luddite hero. And yet, you still fret. Well, I am pleased to report that Manager Simon continues to do his Manager Simon thing in the latest edition of KK:H. He isn't going anywhere. Rest easy, my fellow worrywart.
So what did change? The game added a few new ensembles to the Kim K. avatar's wardrobe, including Kardashian's 2016 MTV VMAs ensemble:
The update also reconfigured the player's customization menu, introduced a red carpet style competition element, and threw in the option to become a celebrity restauranteur. Oh, and — spoiler alert — you, er, your avatar will get to celebrate the holiday season with the Kim K. avatar in Vail, Colo.
Sleek, huh? As much as I love the original first page...
...ol' Magpie Rohwedder can't resist anything shiny.
Like I said, so gorge and mayj.
Images: Kim Kardashian: Hollywood/Glu Mobile Inc. (6)