What Porn Stars Really Think Of NSFW Pics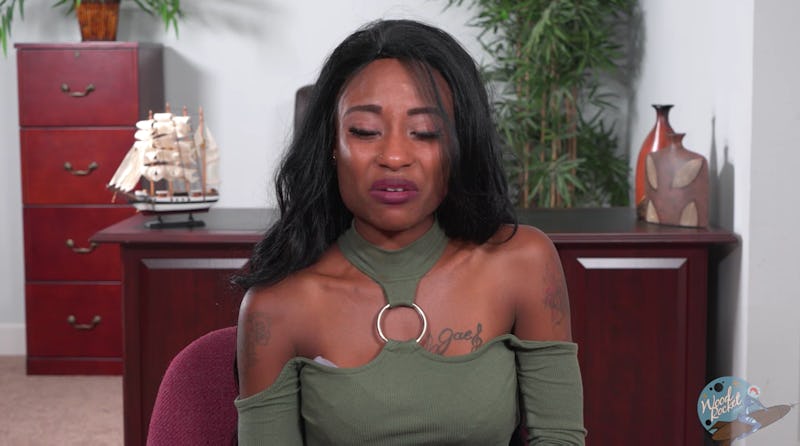 Ah the dick pic. This ubiquitous form of non-consensual sexting is the great equalizer. Both civilians and adult entertainers alike have received these explicit missives, and in a new WoodRocket video, we finally get to find out how porn stars react to dick pics.
Just as you might remember the first time you had sex, you also might remember the first time you opened your inbox only to find a penis, lying there in wait. Maybe you were waiting for a note from a friend, maybe you were hoping for a message from a hot paramour, or maybe you were expecting a sexy clothed selfie, but NO. You were awarded with an erect — or simply soft — member, peering at you with its thousand yard cyclops stare.
What happens next varies. Perhaps you screamed, laughed out loud, deleted the pic angrily, or took a screencapture to humiliate the sender across the interwebs. Hell, maybe you loved it and wrote back inviting the penis-owner over. Maybe you even responded with your own X-rated snap in kind. Everyone is different after all, and we are definitely entitled to our own unique responses to this pervasive phenomenon.
Here are just a few responses that seven different porn stars have had to receiving a dick pic:
1. "What do I need to see your dick for?" — Bella Doll
Why indeed, Bella?
2. "I have literally never asked for a dick pic" — Georgia Jones
In her 28 years of existence, Jones has never asked for a dick pic, even from dudes whose dicks she was interested in, so why would she want yours?
3. "I always wonder what the person's goal is" — Riley Reyes
Reyes gets more than her fair share of dick pics, and she always wonders what their purpose is. Are they from an exhibitionist, does the sender wanna bang, or does he maybe want to use the pic to get into the business?
4. "They like to send them to me to laugh at them and humiliate them." — Leya Falcon
Falcon says that some of her dick pics are from cuckold clients who want her to mock their insignificant members. At least both parties are clear about the dynamic!
5. "I've never been sent one where I wasn't like...what's wrong with it?!" — Veruca James
For some reason, James has never received a dick pick that didn't make her cringe at its curious abnormality.
6. "I never get dick pics with big dicks in them" — Dava Fox
Fox notes that she only gets small members in her inbox. Is it because those dudes don't get enough love on the regs due to size stigma?
7. "I literally love them!" — Anna Bell Peaks
A dick pic lover in a sea of haters, Peaks has received thousands of dick pics throughout her career, and has relished every single one of them.
Images: WoodRocket/YouTube