This Is What's In Sbux's Snickerdoodle Hot Cocoa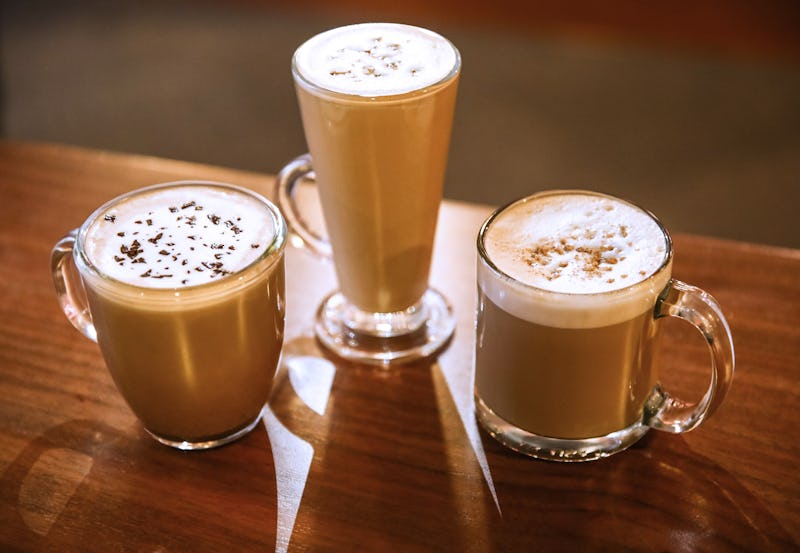 Out of all the drinks you can get at Starbucks, the hot cocoa beverages are my favorite — so when I heard that a snickerdoodle-themed cocoa drink had just been released, I flipped. You can probably guess what's in a Starbucks Snickerdoodle Hot Cocoa if you're familiar with the cookie itself; they're made with lots of cinnamon sugar, which means that there's a good chance this beverage version will be a creamy, spicy-sweet treat. Perfect for the holidays? I think so.
The Snickerdoodle Hot Cocoa is available starting today, Dec. 2, at participating Starbucks locations, adding to the Bux's growing menu of holiday drinks (check out all five) and four other hot chocolate beverages. Yes, that's right: Even as I'm typing this, there are probably Snickerdoodle Hot Cocoas being prepared in that Starbucks right around the corner. Just the thought of it makes me drool.
There's no specific end date for their seasonal drinks menu, but the press release notes that the Snickerdoodle Hot Cocoa will, like most of the other holiday beverages, be around "through the holidays." Starbucks usually starts packing 'em up after the New Year, which means I'm going to be jumping on the Snickerdoodle Hot Cocoa train, stat. Oh, and here's an added bonus: U.S. customers who order any Starbucks hot chocolate drink through Dec. 25 can also get a cake pop for only $1 extra. I'm a sucker for both hot chocolate and good deals, so this makes a new sweet treat even sweeter.
Although Starbucks hot cocoa drinks have more or less the same type of ingredients (milk, syrup, sweet sauce, whipped topping), the flavors of each individual drink are usually pretty unique. Here's exactly what you'll find in a Snickerdoodle Hot Cocoa:
Steamed Milk
Hot chocolate wouldn't be as creamy and frothy without milk, now, would it? Talk about milk and cookies!
White Chocolate Sauce
Do you hear that sound? That's the sound of me smacking my lips over this sweet, white chocolate-y goodness. (Although, fun fact: White chocolate isn't made from actual chocolate. Doesn't make it any less delicious!)
Cinnamon Dolce Syrup
Aaaand this is what makes a Snickerdoodle Hot Cocoa, well, taste like a snickerdoodle. This stuff is so good that people have tried to concoct their own "cinnamon dolce syrup" at home. Nothing beats the real thing, though!
Whipped Cream
The entire drink is topped with a heavenly cloud of light, airy whipped cream — along with, last but not least...
Cinnamon Sugar
...a snowy dusting of cinnamon sugar on top, because cinnamon-flavored syrup apparently isn't enough. Yum! A perfect touch to a Snickerdoodle Hot Cocoa.
Now, if you'll excuse me, I'm off to grab me some hot chocolate.
Images: Starbucks; Giphy (5)