Too Faced Sweet Peach Collection Is Coming Soon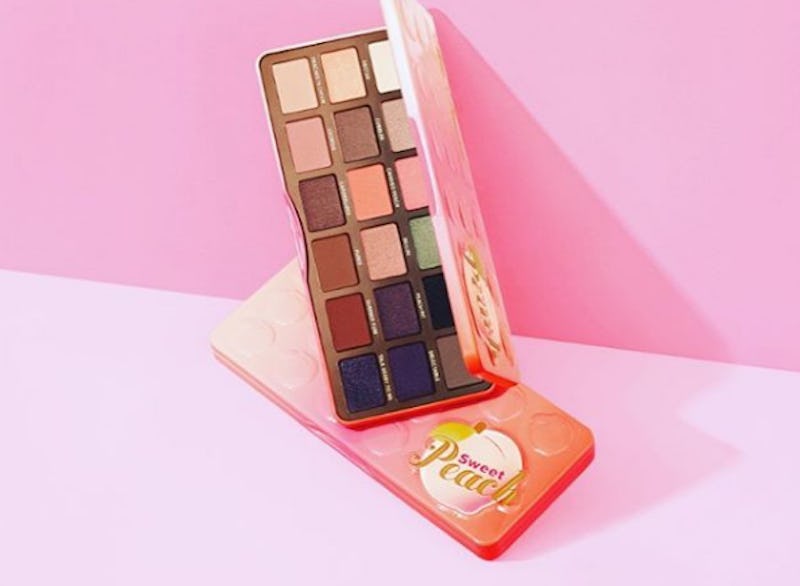 After teasing fans for months now, P-Day is almost here. Too Faced's Sweet Peach Collection is only the most anticipated launch of the season, and thankfully there's no too much longer to wait. In addition to the Sweet Peach Palette restock, there are several other products coming. When can you buy the entire Sweet Peach Collection? There's one date and time to remember, so get those wallets ready!
In case you've been living under a rock for the past year, let me break this launch down. The entire collection started with the Sweet Peach Palette, which, you guessed it, smells like peaches and was an instant bestseller. Now there are more items joining the fruity-smelling family — the Sweet Peach Glow Highlighting Palette, a collection of Sweet Peach Creamy Lip Oils, and the Papa Don't Peach Blush.
According to CEO of Too Faced and master of all sneak peeks Jerrod Blandino's Instagram, the entire Sweet Peach Collection launches on Dec. 14 at 12am EST.
So basically, as soon as the clock strikes midnight, you'll want to hop on the Too Faced site. Considering that the original eye palette sold out crazy fast on every single launch, something tells me that this collection won't be around for long either.
Sweet Peach Eyeshadow Collection, $49, Too Faced
The price of the Sweet Peach Palette will be the same $49 that it was from the beginning. However, the prices of the new products have yet to be released. If I had to guess, I would say that all the other products will be cheaper than the palette, but you just never know.
Either way, there's no doubt in my mind that every item will sell out. Just look at that gorgeous highlight and blush palette! Everything from the packaging to the product patterns is completely on point.
According to the Too Faced website, if you order your products on or before Dec. 16 at 11am EST, they're guaranteed to arrive before Christmas. That's two days after the collection launches, which means you could have these pretty little peachy finds sitting under your tree.
I don't know about you, but all of these items are on my holiday wish list! I'd mark those calendars and get your wallet ready, because there's only one shot to get these items before the holiday.
Images: JerrodBlandino/Instagram (1), Sara Tan/Bustle (3)