Here's How Soon To Order A Lip Kit For Christmas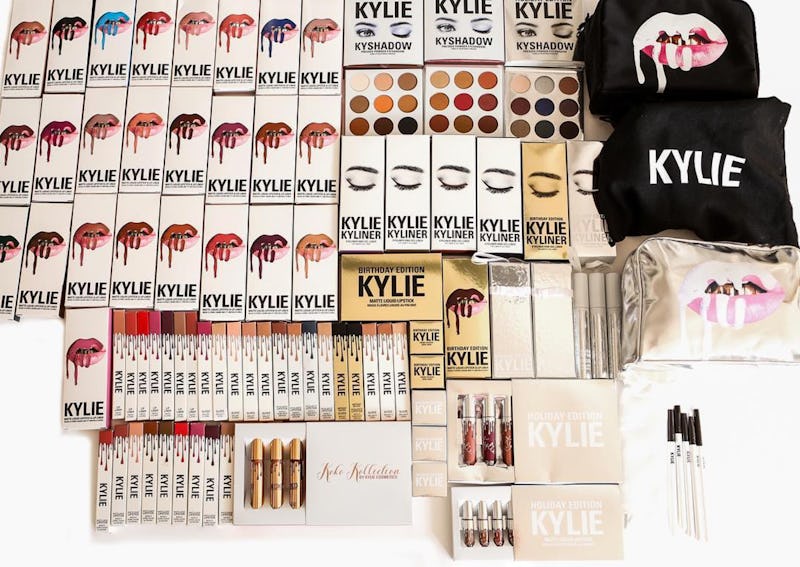 It's officially December, which means your holiday shopping has probably kicked into high gear. Makeup is always a fun gift — especially makeup that's entered the pop culture zeitgeist. So, how soon do you need to order a Kylie Cosmetics Lip Kit to get it by Christmas?
Well, Kylie Cosmetics' official stance on shipping as stated on their website is three to five business days to process the order, plus an additional three to six days for delivery in the US. If you're ordering internationally, that goes up to 10 to 15 days for delivery. Unfortunately for us holiday shoppers, the website also warns, "Please keep in mind that during holidays or limited edition launches, this time may vary."
So what does that all boil down to? If you're lucky and happen to live in the US, you should get your order in by Dec. 9th at the latest — that's 11 business days before the 23rd, which is the last business day before Christmas — if you absolutely need it by the big day. And even that's cutting it close, if the clause about holiday shipping taking slightly longer holds true. If you're international? Well... you probably should have submitted your order already — though it's definitely still worth a try!
UPDATE: Kylie Cosmetics confirmed via Instagram that today, December 14th, is the last day for US-based patrons to place their Christmas orders. So, if you happen to be located in the continental US, be sure to place your orders by midnight PST!
After all, with the Kylie Cosmetics 12 Days of Christmas event going on, there's more reason than ever to turn your gift shopping energies on to the brand. As of the writing of this article, the daily bonus is an adorable free gift bag promo — and there are still 10 more days of specials left.
What do you think? Will you be giving the gift of Kylie this year? There are definitely lots of fun gifting options, from your favorite Lip Kit shade, to the forthcoming phone cases and baseball caps soon to be offered in her online store.
When it comes right down to it, if you are thinking of gifting some of Kylie's wares, you should order your Christmas Lip Kit ASAP — because you never know what might happen, especially as things can fall through the cracks during the busy holiday season!
Images: kyliecosmetics/Instagram