Glossier's Gift Guide Has Some Great Deals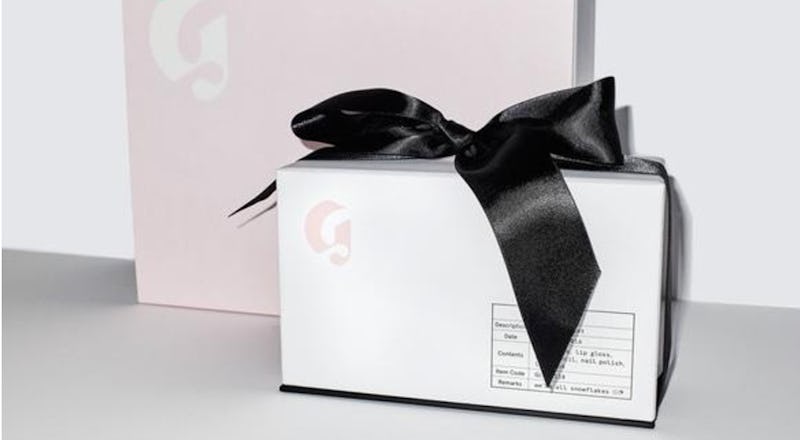 The holidays are basically one long episode of "Deal or No Deal" — choose wisely and you could win, but cash out too soon and risk regrets. If you've held out this long, one, congrats on your iron will, and two, get ready for Glossier's Gift Guide. The festival of deals went live today, with combos that drive a hard bargain on your fave no makeup-makeup. Free shipping kicks in at $30 dollars, so you know what that means — buy everything, quickly. For the shipping. What's in the Glossier Gift Guide? Walk with me.
Featured alongside the package deals we all know and love, like the Phase 1 set, the brand's released some holiday special-packages to snag, ranging from a master set of The Balm Dotcom to the every-base-covered Phase 1 + Black Tie Set. Fans of the brand can take advantage of the price cuts to stock up (always a smart idea, given Glossier's sell-out rate) but given the Gift Guide's package nature, it's also ideal for new-to-the-brand players.
Plus, a few of a the price tags might look familiar to pre-existing shoppers. The Black Tie Set is still $50 dollars, Phase 1 is still $80, and The Super Pack is still $65. These aren't new deals, but when you break it down there is a sale there, with the combo sets priced below what it'd cost to buy all the products individually. They're just the deals we've already gotten to know — no less worthwhile for it.
In newness news though, take a look at the super-sized Phase 1 + Black Tie Set combo.
Phase 1 + Black Tie Set, $100, Glossier.com
All of the goods are there, from skin-saving Milky Jelly to Haloscope in limited edition Moonstone. The Set is $100 dollars — a major deal, since the Phase 1 set is normally $80 and Black Tie typically costs $50.
Four Flavored Balm Dotcoms, $40, Glossier.com
Mint, rose, coconut, and cherry Balm Dotcom make up this guy, priced at $40 dollars for an $8 deal. Red-tinted Cherry is a standout, while Coconut is a vacation in a tube.
Mask Duo, $40, Glossier.com
The Mask Duo is also $40 dollars, with Glossier's OG Mega Greens Galaxy Pack and Moisturizing Moon Mask. If you're a recent convert, save $4 dollars with the set.
Glossier Phase 1 Set, $80, Glossier.com
Get a one-and-done skin routine with the standby Phase 1 set.
Phase 2 Set, $50, Glossier.com
And then amp things up with Glossier's customizable intro to makeup, the Phase 2 Set. Boy Brow borders on impossible to get a hold of, so this is one to grab.
The Super Pack, $65, Glossier.com
Ward off winter skin woes with The Super Pack, and enhance your vanity in the process. The packaging is beautiful.
The Black Tie Set, $50, Glossier.com
The Black Tie set has been covered to death by now, but everything's exclusive to the set and limited edition, so now's not the time for doubts.
Balm Dotcom, $12, Glossier.com
Balm Dotcom — send to any holiday shopping-stumped dad.
Glossier Sweatshirt, $60, Glossier.com
And the Glossier sweatshirt rounds out the guide for a snuggly-chic winter ahead of you.
Images: Courtesy Glossier