If The 'Ladies Of London' Had Taglines...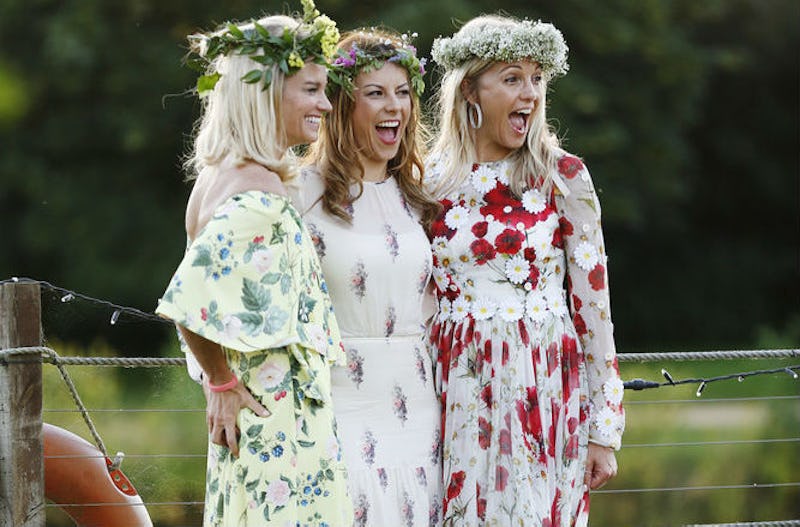 Have you ever wondered why Bravo's Real Housewives cast members are the only ones who get taglines? It doesn't seem fair, so that's why I've taken it upon myself to create Ladies of London taglines. When speaking with LoL star Juliet Angus, she gave me an idea for what her tagline might be, and it inspired me to make lines for the rest of the cast.
The series is basically Real Housewives, but it takes place across the pond in London, England. You might even say it's a spinoff of the most popular Bravo reality series. Though, it certainly stands out on its own and is even better than some of the Housewives franchises. Yes, it's true and I know some of you agree with me.
The seven Ladies of London women are worthy of a Real Housewives opening. Obviously, there are a ton of options for their taglines, so the following are just suggestions they could choose from. Here's hoping the Ladies of London stars appreciate the ones I've come up with. If not, they are more than welcome to come up with their own just like Angus did. I won't be offended — well, maybe a little bit.
And with that, here are the taglines that I've selected for each Lady of London. Admittedly, some of them came straight from the cast members' mouths, because they are just that witty.
1. Juliet Angus
While chatting with Bustle before the Season 3 premiere, Angus provided a tagline for herself and it's pretty fantastic: "My friends just gave me a birthday card that said, 'They say you are what you eat, I don't remember eating a f*cking legend.' I love that. I don't know if I'd ever say that on national television as my tagline, but I thought that was amazing." Raise your hand if you think she should totally say that on national television.
2. Caroline Stanbury
Caroline's tagline is actually something she says in the Season 3 trailer: "I'm not here for your amusement, you're here for mine." It doesn't get more perfect than that. It truly describes her to a T.
3. Marissa Hermer
As a lover of food and the founder of her own restaurants, including Top Dog (which has sadly closed), this just seems appropriate for Hermer: "My restaurant may have closed, but I'll always be top dog."
4. Caroline Fleming
Fleming didn't shy away from showing off her neat freak side in the Season 3 premiere when her son was eating a granola bar in her bed. She hates both crumbs and drama, so this tagline is perfect for Fleming: "If you get crumbs in my bed, I will make you clean them up."
5. Sophie Stanbury
Ever since she made her first appearance on Ladies of London, Sophie has been nothing but pure fun. I mean, just look at the above photo. So here is her tagline: "I'm the life of the party and don't you forget about it."
6. Julie Montagu
Like she said in the Season 3 trailer and premiere, "Kate Middleton has nothing on me." That's the only tagline that suits Montagu. Plus, her husband is the heir to the Earl of Sandwich.
7. Adela King
Finally, there is newbie Adela King. With a last name like that, it has to be incorporated into her tagline: "I may not have a title, but my name is basically royalty."
The Ladies of London now have taglines. You're welcome.
Image: Tristan Fewings/Bravo; Bravo (7)