These Essential Oil Hacks Are Game-Changing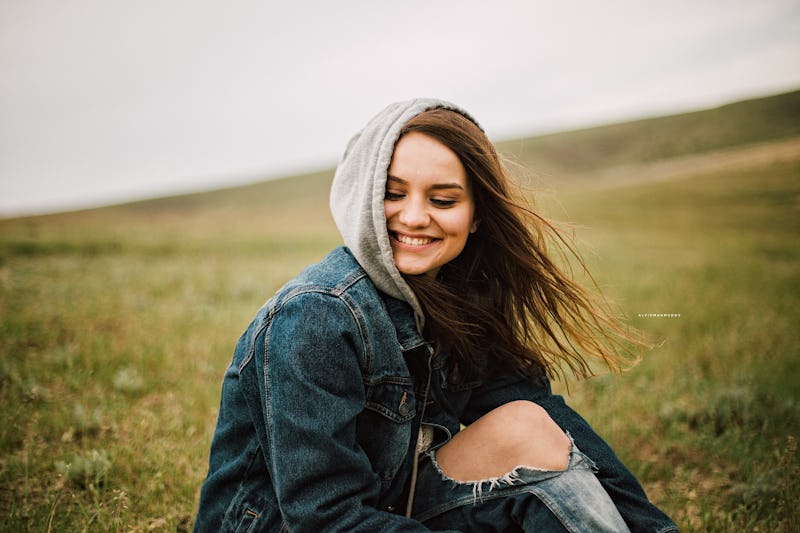 Essential oils are pretty amazing for aromatherapy. Add 'em to your bath or a diffuser and allow whatever scent you choose to help alter your mood. But those potent liquids are actually good for so much more than inhaling. There are tons of essential-oil, beauty recipes that can improve your skin and hair in addition to your outlook on life. So if you're into the idea of natural beauty hacks, you'll love all of the ways you can use essential oils to help address some skin and hair concerns.
To find out a little more about what exactly different essential oils can do in your beauty routine and how to use them, I emailed with Mary Delgado, Operations Manager of Art Naturals. While it's important to remember that you should never use an essential oil on its own, but instead mix it with a carrier oil or dilute it in another substance such as water or unscented lotion, incorporating one into your beauty regimen can help with a variety of concerns from acne, to dandruff, to even bruises and blisters. So you can naturally improve your skin and hair (and make yourself smell amazing in the process), here are 12 simple, essential-oil recipes to try:
1. For Acne
According to Delgado, tea tree oil helps with skin ailments and can even clear acne. So for a quick DIY face wash, she recommends mixing a couple drops of tea tree oil with raw honey (which has antibacterial properties), massaging it over your face or affected areas, and then thoroughly rinsing to make sure all residue has been cleaned off.
2. For Dandruff
For some added help treating dandruff, Delgado says to mix five drops of rosemary and lavender oil with three teaspoons of your favorite carrier oil (i.e. coconut, jojoba, argan, etc.). Massage this mixture into your scalp and leave it on for about 10 minutes before rinsing it out. Together, these three oils will help to moisturize and calm your scalp to help control flakes.
Art Naturals Jojoba Oil, $15, Amazon
3. For Tired Feet
Help revive tired feet by adding "a few drops of lemongrass or eucalyptus oil to a large bowl or tub of warm water," and giving them a nice soak, says Delgado. While lemongrass oil helps relieve muscle pain and kills bacteria, eucalyptus has antiseptic qualities to help heal minor wounds or infections.
4. For An Itchy Scalp
Itchy scalps are the worst. To calm your skin, try adding lavender oil which helps relieve irritation to your shampoo before you wash your hair, Delgado suggests.
5. For Thicker Hair
Hair falling a little flat? Rosemary oil can help stimulate hair growth, so Delgado recommends adding this essential oil to your favorite shampoo to naturally thicken your hair while you wash it.
6. For Sun Spots
To help fade sun or age spots, try dabbing a mixture of frankincense oil and your favorite carrier oil directly on any areas of concern, says Delgado. You can repeat this three times daily to help speed up the process.
7. For Eczema
Soothe irritated or itchy skin caused by eczema or psoriasis by applying a mixture of lavender oil and shea butter to any affected areas, recommends Delgado.
L'Occitane Pure Shea Butter, $42, Amazon
8. For Blisters
According to Delgado, you can help heal blistered skin by applying a mixture of equal parts tea tree oil and your favorite carrier oil three to five times per day.
9. For Bruises
You can relieve bruises, says Delgado, by soaking the affected area in four ounces of hot water that has five drops each of lavender and frankincense oil.
10. For Bug Bites
Lavender oil can also calm bug bites and stings, says Delgado. Try mixing it with a carrier oil and dabbing it onto any spots you may have.
11. For Burns
Stayed out in the sun too long or accidentally touched your curling iron while it was on? Lavender oil can help with that too. Delgado suggests mixing it with aloe vera and applying to minor burns to help calm and cool the skin.
Art Naturals Aloe Vera Gel for Face, Hair & Body, $14, Amazon
12. For Poison Ivy
If it's an itch rather than a burn that needs to be cooled and calmed, try applying a mix of three drops of peppermint oil and your favorite carrier oil to the affected areas, recommends Delgado.
Because those little vials of scented oils really do so much more than smell up a room.
Images: Pexels, Pexels, Unsplash, SnapwireSnaps, Pexels, caiquefotografias, Pexels, Pexels, Unsplash, edwardpye, cuncon, janeb13, Unsplash/Pixabay