A New 'Rogue One' Clip Focuses On Jyn & Cassian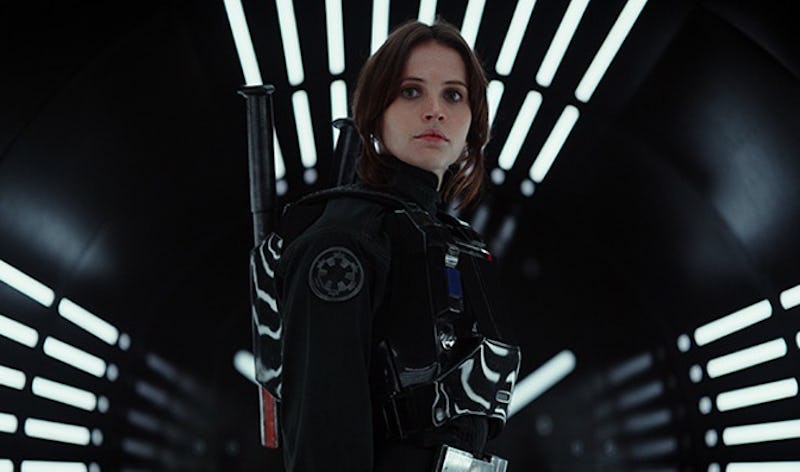 The time is almost nigh for Rogue One: A Star Wars Story to hit theaters and the excitement is practically at a fever pitch. Building the excitement even more, People magazine sat down with the cast of Rogue One to premiere a never-before-seen clip and participate in a Q&A, all streamed live on Twitter. While it was fun to get some juicy insights from the cast about what it was like during filming, what I was most excited to see was this elusive, exclusive clip. It was definitely a quick one, but the clip provided some key insight into the dynamic between Rogue One's primary heroic duo, Jyn Erso and Cassian Andor.
In the clip, Jyn, Cassian, and K-2SO are preparing to fly to the planet Jedha (presumably after they've been given their mission from Mon Mothma and before they assemble to the Rogue One team). As they buckle up, Cassian notices Jyn is holding a gun and immediately asks where she got it. She is a bit shifty and evasive at his question. It becomes clear that they don't quite know what to make of one another at that point in time. When she doesn't want to answer, Cassian looks at her pointedly because he's not quite sure whether or not it's a good thing that Jyn has a gun. After a beat, she simply says, "Trust goes both ways." Cassian returns to the pilot's chair, with K-2SO by his side. The straight-talking droid asks Cassian if he wants to know what are the odds that Jyn will shoot him (because this quick-thinking droid has definitely already calculated that possibility), but Cassian chooses to fire up the ship instead.
While it's always great to see characters working together once they've solidified their vibes and we, the viewers, can watch them work together seamlessly, there's something interesting in watching how those characters learn to trust one another. During the Q&A portion, Felicity Jones (who plays Jyn) noted that Jyn is like a wild animal at the beginning of Rogue One.
If that's the case, that not only is Cassian's initial suspicion justified in this clip, but watching that soften into something like a wary trustfulness makes for an interesting development in his partnership with Jyn. Likewise, seeing Jyn start off as a rough-around-the-edges heroine and morph into a leader who must learn to trust others (which begins within this scene) will only serve to make Rogue One all the more enjoyable to watch.
Image: Lucasfilm/Walt Disney Studios