10 Audiobooks For Your Holiday Travels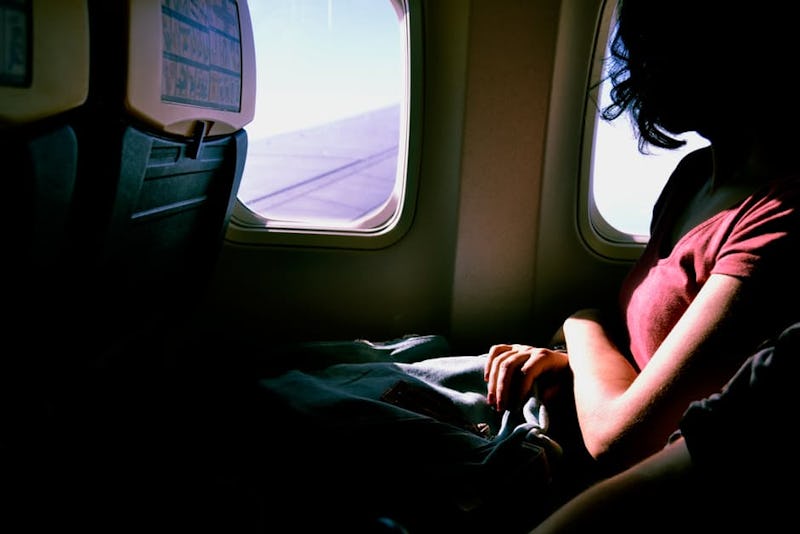 As the holiday season descends upon us, most people are beginning the month-long panic that is holiday shopping, holiday cooking, and holiday traveling. For many of us, the end of December means long hours spent in cars, trains, planes, and buses, headed home for excessive eating and strained small talk with second cousins. The only thing that can make the long trek home for the holidays even more magical is the perfect audiobook to be your traveling companion. So here are a few of the best audiobooks for your holiday travels.
Normal, non-audio-books are great and all, but when you're spending hours on a bumpy bus ride, you might find an auditory reading experience less nauseating. Audiobooks can entertain a whole carload of people at once. Or, alternatively, audiobooks can be piped directly into your ear holes so you don't have to listen to any of your family members and/or the lonely man sitting next to you on the plane who keeps trying to tell you his life story.
Plus, there are so many audiobooks to choose from: comedic memoirs, for when you need a reminder that other people's families are even more dysfunctional than yours, classics for a cozy trip back to your childhood, or epic fantasies for when you need to be transported far away from this smelly Greyhound bus. Take a look:
1. Holidays on Ice written and read by David Sedaris
David Sedaris is a master of the comedic essay, and this holiday-themed collection of fiction and non-fiction includes his famous Santaland Diaries, all about that one time that he worked as a disgruntled elf at Macy's Santaland. Plus, Holidays on Ice is narrated by the deeply hilarious Sedaris as well. Perfect for getting you in the snarky holiday spirit.
2. This Is How You Lose Her written and read by Junot Diaz
Struggling through a holiday break up? Trying to get out all those inconvenient feels before you arrive at grandma's house? Listen to This Is How You Lose Her, read by author Junot Diaz, and spend a cathartic train ride laughing and sobbing incoherently before you have to deal with your family's traditional holiday interrogation of your love life.
3. The Hitchhiker's Guide to the Galaxy: Primary Phase by Douglas Adams, read by Various
If you need a good dose of nonsense to distract from your endless bus ride, Douglas Adams is the man for you. This recording of his wonderfully absurd Hitchhiker's Guide to the Galaxy is actually a fully-produced audio play recorded for radio, complete with multiple actors, depressed androids, and lots of silly space sounds.
4. Song of Solomon written and read by Toni Morrison
Even if your trip home is barely over two hours, that's still plenty of time to listen to Toni Morrison's masterpiece, Song of Solomon. This is the story of a young man named Milkman Dead, blending history and myth together as he tries to make sense of his family tree (and nothing says "the holidays" like facing hard truths about your ancestors). And you just can't top hearing it read in the author's own voice.
5. The Bad Beginning by Lemony Snicket, read by Tim Curry and Various
For family car rides that include precocious young people, you can't go wrong with a recording of A Series of Unfortunate Events. I mean, it's Tim Curry. What more could you possible want out of life than the wit of Lemony Snicket as read by Tim Curry? This is a multi-voice recording too, with orchestral scoring and unfortunate sound effects.
6. Anne of Green Gables by Lucy Maud Montgomery, read by Rachel McAdams
Or, if you're looking for a less unfortunate, still kid-friendly book about orphans, you might want to consider Rachel McAdams' recording of Anne of Green Gables. McAdams is more than up to the job, and it's just a pure delight for anyone who needs a pick-me-up on a long, dark, cold trip. Anne (with an e) is a charming antidote to all things stressful.
7. The Golden Compass written and read by Philip Pullman and Various
If you want something that's fantastical and wintry and not necessarily Christmas-related, then you want The Golden Compass (sorry, Chronicles of Narnia). This recording is performed by the author himself as well as a full cast of actors. Listen to it and pretend you're riding a talking polar bear across the icy tundra instead of sitting in the car, three hours into this eight hour drive.
8. Modern Romance written and read by Aziz Ansari and Eric Klinenberg
For some, the holidays are a restful time to spend with family. For others, the holidays are just an extended game of trying to decide if you should text your crush or not. Listen to Aziz Ansari's Modern Romance on your travels, and you'll find yourself both laughing and actually thinking about the state of modern dating instead of agonizing over which emoji to send that person you're sort-of-but-not-really seeing.
9. What If? Serious Scientific Answers to Absurd Hypothetical Questions by Randall Munroe, read by Wil Wheaton
Maybe you'd like to use this travel time as an opportunity to learn something (or beef up on fun science facts to finally impress your cool uncle). If that's the case, check out Randall Munroe's hysterically educational What If? Munroe answers ridiculous questions with very real science. And it's read by Wil Wheaton, who played the annoying kid on the Star Trek with Patrick Stewart, but he's cool now.
10. A Game of Thrones by George R.R. Martin, read by Roy Dotrice
Look. Sometimes you just need thirty-three straight hours of knights and dragons and people's guts getting ripped out by swords (I mean, the dragons aren't really in it until book two, but you get it). Dotrice pronounces Petyr's name weird, but otherwise he's a terrific narrator. Forget being stuck in that airport for six hours and take a trip to the windswept kingdoms of Westeros instead.
Images: unsplash/pexels