'Moana' Is Gearing Up To Be The Next 'Frozen'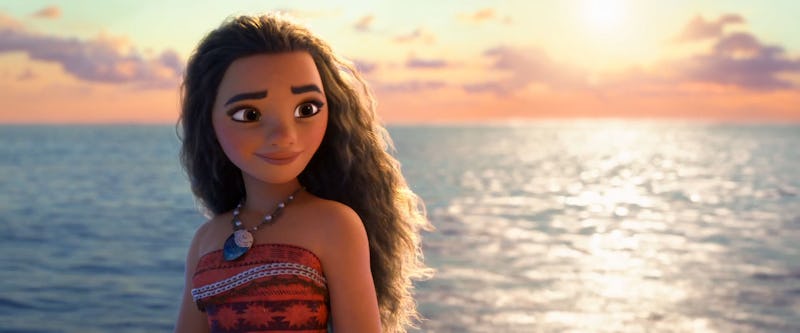 Whenever an animated film performs really well at the box office, the first few notes of "Let It Go" can be heard in the air. With the huge success of Disney's newest animated musical, it makes sense that people are wondering: Is Moana the next Frozen ? The comparisons are especially apt in this case. According to Forbes, Moana is the second-best performing Thanksgiving weekend film after — you guessed it — Frozen.
For those who haven't yet seen Moana, the film's titular character (voiced by Auli'i Cravalho) is a Polynesian girl who ventures out on a quest to save her island and find herself. Lin-Manuel Miranda wrote the film's music, and The Rock, Jemaine Clement, Nicole Scherzinger, and Alan Tudyk lend their voices to the other characters. Moana has received nearly universal praise, with Bustle's Casey Cipriani complimenting its "utterly incredible visuals and catchy songs," as well as its inspiring female protagonist.
But can Moana rival the cultural phenomenon that is Frozen? After all, Frozen has influenced everything from Halloween costumes to baby names, and it's Amazon's best-selling children's DVD of all time. While only time will tell if Moana becomes as much a part of the cultural zeitgeist as Frozen, it already shares a lot of similarities with its icy predecessor.
Both Dominated Thanksgiving Weekend & Then Stayed On Top
Moana has remained in the top box office spot for two weeks, beating out stiff competition in Fantastic Beasts and Where To Find Them. As Deadline reported, its Moana 's second week numbers are very close behind Frozen 's.
They're Disney Princess Stories That Don't Revolve Around A Prince
It's telling that both of these popular hits don't center on romance, the way traditional Disney princess stories do. While the movie has romantic elements, Frozen's critics at the time noted that it's more about the relationship between sisters Elsa and Anna than finding a husband. Moana eschews romance altogether, which many have cited as part of the reason the film feels so unique.
Their Songs Are YouTube Hits
Deadline also noted that Moana's social media and YouTube presence has been going exceptionally strong. Moana's songs have accumulated millions of views on YouTube, and it's hard not to think about the viral success of "Let It Go."
Again, it's too soon to tell if Moana will be as big as Frozen. From its early numbers, it seems likely that the film will be a slightly lesser success than Frozen, but still a massive hit.
Images: Disney; Giphy (3)