21 Books So Pretty You Don't Need To Wrap Them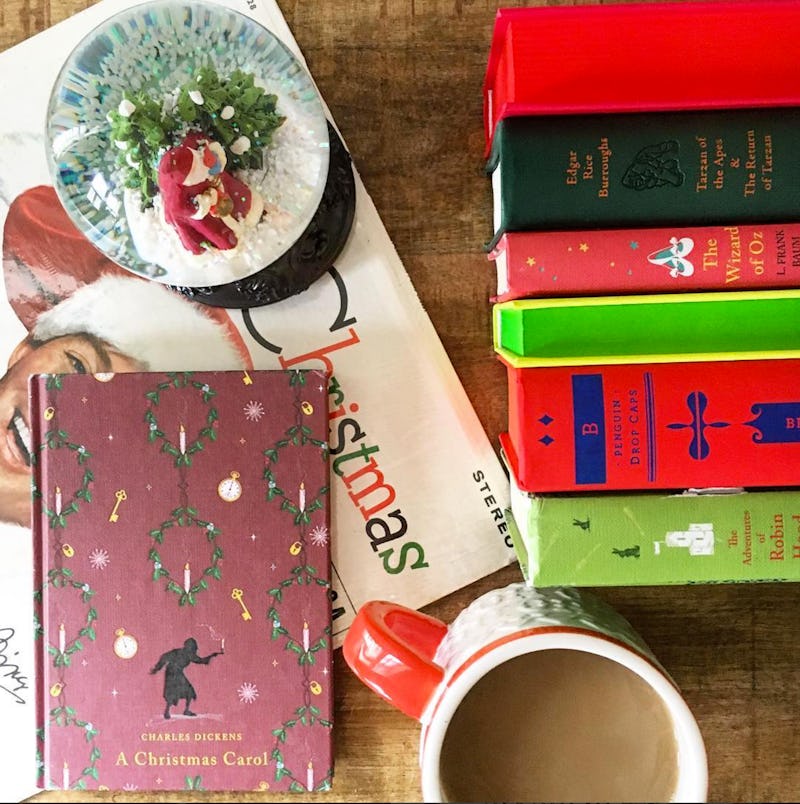 There are many reasons why books are the greatest Christmas gifts. They're timeless. They never run out: you can read them again and again. You can personalize them with loving inscriptions to make them extra special. They're much easier to wrap than a jug or a football. But here's the best part: you don't even have to wrap them at all.
There's a reason people still love to own physical books even when e-books are so convenient. It's the same reason we love to display them on bookshelves around our homes, and why bookish Instagram accounts are so fiendishly popular, and why Christmas trees made of books are taking over. It's simple: books are beautiful.
From their spines to their covers to their deckled edges, books are bound to be the prettiest things sitting under your Christmas tree this December — so why would you want to cover all of that up with some dollar-store wrapping paper? I vote we all leave our bookish gifts unwrapped this year — and then sit back and enjoy the smiles of joy on our loved ones faces when they come down in the morning to find their gorgeous gifts. And to give you some ideas, I've been browsing the bookstores to find 21 of the most breathtaking around.
1. A Christmas Carol by Charles Dickens
You can't get much more festive than A Christmas Carol, and this beautiful illustrated edition has been specially designed to resemble the first edition (without the jaw-dropping price tag for a collector's original).
A Christmas Carol , $14.99, Amazon
2. The Thousandth Floor by Katharine McGee
Katharine McGee's novel may be set 100 years into the future, but this glittering Great Gatsby-esque cover is timeless.
The Thousandth Floor, $11.31, Amazon
3. The Bees by Laline Paull
Not only is the most intriguing premise for a book ever (it's like The Handmaid's Tale but all the characters are bees), it's also the most beautiful cover. Those colors! Those flowers! That subtle beehive pattern!
The Bees , $9.99, Amazon
4. The Wrath and the Dawn by Renee Ahdieh
This tantalizing cover makes me want to turn the front page at once to learn more about the mysterious girl lurking behind it. You may just want to hang this colorful book instead of baubles all over your tree; that's how gorgeous it is.
The Wrath and the Dawn , $9.28, Amazon
5. Under Rose-Tainted Skies by Louise Gornall
Under Rose-Tainted Skies is due to be released at the beginning of January, but this blush-pink cover is too good not to include. Even just handing a print-out of this cover to your loved one will brighten their Christmas morning, and they'll be counting down the days until you can deliver them the real deal.
Under Rose-Tainted Skies , $11.42, Amazon
6. Landline by Rainbow Rowell
I adore the simple, retro feel of the hardcover edition of Rainbow Rowell's Landline. Rowell is the YA author who turns everything she touches to gold, and Landline is the magical tale of a telephone time machine.
Landline, $12.10, Amazon
7. Written in the Stars by Aisha Saeed
It would be alarmingly easy to accidentally stare at this book cover for the whole of Christmas day and forget to eat any mince pies. That swirling font might be the first thing to catch your eye, then you get lost in the intricate patterns around the corner, before diving deep into the skyline silhouetted against that starry sky.
Written in the Stars, $7.44, Amazon
8. My True Love Gave to Me by Stephanie Perkins
Twelve of your favorite YA authors have contributed festive stories to this gorgeous anthology, including Rainbow Rowell and Jenny Han. The cover is lovely at first glance — but it gets even better the more you read, and you find that each illustration matches a character from one of the stories.
My True Love Gave to Me , $7.84, Amazon
9. When the Doves Disappeared by Sofi Oksanen
The hardback and paperback editions of this book are both gorgeous, but it's the hardcover, with its muted color scheme and surreal image, that's particularly won my heart.
When the Doves Disappeared , $18, The Book Depository
10. A Constellation of Vital Phenomena by Anthony Marra
This book garnered a lot of attention when it was released — but I feel like it's time to give that cover some love. That unique font disappearing into a foggy background just screams Christmas — even though I should warn you, this is not a jolly holiday novel.
A Constellation of Vital Phenomena , $10.42, Amazon
11. All That Followed by Gabriel Urza
I can't tell what's lovelier about this cover: that pretty lavender sky, or the Spanish scenery glimpsed beneath it. Inside, is a crime novel with a twist: we already know what happened, but have no idea why...
All That Followed , $19.88, Amazon
12. Trace by Lauret Savoy
The cover for Lauret Savoy's book manages to be at once simplistic and intricate — making it one of the most striking covers I've seen all year. And it's just as beautiful on the inside as well: this is science written as poetry, and a powerful exploration of the history left in traces all over American land.
Trace , $16.95, Amazon
13. Krik? Krak? by Edwidge Danticat
My favorite thing about this gorgeous image is that the author herself appears on the book cover, showing just how personal these stories of Haitian women really are.
Krik? Krak? , $2.50, Amazon
14. Unbecoming by Rebecca Scherm
This soft focus cover will blend in perfectly with the Christmas lights wrapped around your tree — and if you squint, it almost looks like snow!
Unbecoming , $4.98, Abe Books
15. Snow by Uri Shulevitz
Snow may be a children's book, but this cover will be beloved by children and adults alike this festive season. (It's also a delightfully charming story, so I won't blame you for becoming totally engrossed even if you technically bought it for your niece.)
Snow , $7.99, Amazon
16. The Mother by Yvvette Edwards
There's something about this haunting cover that makes it almost impossible to look away. It's a tragic novel, but the cover is comforting, even cosy — hinting that there's more to this novel than just sadness. Somewhere, wrapped up in a yellow jumper, you'll find survival.
The Mother , $13.21, Amazon
17. The Stargazer's Sister by Carrie Brown
Feast your eyes on this! If you start looking on the left, it almost looks like one of those classic books you had to read in high school — but suddenly, that image is ripped away to reveal a world of stars beneath. And how great is that title font as well?!
The Stargazer's Sister , $16, Amazon
18. The Children's Home by Charles Lambert
This is a cover that tells a story — but you'll have to read the book to work out what that story is. From the second your loved one lays their eyes on this book under the tree, they'll be hooked: no wrapping paper necessary.
The Children's Home , $16.32, Amazon
19. Rebel of the Sands by Alwyn Hamilton
Just one glimpse at this cover, and it's like you're falling straight into the story. That blue and gold color scheme is out of this world, and if you stare at it for too long, you'll swear that the horse is actually moving — galloping towards that silhouetted palace in the distance.
Rebel of the Sands , $11.16, Amazon
20. Three Dark Crowns by Kendare Blake
This YA novel has a fun twist: there are three different covers to choose from. The story is about three sisters who have to compete to win the title of Queen. Each cover represents a different sister, and the different magical power she possesses.
Three Dark Crowns , $7, The Book Depository
21. Christmas Days by Jeanette Winterson
And to finish off, a new-release book that already looks set to become a Christmas classic. This collection of Jeanette Winterson's brilliant Christmas short stories are bound in a gorgeous, glinting, icy cover. It would be a crime to put wrapping paper anywhere near this beauty.
Christmas Days , $20, Amazon
Image: the.blonde.bookworm/Instagram