This MUA Covered Her Entire Face In Glitter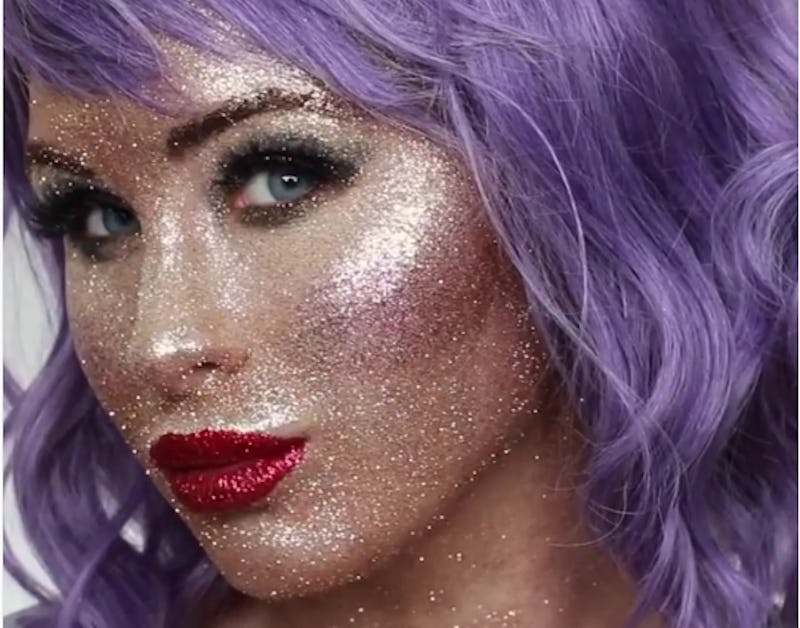 Are you looking for a fun makeup look to stand out during the holiday party circuit this December? Well, makeup artist Katie Butt's glitter face tutorial might just be what you're after. This look guarantees you'll sparkle like a disco ball, helping you outshine your own sequined dress.
In Butt's Instagram video, she coats her entire face and neck with glitter products to create a makeup tutorial that radiates at a 1000 watts. To start with, she uses her makeup brushes to add the glitter equivalent of foundation, dabbing on a creamy, silvery sparkle all over her face. Then, being a true makeup aficionado, Butt sweeps on the glitter version of contour shadow in the hallow of her cheeks and highlighter across her apples and down her nose, then swiftly moving on to fill in her eyebrows with brown glitter and lips with bright red sparkle. She tops off the look by creating a smoky eye using two different tones of grey and black, ending up with a look that definitely gives her a strong glow.
When you first watch the video, you might come to the assumption that she raided her local craft store and dabbed glitter glue all over her face. But in reality, she actually used highly pigmented sparkle makeup.
The first brand she used was Glitter Tubes, which is a company that brings you any shade of sparkle you can think of in loose glitter, pressed shimmer that looks like an eyeshadow palette, and foil flakes. She specifically used them for her allover foundation, blush, and lips.
The second brand she used was Glitter Injections, which is a highly pigmented, mad sparkly makeup company, offering amazing shimmer shades of bronzers and highlighters, glitter lip gloss, pressed palettes, and actual glitter injections which are just loose shimmer powder. She used their makeup specifically for her bronzer, highlighter, contour, brow, and shadow.
If you want a more subdued version of this look, Refiner 29 suggested using your own shimmery makeup palettes to create a more creamy, subtle shine. You'll still look like a disco ball — make no mistake of that — but the glitter will look more like a glow rather than a craft project. "Another option is to get a set like the new Pat McGrath Metalmorphosis 005 kit, which includes cream and metallic pigments you can use all over your face," Refinery 29 wrote.
Whichever way you decide to take it, the end result will definitely be showstopping. It's the holiday season, so it's the perfect time to get a little bold — or really, really bold with your makeup.
Images: @katieelizabethbutt/ Instagram