5 Gifts For WOC Transitioning To Natural Hair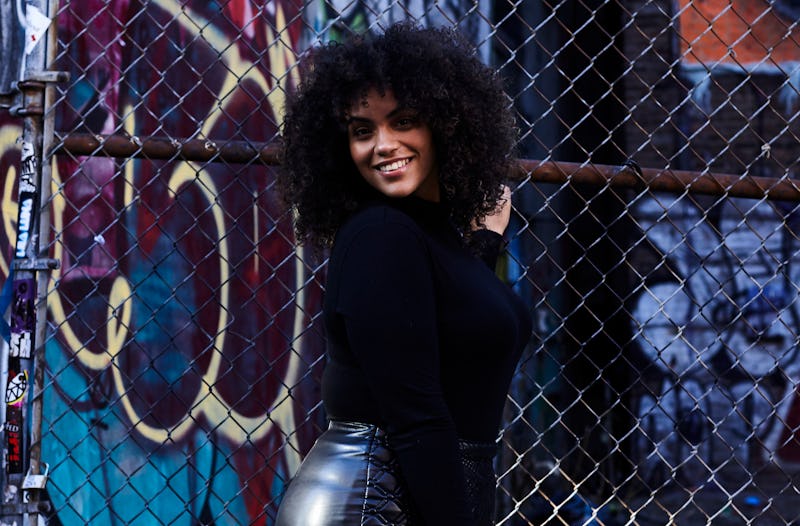 If you've ever decided to make the leap, and transition to natural hair, you know that sometimes the struggle is real. I'm talking making an attempt to do a wash and go, and still have straight pieces in the mix. I'm talking trying to figure out what hairstyles make sense for the current inconsistent state of affairs that is your hair right now.
I totally get how difficult it is to stick it out to try and maintain your length, without having to resort to the completely life-changing "big chop." Been there, done that. The process is not always enjoyable, especially since you're learning the ins and outs of what makes your hair unique, but transitioning will make for healthier hair overall, as well as a stronger bond between you and your mane.
Transitioning from chemically treated hair to a natural style can often help you reconnect with your roots — literally. If you have a friend who's transitioning to the natural side right in the midst of the holiday season and have no idea what to gift her with, you're about to feel completely #blessed. I've rounded up a few gift ideas that will help her on her journey to finding ultimate hair nirvana.
1. A Journal
Rifle Paper Co. Shanghai Garden Everyday Journal, $15, riflepaperco.com
It may seem old fashioned, but a journal can be a great way for your friend to jot down ideas/goals/hair care recipes, and to have them at easy access. If she doesn't seem quite like the writing type, you could always recommend a good hair app.
2. A Trip to the Hair Salon
Devachan Salon, varying prices, devacurl.com/salon.html
For us naturalistas, a trip to the hair salon doesn't necessarily mean all your hair is about to disappear. There are plenty of salons, like Devachan, which specialize in helping you achieve maximum curl potential. Trust me, she'll love you for it.
3. Curl Enhancing Products
Shea Moisture Curl Enhancing Smoothie, $6.99, walmart.com
If your friend is transitioning to natural, she's going to need all of the essentials, which definitely includes a good curl conditioner or two.
4. An Instant Camera
Fujifilm Instax Mini 8 Blue Camera, $59.95, target.com
More often than not, people who go through a hair transition like to document the way their hair changes. An instant camera is a quick way to take hair inventory — plus they're super cute.
5. Hair Diffuser
Bed Head Curlipops Tourmaline Ionic Diffuser Dryer, $29.99, ulta.com
One of the best ways to dry natural hair, maintain curls, and avoid frizz is with a handy dandy curl diffuser. It's the gift that keeps on giving!
With these key curl tools, your friend will have less stress when it comes to maintaining her hair, and style that even Instagram beauty bloggers will envy. Total bounce factor.
Images: Bustle; Courtesy of Brands; Getty Images