Kid Uses 'Harry Potter' As A Reason To Miss Class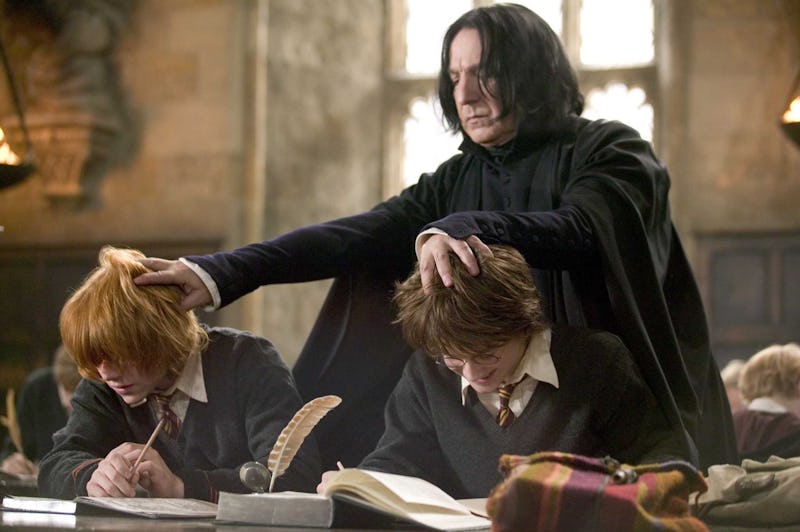 I've put a lot of thought into wondering just how the Harry Potter generation will parent their children, given that most of our world views were profoundly affected by the Potterverse. But while we will no doubt preach the lessons of tolerance and bravery that J.K. Rowling instilled in us with our own kids, we will also, apparently, be baller AF, if this mom who used Harry Potter as an excuse of absence for her kid is any indication. The image of the note was shared by the lucky kid's aunt on Reddit, and has since gone viral as a model for parenting heard round the Muggle world.
CaptainOutstanding shared on Reddit that their nephew, a fourth grader, missed three days of class to go to the Wizarding World of Harry Potter (which, by the way, I deeply resent as I sit here in freezing cold, decidedly un-wizard Manhattan). While his mother cleared it with the school in advance, a string of absences triggers the delivery of an "attendance behavior improvement plan," which is where the Coolest Mom of 2016 comes in. Under reasons for absence, she wrote, "Student was learning defense against the dark arts," and elaborated on absence improvement: "No concern anymore. Student passed his O.W.L.s and his N.E.W.T.s."
Um, can this woman adopt me? (Just kidding, my own mother dutifully took us to approximately one thousand Harry Potter midnight releases and enters the Friday Forty every week and is a champion among Muggle mothers so I TAKE IT BACK.) May we all aspire to be as dedicated to fandom as this Redditor's sister and our own poor bedraggled parents who, bless their hearts, still have all the pieces to our OG Gryffindor costumes from 1999.
In any case, there has never been a reason quite more worthy of missing school than this (well, except for "Death Eaters took over all the professorial positions and Voldemort is running amok," but I digress). Undoubtedly this youngster will be among the many of us enjoying the Barnes and Noble Harry Potter Magical Holiday Ball that's taking place in stores nationwide on Dec. 9 at 7 p.m. I'll see all you cool cats there — and in the meantime, if you need any more inspo on Harry Potter tourist attractions to put on your radar, check out the travel episode of Bustle's Harry Potter podcast, "The Girls Who Lived."
If anybody needs me, I'm going to be apparating out of work and telling everyone I have very important matters to attend to at the Ministry of Magic, thank you very much. My fellow Hufflepuffs need me!
Images: Warner Bros. Entertainment