21 Brilliant Stocking Stuffers For Beauty Lovers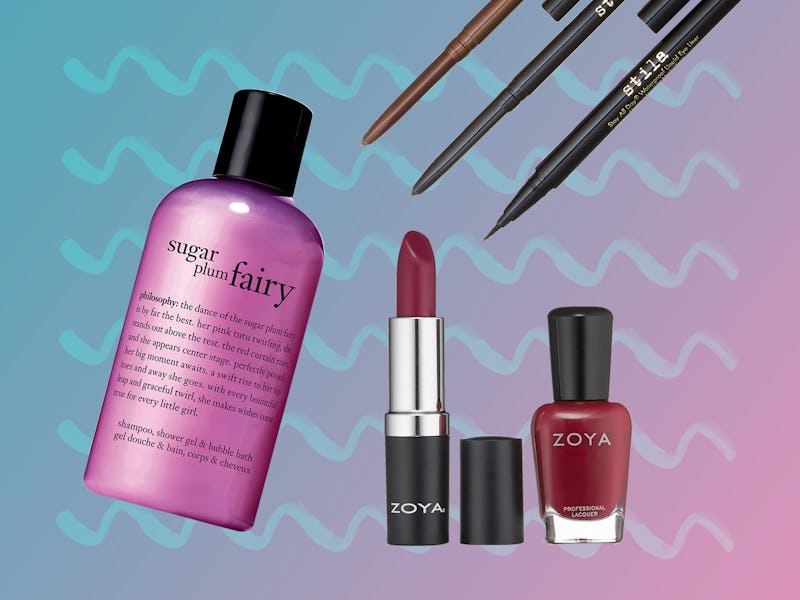 Let's be honest: of all the presents you can buy for the holidays, stocking stuffers are the most fun. They typically don't cost all that much, you can have lots of fun picking them out, and there are so many possible combos depending on the personality type of the recipient. My personal favorite? All those little beauty stocking stuffers, like playful lipstick sets or miniature bottles of a favorite perfume.
If you have a friend or loved one who can't get enough of those makeup minis, hairspray spritzers, fragrance samplers, and skin care sets, look no further than this guide to all the greatest products this holiday season has to offer. From trios of liquid lipstick to miniature heat tools to heavenly skin care combos, retailers like Sephora, Amazon, Macy's, and ULTA have all got some seriously fantastic gifts that your lucky receiver will fall in love with well into the new year.
Even if you don't do the whole "stockings" tradition, you can still combine some of these little winners into a personalized set that's perfect for whoever you're buying for, from the casual makeup fan to the total aficionado who religiously reads every beauty blog on the planet.
1. This Trio Of Bold, Beautiful Lip Colors That Last All Day
Stila Bright And Bold Stay All Day Liquid Lipstick Set, $20, Amazon
Lavender pink, true red, and raspberry pink make up this set of three beautiful lip hues, all delivered in Stila's famous liquid lipstick formula that ensure a colorful look all day long.
2. A Game-Changing Mini Straightening Brush
PrettyQueen Ceramic Iron Straightening Brush, $33, Amazon
This brilliant straightening brush heats between 212 and 446 degrees, making it a quick way to smooth hair with just a quick glide from roots to ends. Plus, it's got one of our favorite features that all heat tools should have: auto shut-off. After 30 minutes, it automatically turns itself off, so you'll never have to worry again about whether you accidentally left your straightener on. If you're more in search of a full-size straightening brush, these five options are perfect to choose from.
3. Seven Fragrance Favorites With A Special Bonus Surprise
Sephora Favorite Perfume Travel Sampler, $25, Sephora
Buying perfume for another person is tough, but if you give them lots of choices, it's actually an amazing gift. On top of including testers for seven of Sephora's bestselling fragrances — Chloé Eau de Parfum, Elizabeth and James Nirvana Black, and Marc Jacobs Mod Noir, just to name a few — this sampler also features a "scent certificate," so your recipient can take it to Sephora and receive a rollar ball of their favorite from the bunch.
4. A Dynamic Duo Of Lip And Nail Hues
ZOYA Nail Polish Bundle Lip & Tips Duo, $11, Amazon
A pretty pair of ZOYA's famed polish and lipstick make up this cute, wallet-friendly pick.
5. A Trendy Hair Care Set From Celebrity Stylist Jen Atkin
Ouai Ouai To Travel Set, $32, Sephora
This hair care combo consists of three picks from stylist to the stars Jet Atkin's famous Ouai hair care line, as well as a bronze clip from her collaboration with Chloe + Isabel and a travel case. From personal experience, I can tell you that the Ouai Wave Spray smells incredible — I've never gotten so many compliments on a product worn exclusively in my hair.
6. A Skincare Match Made In Heaven
Too Cool For School Egg-ssential Skincare Set, $39, Sephora
Whether your complexion is dry, oily, or even sensitive, this set of skin care essentials is perfect for making it look its most radiant. Featuring Too Cool For School's famous Egg Cream sheet mask, as well as Egg Mousse Soap, Egg Mellow Cream, and a pore cleansing brush, this collection utilizes egg whites to nourish skin and control oil production. Plus, these cute sizes make each product perfect for popping in a stocking.
7. A Mini Flat Iron For Portable Use
Rechargeable Mini Cordless Flat Iron, $36, Amazon
If your receiver can't go a day without straightening their hair, gift them this perfectly portable miniature flat iron that's cordless, meaning it can be used sans plug anywhere you go. If this feature seems appealing but the thought of accidentally turning it on in your bag scares you, don't worry — there's a safe lock button that prevents it from being switched on, and even when it's unlocked, it automatically shuts off after 30 minutes of disuse. And for full-size flat irons, check out this roundup of the best-reviewed picks on the market.
8. A Sparkly Trio Of Glitz For The Holidays
Julep Special Edition Nail Polish Set, $30, Amazon
If the person you're picking up gifts for is obsessed with sparkles, look no further than this simple and shimmery set of nail polishes. Rose gold, gold, and silver glitter lacquers let them shine bright like a diamond all year round.
9. Two Famous MAC Lip Colors Plus A Luscious Mascara
MAC Nutcracker Red Retro Matte Kit, $27, Macy's
If you know someone who's a hardcore MAC Cosmetics lover, get 'em this set that features the brand's famous Red Retro shade, a mascara that lifts lashes, and a cute carrying bag.
10. The Perfect Set Of Lip Balm With SPF
Jack Black The Balm Squad Gift Set, $25, Nordstrom
With each of these balms touting SPF 25, these are a great pick to soothe and protect lips all year long. The set features four flavors: Natural Mint & Shea Butter, Lemon & Shea Butter, Black Cherry & Pomegranate, and Shea Butter & Vitamin E.
11. A Triple Liner Combo Pack For Eye Makeup Fanatics
Stila Morning To Moonlight Waterproof Eyeliner Trio, $35, Amazon
With two pencil liners that can be worn straight or smudged, as well as Stila's famous Stay All Day Waterproof Liquid Eyeliner, this set of three has got your eyes totally covered in the classic liner department.
12. A Beautiful Set Of Lip And Nail Colors
NARS Sarah Moon Thousand Worlds Lip & Nail Set, $49, Nordstrom
Featuring two minis of NARS' famous lipstick (Codie and Eva) and two mini polishes (La Dame en Blanc and La Dame en Noir), this chic set has got your receiver covered for a nude or red mani paired with a pink or berry lip.
13. A Collection Of Essential Brushes With Luxuriously Soft Bristles
All That Glitters Brush Set, $58, ULTA
An aspiring makeup pro can always use more brushes, so get your fave beauty lover this set of five brushes all wrapped up in a beautiful carrying case. With brushes for powder, foundation, concealer, eyeshadow, and liner, it's got everything they'll need for a complete look.
14. A Delightful Duet Of Holiday Body Care
Philosophy Sugar Plum Fairy Set, $27, Macy's
On top of being all wrapped up in a pretty package, this duo of Philosophy shower gel and body lotion comes in a deliciously sweet Sugar Plum scent. Bonus: the shower gel can also be used as bubble bath or shampoo, too!
15. This Nourishing Set Specially Made For Curly Tresses
Madam C.J. Walker Beauty Culture Curls On The Go, $28, Sephora
For that curly-haired loved one in your life, snag this travel set that features curl defining milk, curl refresher mist, and coconut oil for healthy curls. Bonus: these essentials are cruelty-free and organic, making the set an excellent choice for environmentally conscious recipients.
16. A Pair Of Mini Beauty Blenders For Flawless Concealer
Beauty Blender Micro Mini Sponge, $18 for two, Amazon
For the makeup pro who has it all, snag this set of fun Beauty Blender minis that allows for easy blending in those small spots, like under the eyes, around the nose, and at the arch of the brow.
17. This Funky Toothpaste Sampler Featuring 7 Flavors
Marvis Toothpaste Flavor Collection Gift Set, $36 for seven, Amazon
If you're looking for a seriously unique bunch of stocking stuffers, look no further than this funky set of seven flavored toothpastes — some with more, ahem, unique flavors than others, like Amarelli Licorice and Ginger Mint. The cute, vintage-inspired packaging makes them even more perfect for gifting.
18. An Offering Of Six Different Brands' Bestsellers
Sephora Favorites Give Me Some Bold Lip, $28, Sephora
This grouping of shades both dark and bright is a brilliant present for your friend who absolutely loves experimenting with new hues and formulas. With picks like Kat Von D's Everlasting Liquid Lipstick in Damned and Bite Beauty's Matte Crème Lip Crayon in Aubergine, this is collection's got something for everyone (and then some).
19. A Simple, Chic Lip Balm In A Cool Container
Kiyoko Kiyoko Lip Balm, $15, Trouva
Not only does this subtle balm soften chapped, dry winter lips, it comes in beautifully simple packaging.
20. Four Rose-Based Skin Care Picks That Make Skin Dewy And Glowing
Korres The Best Of Korres, $65, Sephora
Featuring famed beauty brand Korres' Greek Yoghurt Foaming Cleanser, Pomegranate Balancing Cream-Gel Moisturiser, Wild Rose Advanced Brightening Sleeping Facial, and Wild Rose Vitamin C Active Brightening Oil, this set supplies all the right products for an obsessive skin care lover.
21. When In Doubt, Snag A Gift Card
Sephora Gift Card, $10 - $250, Sephora
Hey, if you're not quite sugar what to get your fave beauty lover, just get 'em a gift card so they can choose exactly what they want from Sephora.
Bustle may receive a portion of sales from products purchased from this article, which was created independently from Bustle's editorial and sales departments.
Images: Amazon (8), Sephora (7), Macy's (2), Nordstrom (2), ULTA (1), Trouva (1).