How To Enjoy The Holidays Alone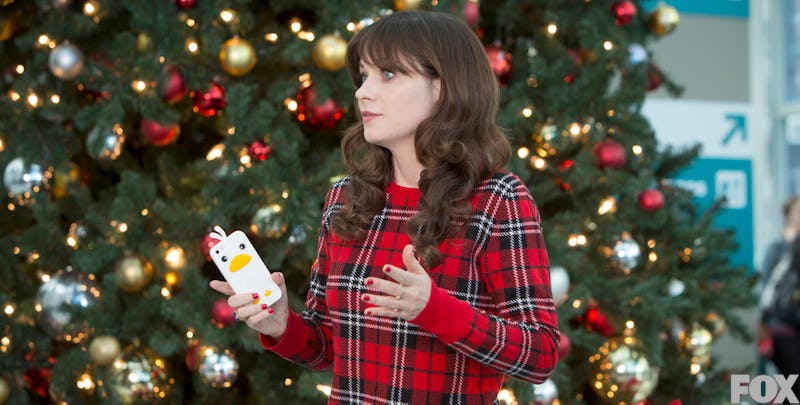 Whatever the case — whether you're spending the holidays solo by circumstance or by choice, there's no reason to put a gloomy spin on the experience. Spending time with yourself can be incredibly rewarding! And, plus, you don't have to worry about the hassle of presents, family drama, or undesirable travel circumstances. Spending the holidays alone can actually be the greatest gift you give yourself if you do it right.
And by "right," I mean create your own traditions, do your own thing, and don't try to hide from the fact that the rest of the country is celebrating a holiday. You're celebrating too, and just because you're alone doesn't mean your celebration is any less special. Think about it this way: while all of your friends are busy holding their tongues as their extended families try to talk about politics, you're ensured a politics-free holiday without and distant, relatives to burden you with their opinions. Plus, you don't have to answer anyone's questions about your professional and personal life— major bonus.
So basically, if you're spending the holidays alone, this year in particular, you're already winning. You have an advantage that can't be threatened by much. Here are eleven ways to spend the holiday alone and have a great time:
Go For A Winter Hike
Bundle up and go out for a long and challenging hike! You'll feel amazingly beat by the time you make it back home. Just make sure that you tell a few people where you're going and when you're hiking to be safe — and never exert yourself more than you're able!
Volunteer
There are plenty of organizations that you can volunteer for! Check out your local listings and help make dinners for the homeless or bring gifts to children in hospitals.
Get Out Of Town
Hop on a bus, a train, or a plane, and take yourself on a solo trip. Just because it's a holiday doesn't mean you need to stay at home. Check out a place you've been meaning to visit, try out a new city, or spend a day in the countryside. Get out there!
Cook A Feast
Just because you're alone, doesn't mean you can't have a feast. Cook your own, and make it whatever you want! Make as many sides as you please and eat in your underwear on the kitchen counter or in a ball gown on the couch. This is your solo holiday, you get to make up the rules. And don't even think about touching the dishes until the next day.
Have Bake-Off
Have your own in-home baking challenge with yourself! Pick something that sounds hard to make, and learn how to master it. Have a cake breakfast and a pie dinner and learn more about the art of baking. You've got a lot of room for trial and error — plus, I'm sure it'll all be delicious.
Get Zen
Take the day to mediate and do some yoga. Light candles, burn incense, get your home feeling as cozy and inspired as possible and spend the day unwinding and unplugging.
DIY Spa Day
OK, so real spas will probably be closed, but that doesn't mean you can't make your own spa day. Do your nails, make a homemade mask, do a hair oil treatment, whatever — just spend the day pampering yourself.
Explore
With most people home with their families or out of town, your area will probably be pretty deserted. Take this opportunity to explore and check out all the buildings, you'll have the city to yourself! It will be pretty magical.
Marathon A Show
Pick a show that you've been too overwhelmed to get into, bundle up, order some food and have a marathon-viewing. There's no shame, spend the whole day on the couch if you want!
Get A Hobby
Before hobby stores close down for the holidays, head over to your local craft store and pick out something that you've been meaning to try. Whether it's knitting, painting, or ceramics, get the materials you'll need to spend the holiday having a major craft day. It'll be something to look forward to, especially if you get your supplies far in advance.
Home Makeover
Have you always wanted to move things around in your apartment but never had the time or energy? Use the holidays to play around with your space. Get rid of things you don't need, move your furniture around, paint the walls, hang up a new picture, shake things up!
Images: Fox, Giphy (11)