How Much Are ColourPop's Days Of The Week Lippies?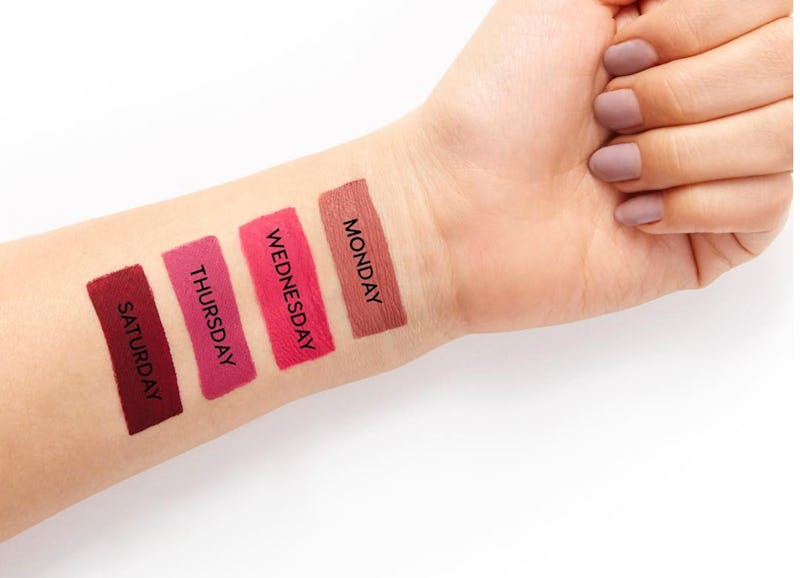 These kinds of articles usually have a straightforward answer, but not so with ColourPop's Days of the Week Lippies. These guys are a special circumstance, in that they're completely free. Strings attached, but for those those stroking their chins, wondering: How much are ColourPop's Days of the Week Lippies? Think of it like the best gift with purchase ever (and it's ending at midnight tonight, so the pressure's on).
The Days of the Week lipsticks are free with tiered purchase, functioning as the purest incentive ever. Spending $10 on ColourPop will get you one, $25 two, $40 three, and $50 will get you all four free (although "free" equals $50, technically). It doesn't make a huge amount of sense that they get more expensive as you spend more — it breaks down to $10 for the first, $15 for the second, $15 for the third, and $10 for the fourth — but if you're already planning on buying some ColourPop for the holiday season, look at it like four totally bonus lipsticks. As ColourPop's lipsticks tend to top out at $6, they're more than a typical tube would cost you, but if you're buying two, again, totally free! It all depends how you look at it. Justify.
Conveniently, the four lipsticks are also very definitively hued — no in-betweener shades, of the kind we all own 18 of, so deciding between them is easy. Monday is a pinky nude, Wednesday a hot fuchsia, Thursday is a violet grape, and Saturday is, appropriately, a deep wine.
Tuesday, Friday, and Sunday don't exist in the ColourPop universe, and they won't hear otherwise.
Or, pure hopeful speculation, maybe it means we'll be seeing the missing days in a similar future promotion. The good times never end in ColourPop land, so why not? I'm hoping for a black Sunday. True to life.
Image: Colourpopcosmetics/Instagram