Here's One Way To Join The Mile High Club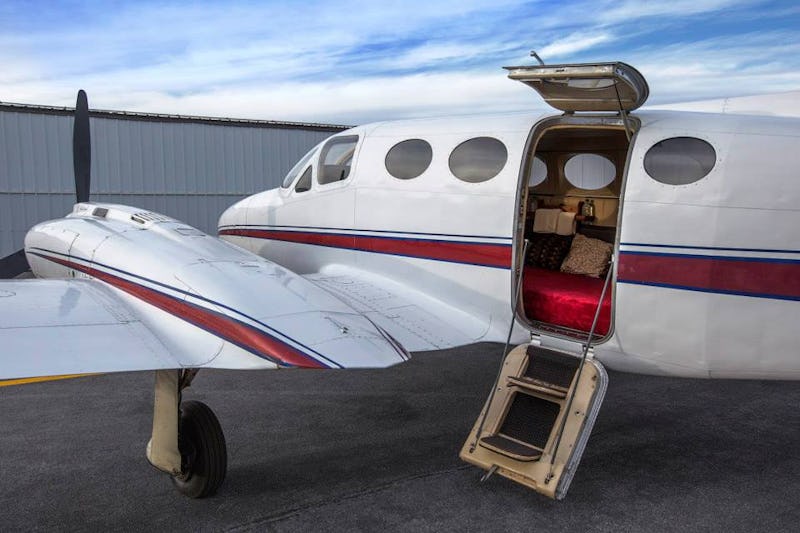 Apparently services that facilitate hooking up in unusual places is a thing now, because hot on the heels of the Hook-Up Truck, we've got its airborne equivalent: Love Cloud. If you've been longing to join the Mile High Club, but reeeeeeeeally didn't want to do it in a skeezy airplane lavatory, Love Cloud will get the job done and then some.
According to its website, Love Cloud is "an exclusive and professional aircraft sightseeing concierge company that is located in Las Vegas, Nevada." You can either book it for a daytime or nighttime flight; the daytime tour flies over the Red Rock Canyon, Hoover Dam, Lake Meade, and the Vegas strip, while the nighttime one pretty much just lets you witnesses how much light pollution the strip causes from way up high. But odds are you won't actually be taking in the sights while you're up there, because the whole purpose of Love Cloud is to provide you a comfortable and private place in which to get it on thousands of miles in the air. For the curious, here's what the inside of the plane looks like:
Rawr.
Said company founder Andy Johnson recently to Las Vegas Weekly, "I want it to be romantic… One of those bucket-list things that you did that you will never forget for the rest of your life." A wireless JBL system lets passengers set the mood with customizable light and music settings; like the Hook-Up Truck, condoms and lube are provided, and you can even add chocolate roses, and limo rides to the package if that floats your proverbial boat. Oh, and if you're worried about sanitation issues, don't — Love Cloud has that covered, too. A we-mean-business cleaning service scrubs the cabin from top to bottom with enough cleaning products to zap any germs in their tracks; all sheets, pillowcases, and towels are changed as well (thank goodness).
I'm not sure how expensive flights can get, as the listing for the Wedding Package asks that you call or email for pricing; they start at $799 for 40 minutes, though, so use that as your baseline and go from there. Happy flying!
Images: Love Cloud Vegas/Facebook