14 Holiday Quotes From Your Favorite Books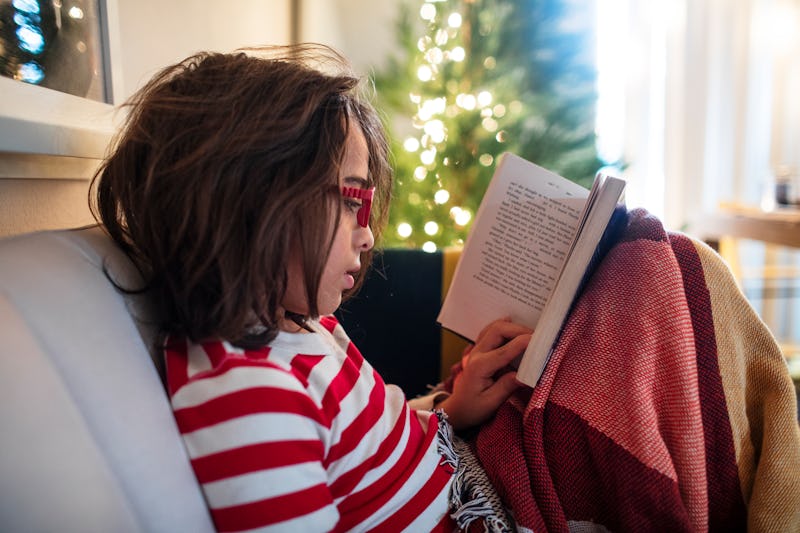 Cavan Images/Cavan/Getty Images
Is it just me, or do we enter some kind of space-time singularity at the end of November that causes the days to pass by more quickly? It seems like it was just Halloween, but now everyone's walking around with hats and gloves and putting pine trees inside their houses. The official Holiday Season is upon us, so it's time to start manufacturing some feeling of good will towards men. Here are a few holiday quotes from your favorite books, to help you get into that merry and bright kind of mood.
December is the perfect month for snuggling up with a good book and a hot beverage of your choice... but let's be real. December is busy. December is often so busy, in fact, we barely have time to enjoy all that snuggly winter reading, because we're busy buying presents and attending holiday parties and trying to avoid bringing up politics in front of our aunts. The holidays come and go in a blur of pie and tinsel. Try as we might, we don't always have time to reread all the best, most holiday-themed bits in our favorite novels. Sometimes you have to make do with a few meager literary quotes instead. So here are a few of those meager quotes, for just a pinch of holiday feels:
1. The rooms were very still while the pages were softly turned and the winter sunshine crept in to touch the bright heads and serious faces with a Christmas greeting.
–Louisa May Alcott, Little Women
2. "One can never have enough socks," said Dumbledore. "Another Christmas has come and gone and I didn't get a single pair. People will insist on giving me books."
― J.K. Rowling, Harry Potter and the Sorcerer's Stone
3. Then the Grinch thought of something he hadn't before! What if Christmas, he thought, doesn't come from a store. What if Christmas…perhaps…means a little bit more!
–Dr. Seuss, How the Grinch Stole Christmas!
4. It was the beginning of the greatest Christmas ever. Little food. No presents. But there was a snowman in their basement.
–Markus Zusak, The Book Thief
5. This, after all, was the month in which families began tightening and closing and sealing; from Thanksgiving to the New Year, everybody's world contracted, day by day, into the microcosmic single festive household, each with its own rituals and obsessions, rules and dreams. You didn't feel you could call people. They didn't feel they could phone you. How does one cry for help from these seasonal prisons?
― Zadie Smith, On Beauty
6. A lovely thing about Christmas is that it's compulsory, like a thunderstorm, and we all go through it together.
–Garrison Keillor, Leaving Home
7. At the name of Aslan each one of the children felt something jump in it's inside. Edmund felt a sensation of mysterious horror. Peter felt suddenly brave and adventurous. Susan felt as if some delicious smell or some delightful strain of music had just floated by her. And Lucy got the feeling you have when you wake up in the morning and realize that it is the beginning of the holidays or the beginning of Summer.
― C.S. Lewis, The Lion, the Witch, and the Wardrobe
8. We were standing near the Lollipop Forest when we realized that Santa is an anagram of Satan... Overhearing the customers we would substitute the Satan for the world Santa.
― David Sedaris, Holidays on Ice
9. Oh, the mystery of a great tree, a prisoner in a tin wash bucket in a tenement front room!
― Betty Smith, A Tree Grows in Brooklyn
10. I felt overstuffed and dull and disappointed, the way I always do the day after Christmas, as if whatever it was the pine boughs and the candles and the silver and gilt-ribboned presents and the birch-log fires and the Christmas turkey and the carols at the piano promised never came to pass.
― Sylvia Plath, The Bell Jar
11. After all, the best part of a holiday is perhaps not so much to be resting yourself, as to see all the other fellows busy working.
― Kenneth Grahame, The Wind in the Willows
12. "And don't forget the presents," said the Chair of Indefinite Studies, as if reading off some internal list of gloom. "How...how full of potential they seem in all that paper, how pregnant with possibilities...and then you open them and basically the wrapping paper was more interesting and you have to say 'How thoughtful, that will come in handy.' It's not better to give than to receive, in my opinion, it's just less embarrassing."
― Terry Pratchett, Hogfather
13. The holiday season is a time for storytelling, and whether you are hearing the story of a candelabra staying lit for more than a week, or a baby born in a barn without proper medical supervision, these stories often feature miracles. Miracles are like pimples, because once you start looking for them you find more than you ever dreamed you'd see, and this holiday story features any number of miracles, depending on your point of view.
― Lemony Snicket, The Lump of Coal
14. He went to the church, and walked about the streets, and watched the people hurrying to and for, and patted the children on the head, and questioned beggars, and looked down into the kitchens of homes, and up to the windows, and found that everything could yield him pleasure. He had never dreamed of any walk, that anything, could give him so much happiness.
― Charles Dickens, A Christmas Carol
Images: Cavan Images/Cavan/Getty Images, Giphy (14)