WGA Noms Mean Good Things For 'Stranger Things'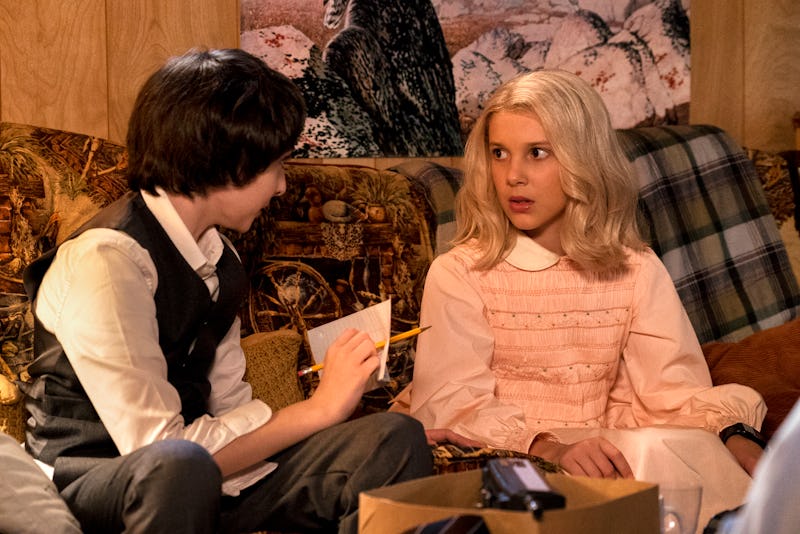 In the run-up to the 89th annual Academy Awards, it's easy to get caught up in the film awards season and trying to guess which film is going to land the coveted Best Picture trophy — and forget that there's another art form Hollywood is in the middle of honoring. But the Writers Guild of America Awards nominations, announced on Monday, are here to remind us that entertainment on the small screen is worth celebrating as well. And the nominations are very good news indeed for fans of Game Of Thrones, Westworld, and Stranger Things — and their WGA nominations could affect the Golden Globes.
Each of those three much-hyped series earned two noms from the WGA, including honors in the top category, Best Drama Series. The HBO fantasy series followed that up with a specific nod for the script of its finale, "The Winds Of Winter," and the HBO sci-fi series and the Netflix horror show both also earned slots in the Best New Series category, alongside two FX comedies (Atlanta and Better Things) as well as NBC's This Is Us, the biggest hit of the fall TV season. Those two freshman series took the places of 2015 Best Drama nominees Mad Men (which ended its run last year) and Mr. Robot (whose second season failed to score a repeat nom). The Drama field is rounded off by Game Of Thrones' fellow holdovers The Americans and Better Call Saul.
On the funnier side of things, four out of last year's five nominees repeated in the Best Comedy category — Silicon Valley, Transparent, Unbreakable Kimmy Schmidt, and the winner, Veep — with only Comedy Central's Broad City failing to return, instead being replaced by the aforementioned freshman series Atlanta. Other popular shows to grab nominations include ABC's American Crime (for Long Form Original), HBO's The Night Of, and FX's The People v. O.J. Simpson: American Crime Story (both for Long Form Adapted).
So what does this mean? Well, for one thing, it's striking to see that three out of the five shows vying for Best Drama are genre shows — fantasy, sci-fi, horror — aka anything other than straight dramas. It's unusual for such "niche" programming to get so much awards attention, even when those programs are critically acclaimed; FOX's Fringe, BBC America's Orphan Black, A&E's Bates Motel, and even HBO's sci-fi tinged The Leftovers have all struggled in recent years to earn the attention they deserve. In fact, WGA hasn't nominated a single genre show other than Game Of Thrones for its top prize since Lost in 2009. So to see that HBO series joined by not just one but two more genre shows this year shows an encouraging willingness on the WGA's part to explore outside of their comfort zone and expand their definition of what "Drama" means.
It also means good things for these shows when it comes to the next major TV awards ceremony: the Golden Globes. All three shows already have sufficiently high profiles, given the level of intense buzz that surrounded each of their most recent seasons; but these WGA nods definitely gave them an added level of prestige that will be necessary going into that ceremony. Of course, it doesn't guarantee that all three will make the cut when the Golden Globe nominations are announced next Monday. In fact, last year the Best Drama field only matched up between the two ceremonies two for five: Game Of Thrones and Mr. Robot (which won the Golden Globe), while WGA nominees The Americans, Better Call Saul, and even the winner, Mad Men, (for its final season no less) were passed over by the Hollywood Foreign Press Association in favor of FOX's Empire, Netflix's Narcos and Starz's Outlander.
So while neither Stranger Things nor Westworld are shoo-ins at the Golden Globes, their WGA nominations this Monday certainly can't hurt — and are hopefully indicative of a wider trend in Hollywood of admitting that popular, genre-based television is just as worth celebrating as its more traditional brethren.
Here are all the WGA nominees in the major categories:
Best Drama Series
The Americans (FX)
Better Call Saul (AMC)
Game Of Thrones (HBO)
Stranger Things (Netflix)
Westworld (HBO)
Best Comedy Series
Atlanta (FX)
Silicon Valley (HBO)
Transparent (Amazon)
Unbreakable Kimmy Schmidt (Netflix)
Veep (HBO)
Best New Series
Atlanta (FX)
Better Things (FX)
Stranger Things (Netflix)
This Is Us (NBC)
Westworld (HBO)
Best Long Form Original
American Crime (ABC)
Confirmation (HBO)
Harley And The Davidsons (Discovery)
Surviving Compton (Lifetime)
Best Long Form Adapted
11.22.63 (Hulu)
Madoff (ABC)
The Night Of (HBO)
The People v. O.J. Simpson: American Crime Story (FX)
Roots (History)
Best Episodic Drama
Better Call Saul — "Gloves Off"
Better Call Saul — "Klick"
Better Call Saul — "Switch"
Game Of Thrones — "The Winds Of Winter"
Shameless — "I Am A Storm"
This Is Us — "The Trip"
Best Episodic Comedy
Atlanta — "Streets On Lock"
One Mississippi — "Pilot"
Son Of Zorn — "A Taste Of Zephyria"
Speechless — "R-A-Y-C-Ray-Cation"
Unbreakable Kimmy Schmidt — "Kimmy Finds Her Mom!"
Unbreakable Kimmy Schmidt — "Kimmy Goes On A Playdate!"
The winners will be announced on Sunday, Feb. 19.
Images: Curtis Baker/Netflix; John P. Johnson, Helen Sloan/HBO