Rihanna's Velvet Puma Creepers Drop At This Time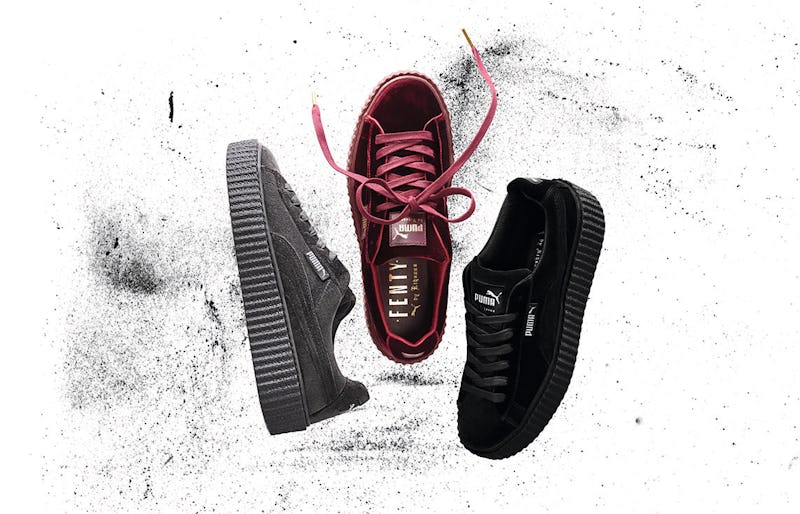 It's time to program a reminder into your phone or whatever calendar you use to keep track of your schedule, appointments, and stuff to do. The velvet version of the Rihanna Puma Creepers lands on Thursday, Dec. 8. The sneakers come in three colorways: wine, charcoal gray, and black. The velvet fabric is certainly a luxe upgrade for the kicks, which won Shoe of the Year honors. The Creepers are super cool, thanks to their chunky, platform sole. Now that they come in a new fabric, they have an expensive, chic look and will offer an upgrade that any athleisure ensemble. The silhouette is also majorly popular, as every drop sells out and usually within 30 minutes.
Because the Creepers are now being offered in a brand new texture, I expect this footwear to go faster than usual. What time do the velvet Rihanna Puma Creepers go on sale?
Shop the RihannaxPuma Velvet Creepers at Puma.com.
You need to be online at 10 a.m. ET/7 a.m. PT to shop for a pair of these fancy sneakers. That's the time that previous Creeper drops have happened so the brand is nothing if not consistent. Open a browser to the Puma site at that exact time and get ready.
Below is the screen grab of the on-sale time from the Puma site.
This trio marks final Creeper drop of 2016.
They are officially called "Cement," "Burgundy," and "Black." All three are totally fab.
All black, all awesome.
Gray all day... so slay!
Seriously, isn't the red pair super chic?
I recommend creating a Puma account in advance if you have not already, so all your shipping and shopping info is saved. That way, you won't waste precious seconds typing it in when checking out and potentially losing your place in line and/or your pair of sneakers.
Good luck shopping the velvet Rihanna Puma Creepers on Thursday, Dec. 8. The magic number is 10, as in 10 a.m. Be there or be… without a really cool and chic pair of sneaks.
Images: Courtesy of Puma (2); Puma/Instagram (1); Puma Sport Style/Instagram (3)