Concealer Tricks That Will Hide Your Dark Circles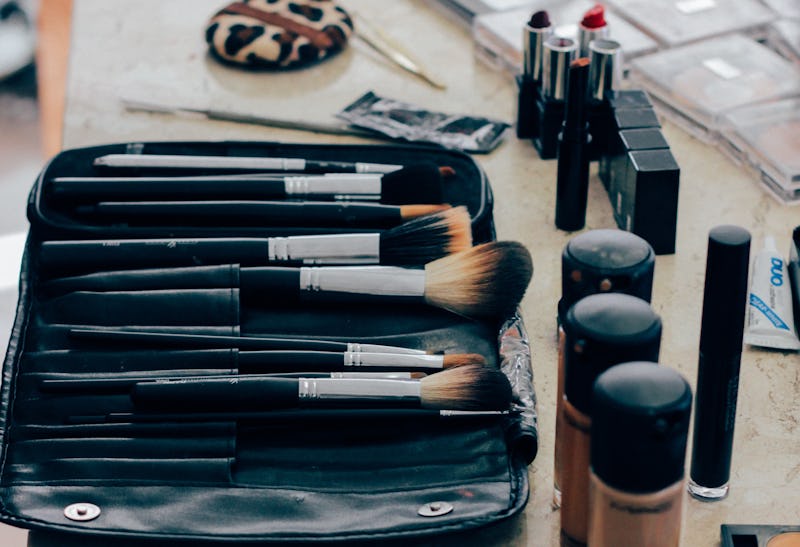 If you wake up every morning with some major smudges underneath your eyes, then you'll be happy to know there are easy and surefire ways to hide your tired bags. There are all sorts of concealer tricks to hide dark circles out there that will turn around even your most exhausted of mornings. No longer will you have to put spoons in the freezer or try to stay still as cucumbers soothe your eyes. After all, who has that kind of time when you're rushing around the house, trying to get out the door on time? Instead, what you need are some easy makeup hacks that will wipe away any tired purple from underneath your eyes.
If you're anything like me, then you and your concealer might have been losing that war for awhile now. If your tired bags persist no matter how much concealer and foundation you glob on, then it might not be the product, but your technique.
To get the low down on what we've been doing wrong, below are 9 tips and tricks from makeup artist experts on how to wipe those sleepy bags away first thing in the morning, letting you step outside of your apartment looking fresh and flawless.
1. Skip The Serums And Miracle Creams
Rather than spending your money on under eye repairing creams, put those dollars towards an excellent concealer instead.
"Often times, dark circles are hereditary. In this case, no amount of Vitamin C serums or heavy night creams are going to completely erase them. They are also sometimes caused by lack of sleep and dehydration. Get your beauty sleep and carry a refillable water bottle with you everywhere instead," Erin Thomas, a MAC makeup artist with four years experience, shares with Bustle.
2. Create An Under Eye Arsenal That Isn't Just One Product
Travel Size Bye Bye Under Eye Anti-Aging Concealer, $10, Ulta
"If you need an express solution, there are some full coverage concealers on the market that really work wonders for covering dark circles in one step. Some of my favorites are It Cosmetics Bye Bye Undereye, Tarte Maracuja Creaseless Concealer, and MAC Studio Finish Concealer," Thomas shares. Creaseless concealers are great to make sure the lines underneath your eyes don't get amplified, and the finishing concealer will keep it matte and smooth.
3. Make Sure The Color Is Right
"When trying to hide dark circles, color is the most important thing," Sarah Coffin, a NARS Stylist with nine years of experience, tells Bustle in an email. "There's a common misconception that you should use a concealer that is one to two shades lighter than your skin. This is almost always untrue, and will likely leave your under eye looking grey and tired. Make sure your concealer is a bang on match to your skin."
4. Don't Rub The Concealer In
If you want the best coverage, pat the concealer in rather than rub it. "Patting makes sure you're getting the fullest possible coverage. When you rub it in, you're essentially rubbing it right back off again by sheering it out. This is especially true for cream formulas," Thomas points out.
5. Keep An Eye On Undertones
In order to cancel out the blue and purple hues underneath your eyes, choose a foundation who's undertone will nix those tired shades.
"Yellow, peach and rose tones are most common color correcting shades to use as a base under your concealer," Andrea Whittle, a makeup artist at KARMA Salon with 20 years experience, shares in an email. "If your under eyes have more of a purpleish cast, stick with something that has a little more yellow to correct. Khaki/olive under eye colors require a more peach tone. Soft rose correctors are great under the eyes of someone with a little more sallow/greenish tone and will brighten just beautifully."
6. Pay Attention To The Labels On Your Concealer
NARS Concealer, $25, Sephora
You put on your concealer after your foundation, but if you feel like it's not doing much in the concealing department, you might have purchased the wrong one. For example, does it say it has sheer or opaque coverage? "I'll never forget the day I explained opacity to the young lady working in hosiery at Macy's, 'you can see through sheer pantyhose but you cannot see through opaque tights.' A concept easy to grasp for a trained artist but not always as straightforward for the layperson trying to understand and figure out what kind of coverage they're looking for in their concealer or foundation," Whittle shares. If you feel like you need more coverage, bump up your product to "opaque."
7. Don't Just Apply Concealer To Your Under Eye
Sephora Collection Bright Future Gel Serum Concealer, $14, Sephora
"Apply your concealer to the inner corner of the eye and continue onto the eyelid," Coffin says. "This will brighten your eye even more and leave you with a clean, even toned base for eyeshadow!"
8. Consider Buying A Color Corrector
Concealer - Pear (Correcting Shade), $25, NARS
"If you're still finding that your under eye area is still looking blue-greyish after applying your concealer, a color corrector is going to be your best friend. Lighter skin tones will have luck with pink toned concealers, folks with medium skin tones should look for salmon toned concealers, and those with deeper skin tones will want to use an orange toned concealer," Thomas explains. These are applied after your foundation and prior to your concealer.
9. You Might Need To Skip The Setting
Laura Mercier Transluscent Setting Powder, $23, Sephora
Often times people set their makeup with a loose powder, but according to Whittle, you need to pay attention to your skin before deciding to do that. Sometimes, setting products bring more attention to our under eyes thanks to their creasing.
"I believe it is dependent on the product you choose and the type of skin you have when deciding whether or not to set your concealer with powder. My oily skinned lassies usually don't leave the house without setting their makeup with powder, for fear of it sliding off by noon. But if you have a dry skin type, my advice to you is not to powder as it can look cakey or even dry," Whittle shares.
The next time you wake up feeling exhausted, keep these tips in mind and you can turn that sluggish, morning look around — all while cancelling out your dark circles in the process.
Images: Manu Camargo/Unsplash; Sephora (3); NARS (1); Ulta (1); @sara.mua/ Instagram