Unique Gifts For The Literary Soul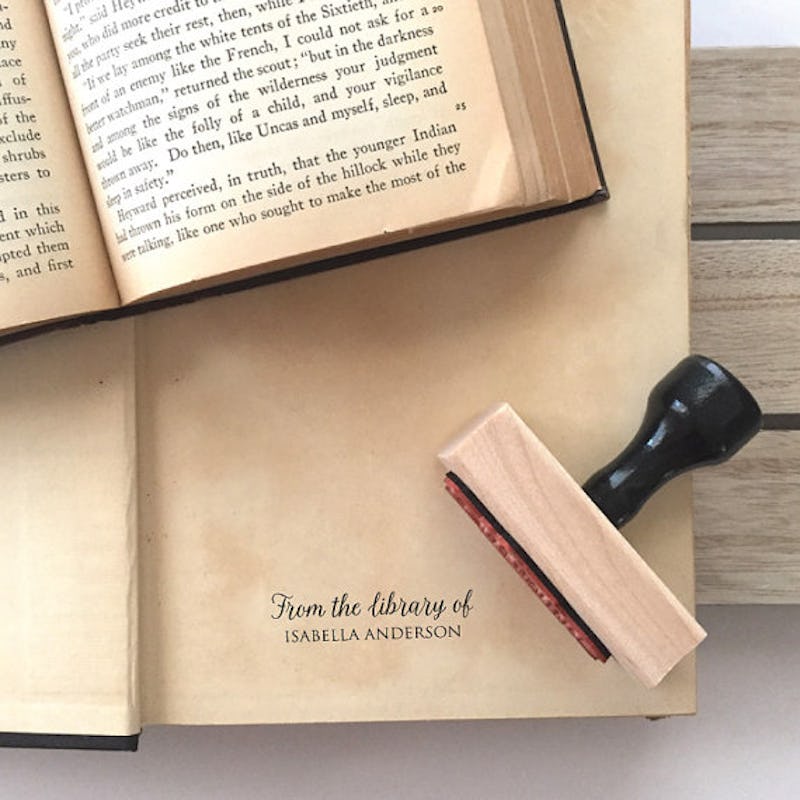 If someone loves books, they will never be difficult to buy for, because you can always give them — well, books (and you can send them book-themed holiday cards). However, I will admit that this can be a challenge, because you never know what books someone owns. You can't exactly rifle through their library when you're in the middle of shopping. If the book-lover owns an e-reader, this makes things even more difficult, because even if you have seen their bookshelf, they may have dozens more novels stored digitally.
Luckily, there are more options for literary-inspired gifts than just books themselves. As much as I love receiving actual books as a present, I also love receiving anything that has to do with books. If it has to do with reading, I will probably love it. Plus, though I'm always willing to purchase more reading material, I'm not always willing to buy book-themed items. These feel more like an indulgence, making them perfect for gifts.
Sometimes even selecting a literary-inspired present for your book-loving friend can be difficult. What if they already own that item? Luckily, there are plenty of obscure literary finds for the book-lover who has it all. Here are some weird but amazing gifts for the book-lovers in your life.
Custom Book Stamp , $25, Etsy
For the book-lover who loves to loan out books, but always wants them back, this custom book stamp is the weird yet fitting gift they need this holiday season.
Vintage Spoon Bookmark , $15, Etsy
If your bookworm friend already has several bookmarks, but they could use something a bit sturdier, this vintage spoon placeholder is the gift to get.
Blind Date With A Book , $20, Etsy
Give your friend the gift of a date... a date with a book, that is. Here's how it works:
"You select a genre (we suggest selecting one that you don't read often as to not get a book that you have already read.) Lastly, be ready to be curious! As soon as you order we will begin our picking process. Every book is selected as an intriguing, exciting, or impactful novel. Your package will include a special reading experience for you, a tea bag, a note card for you to write your pondering about the book, and lastly, instructions. A blind date with a book is something everyone should try at least once. Take the leap, it could end up being your favorite novel!"
Bookbinding Kit , $32, Etsy
If your lit-loving friend is interested in actually creating a book, this DIY bookbinding kit is a uniquely great gift. And maybe next holiday season, your friend will return the book to you with a novel written on the pages. So really, this could be the gift that keeps on giving.
Book Cover Wallet , $40, Etsy
These adorably unique wallets look like mini versions of all your favorite classics, and make a great gift for book-lovers who seem to have it all – now they just need somewhere to put things.
Book Washi Tape , $4, Etsy
For the bookworm who also loves crafting, this book-themed washi tape is a weird yet perfectly fitting present.
Go Away Enamel Pin , $10, Etsy
This unique pin will send a clear message to everyone who may try and interrupt your bookworm friend while they're in the middle of a great novel.
Library Cards, $6, Etsy
If you're shopping for a bookworm who also loves to take notes, these library cards are a random yet perfect gift. They're unique, colorful, and great for jotting down notes... such as extensive reading lists.
Sexy Librarian Candle , $18, Etsy
This candle has the aroma of rosewood, lilac, and musk... AKA, a sexy librarian scent. This weird candle is sure to entertain any library-obsessed friends.
Library Card Compact Mirror , $12, Etsy
This compact mirror is covered in a vintage library card design, making it a great stocking stuffer for a bookworm who needs to check their lipstick once in a while in between chapters.
Bookworm Ring , $10, Etsy
This unique ring has "bookworm" stamped into the side, and is a great unique accessory for anyone who loves to read.
The Raven Book Soap , $7, Etsy
Visit this Etsy shop to find many book-inspired soaps. This Edgar Allan Poe-inspired soap smells of blackberry and cinnamon, and is the perfect gift for book-lovers who like the stranger things in life.
Just One More Chapter Pillow , $23, Etsy
If your bookish friend has ever stayed up the entire night or been supremely late to an event on the premise of reading "just one more chapter," this pillow is the unique gift for them.
Book Flowers , $27, Etsy
Having a difficult time choosing flowers for your bookish friend or SO? There's a solution for that: these flowers are made from the pages of a book. They will never wilt, because books are forever.
The Book Was Better Sweatshirt , $31, Etsy
It's a fact every reader knows: the book is always better. This cozy sweatshirt will remind everyone of that while the reader reclines with a great novel.
Image: Etsy/BlindDateWithABook (1)