How To Clean Sequins Without The Dry Cleaner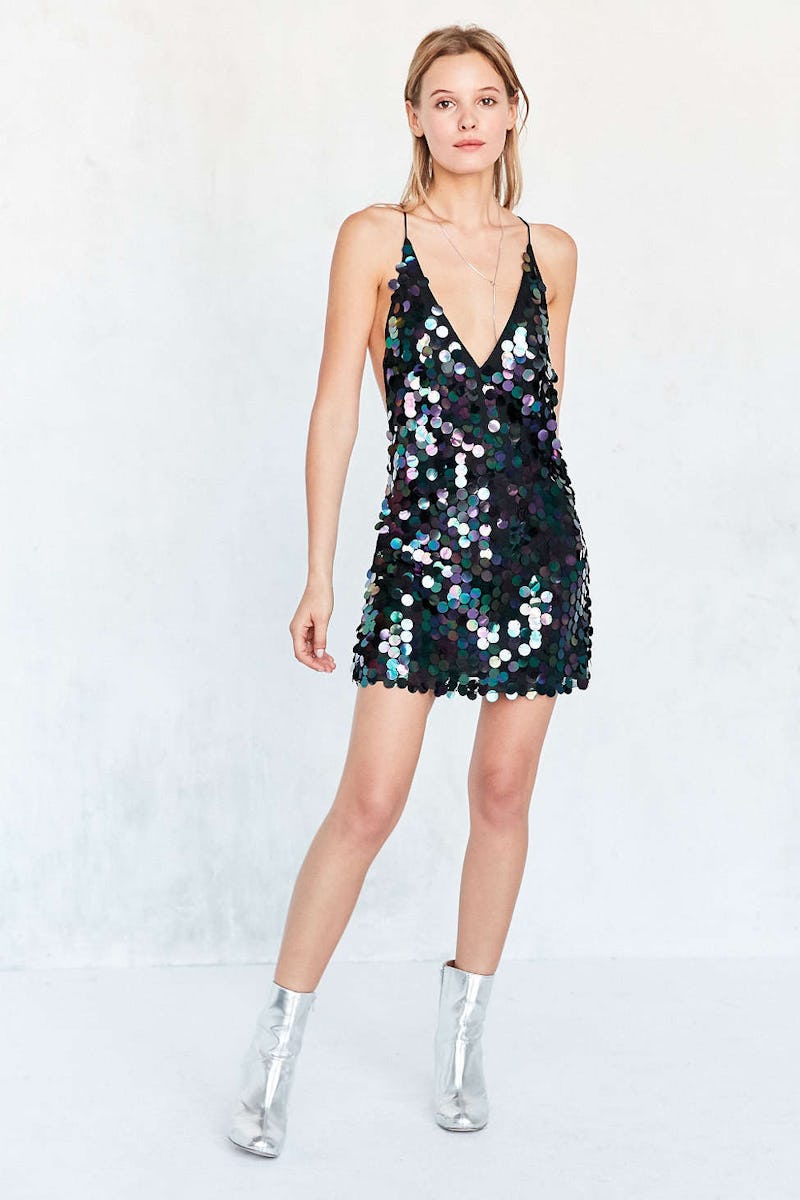 If there's one thing you want to wear for a holiday soiree or a New Year's Eve party, it's a fun sequined cocktail dress, am I right? However these dresses can often be hard to wash and clean, especially if you get a not-so-fun stain on them. Knowing how to clean sequined clothing can definitely decrease your trips to the dry cleaner and of course, save you time and money.
Even though some think you can't wear sequins all year round, they are definitely acceptable during the holidays. A little sparkle never hurt no one, so it's imperative you ensure your dresses (that probably aren't cheap) stay in tact and last you year after year. Whether your dresses are beaded or sequined, it's often easier to hand wash them instead of making several expensive trips to the dry cleaner. And if you spill something on your dress, it's best to make sure to treat the spot first without rubbing it more into the fabric and beading.
If it's a sweater or a dress embellished with elaborate sequins or beading, there are several ways to minimize harm while washing. Here are the some of the most important tips and tricks to making sure your sequined dresses stay shiny and fresh:
Warehouse Sequin Midi Dress, $63, Asos
Don't even think about throwing an embellished dress in the washer! First spot clean the area that needs treatment with a spot cleaner or a little mild detergent. One of the most important things to remember is to dab, not rub. You can even make your own homemade stain remover with lemon essential oil, baking soda, and vegetable glycerin that would is definitely less harsh on the garment.
Sequined Dress, $35, H&M
Never wash an embellished garment in the washing machine, even if you think the delicate cycle will work best. It's easier and simpler to hand wash the garment in cold water, according to this YouTube tutorial that helps you learn how to hand-wash delicates.
Poisat Sequined Halter Dress, $30, Anthropologie
Before you hand wash your delicate item, make sure to turn it inside out so that you are washing the actual fabric of the dress instead of just the sequins or beading. This also helps avoiding damaging the sequins that sometimes may bend or tear while even hand washing. To make sure any lingering stench is out of your garment, using cleaning vinegar will help get rid of any odors.
Sundown Sequin Shift Dress, $17, Tobi
Sometimes your everyday detergent will be too harsh for the material and sequins of your garment. Just how you would clean a satin fabric, it is best to use a more mild detergent and cold water to help protect the fabric while still cleaning it.
Motel Finn Sequin Mini Slip Dress, $89, Urban Outfitters
Your motto for treating sequined items should be to dab not rub the spot that needs treatment. If you rub on the stain, it may cause the beaded pattern to tear or loosen. Instead, delicately sail the garment in detergent-filled water, and afterward use a wash cloth to dab the stained area.
Truly You All Over Embellished Cap Sleeve Dress, $69, Asos
Your first instinct might be to wring out your dress like you are hand washing any other piece of clothing. Instead of wringing out your embellished item, let your garment drip dry for enough time to get the excess water off before hanging or laying flat to dry.
Black Sequin Plunge D Ring Wrap Dress, $27, Miss Guided
Avoiding the washer and dryer for embellished items is best. So in order for your garment to dry, make sure to lay your dress flat to dry. Laying it over a towel may even soak up some of the excess water. And if you don't have room to lay your clothes out, you can DIY your own clothes drying rack.
Images: Courtesy of Brands (8)