These Are 'Hairspray's' Best Memes & Jokes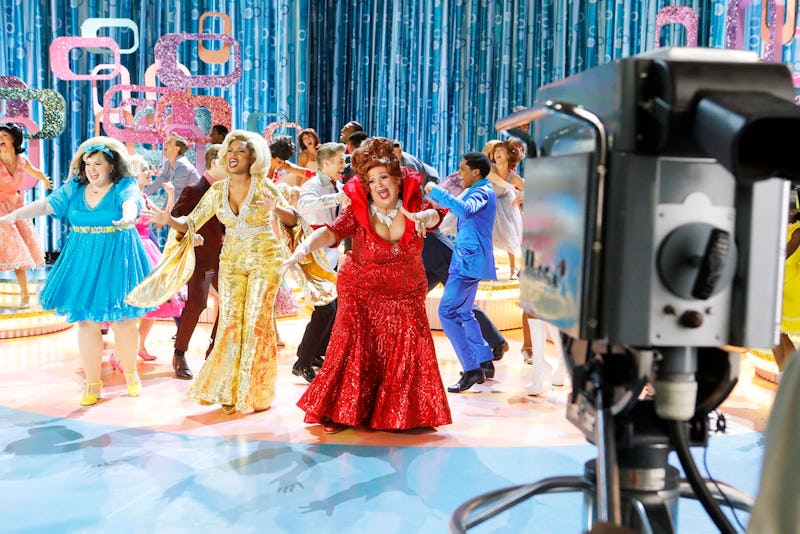 You know that old adage that opinions are like noses (or some other slightly more grotesque body part)? It's true — everyone has one — and these opinions seem to come out more when you're on the internet watching some sort of live television program. Hairspray Live! was a perfect event to chat about on Twitter, and the memes and jokes from Hairspray Live! were nearly as entertaining as the musical itself. The show was three hours long, and those three hours lent themselves to a lot of Internet commentary.
I was psyched when I heard that NBC had decided that Hairspray would be its newest live musical, and I think a lot of other musical theater fans were, too. Sure, Hairspray isn't exactly a "traditional" musical show (though it has been on Broadway), but the songs are fun and catchy enough and the themes universal enough to make it something that the whole family wanted to watch. It's pretty progressive, too, which is never a bad thing for a big audience to see. Apparently, it made it catchy enough for the family to comment on the Internet about it, too.
Many Missed The Movie Remake's Zac Efron As Link Larkin
Garrett Clayton does have his own Efron-esque look though.
And Some Recognized The Hairspray Mannequin Challenge
It was unintentional but funny!
Others Found Themselves Loving Amber Von Tussle
Which confused many viewers.
And A Few Really, Really Wanted Wicked To Be The Next NBC Musical
How about 2018?
Many Thought Kristen Chenoweth's Curtain Call Was Tragic...
The camera cut away in the middle of her bow, and that totally wasn't fair. Luckily she shined enough in the show to make up for it.
And Some Felt Like We Needed Hairspray Now More Than Ever.
This is too real for me.
Mostly, Though, Everyone Loved It.
Full disclosure: I was dancing and singing on my couch, too.
I can't wait for the next NBC musical (it's Bye, Bye Birdie , by the way) just so I can see all the jokes that emerge from it.
Images: Trae Patton/NBC