'Broad City' Season 4 Is Coming Later Than Usual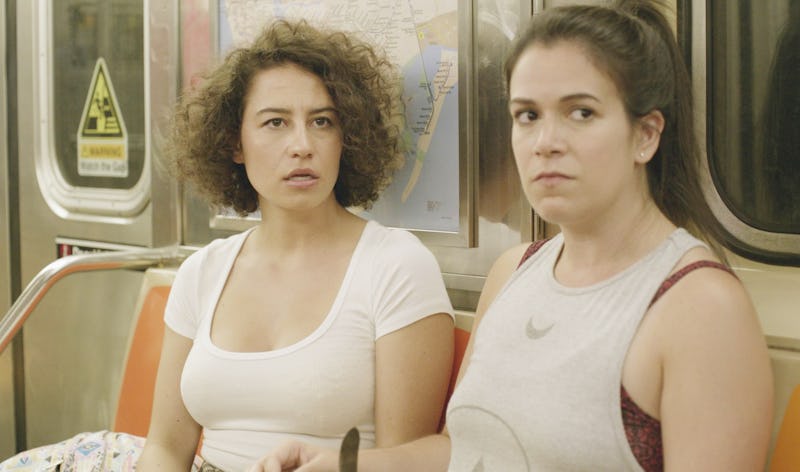 If you read websites directed at women, ever, you'll already know that winter is often referred to as "cuffing season." Pfft. Cuddles are great and all, but for me, there's only one c-word that helps me make it through winter: comedy. Which makes it all the scarier that Abbi Jacobson and Ilana Glazer have announced that the Broad City Season 4 premiere date isn't until summer. If it wasn't for new episodes of Girls and Broad City dropping every February and lifting my mood, I don't know how I'd have made it through the last few years without cocooning myself in the soft embrace of my duvet and refusing to leave my apartment, ever. So no Broad City? We're officially living out our darkest possible timeline. But why is Broad City Season 4 arriving late next year?
Actually, there are a whole ton of possibilities why Broad City is debuting later than we're used to in 2017, presumably most of which are connected to the rich careers enjoyed by Jacobson and Glazer. These are dynamic, smart women, so obviously they've got all the side projects. If you don't follow the pair on Instagram, you may not be aware of the fact that Abbi Jacobson published a book this year which sounds pure Abbi; Carry This Book is a look into the contents of the purses and bags of the famous, and it looks pretty adorable.
Jacobson is also voicing Nya, one of the heroes in The Lego Ninjago Movie and is starring alongside Dave Franco in the upcoming Netflix drama 6 Balloons, which tackles the heroin epidemic in upper-middle class communities. In it, Jacobson discovers her brother, played by Franco, has relapsed with heroin while responsible for his 2-year-old daughter. All of this suggests that she has been very busy this year. No wonder she mentions in the Twitter video above that they're still filming Broad City.
But what about Ilana Glazer? It sounds as if her schedule is every bit as jam-packed as Jacobson's, with not one, but two, films in the works. She's voicing the code breaker character Jailbreak in EmojiMovie: Express Yourself, where she'll be playing alongside the likes of James Corden. But, if you can't get enough Glazer, worry not. She'll also be appearing in the awesome women of Hollywood convention that is the comedy Rock That Body, which, aside from Glazer, stars — deep breath — Scarlett Johansson, Kate McKinnon, Zoe Kravitz, Demi Moore, and Jillian Bell. It centers on a bachelorette weekend that goes deadly wrong.
So, yes, we're going to have to wait longer than we're accustomed to for our dose of Brooklyn-based comedy. But it's all going to be so worth it when we get to see Jacobson and Glazer try out totally different roles and spread their creative wings.
Images: Comedy Central