Corinne Could Be A 'Bachelor' Frontrunner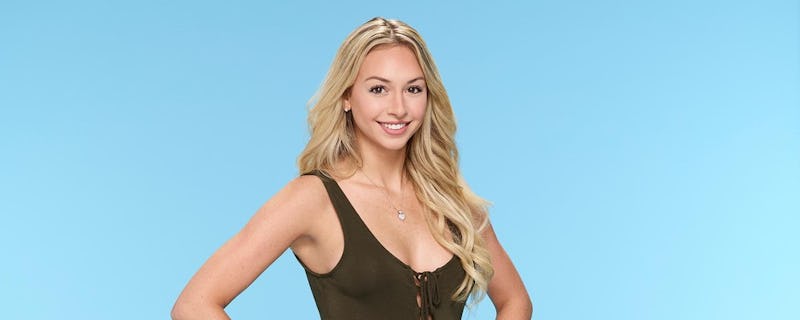 I'm happy for you, Christmas, and I'ma let you finish, but did you know that being a member of Bachelor Nation is like having Christmas year-round? Something new is always happening for one of the franchises, and even though Season 21 doesn't premiere until January, Nick Viall's contestants were announced on Wednesday, and now I must go through them with a fine tooth comb for every possible detail I can scrounge in advance. So, with that in mind — who is Corinne Olympios from The Bachelor ? Based on what I've been seeing so far, this Miami business-owner could be a frontrunner, so she's a good person to get to know beforehand. After all, with a field of 30 women this season, you'll have to use every trick in your arsenal to get these faces to stand out from one another.
As you might have guessed from what I've said so far, Corinne is from Florida — Miami, according to her ABC bio, and Fort Lauderdale, according to Reality Steve — and owns her own business. She's very enthusiastic about said business, stating in her bio, "I own an online business. It's very important to me, but the cool thing is it's online, so I can run it from anywhere," but never shares exactly what the business is, and her LinkedIn provides no clues. One thing that is known is that Corinne is an aspiring model; the 24-year old has a profile on Model Mayhem, although it lists her age as 25, so I don't know what to believe. According to that site, she works with Metric Talent Management LA and claims to travel frequently between Miami, Los Angeles, and New York City. Corinne also has a profile over at Explore Talent , which includes a bizarre string of misspelled credits. In her own words: "I have worked on music videos with artists such as Pitpul, Akon, Acehood, DJ Kahled, and lil Jon, Two chainzz, and juicy j." Innnnnteresting.
Reality Steve has also located Corinne's social media pages, although he notes that her Twitter hasn't been used in over almost five years, and notes that she seems to make it a decent distance into the competition, as she was spotted at a Backstreet Boys group date in October. Because ultimately, that's the most exciting thing about Corinne — her dramatic potential on the show. According the written sneak peek provided by ABC, Corinne wastes no time, stirring up conflict on the very first night:
Once inside, things heat up between Nick and the women and the race for the first impression rose is on. The chemistry between Nick and Vanessa cannot be denied and it looks like she might snag the first kiss of the season. Not so fast though, because a very persistent Corinne swoops in and steals Nick away before smooch time.
It remains to be seen whether Corinne will get the villain edit à la Olivia Caridi last season, but that's certainly the vibe I'm getting, particularly for how heavily the self-proclaimed Greek model was featured in the promo for the full season.
Overall, it's safe to say that I will be watching Corinne Olympios like a hawk during The Bachelor's Jan. 2 premiere, and for however long I have to afterward, because the potential for drama seems strong in this one.
Images: ABC; Giphy