Did You Catch These 'Hairspray Live!' References?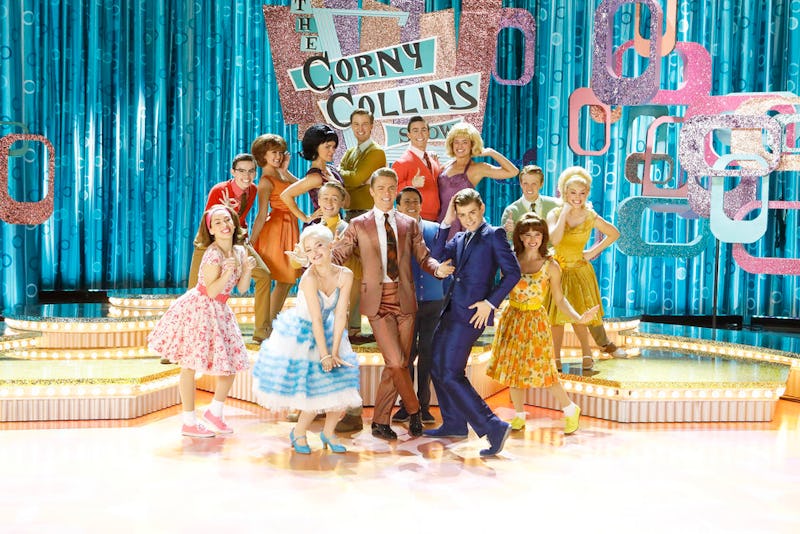 Hairspray Live! is not only NBC's fourth live musical, but it is also the fourth iteration of this classic story. Hairspray has been an indie movie, a stage musical, and and a movie musical. Because of its many lives, the references in Hairspray Live! paid homage to the original movie as well as the Broadway version it is directly based on.
Honestly, it's easy to add Easter Eggs to such an iconic show. So many impressive people have been a part of it over the years, and the cast of Hairspray Live! itself is stacked with legendary performers. There were also a few references to other musicals, which was fun. Any live musical night is a celebration of musical theater. Getting to share a live experience like this with the whole world is really something special. Twitter may have thought that the golf carts as mode of on set transportation (and the rain) were references to Fox's Grease Live! but that was almost certainly unintentional, and the references they did include were just as fun. Plus, nods to those who came before just helped to cement its place in history.
Here are some of the references that made the live experience fun for the true Hairspray fans.
The Bed
Tracy's entrance makes it look like she's lying down in bed, and it's a reference to how the Broadway production opened.
Divine Pet Food
One of the signs on the Baltimore set references Divine, who starred in the original movie as Edna.
Waters Plumbing
Another sign references the eccentric director of the original, John Waters.
The Dynamites
Amazing!
Marissa Jaret Winokur & Rikki Lake
The two "original" Tracy Turnblads also had cameos during "Welcome To The '60s."
Hamilton
Weird to give Link the Hamilton reference while he's taking a reactionary stance, but Twitter still loved it.
Gypsy
Penny said "I'm a pretty girl, Mama" — a reference to Louise's line in the Sondheim musical. Or it's a Carrie reference, depending on how you were raised.
You might have missed some of these references, but if you caught them, they added another level of nostalgia to Hairspray Live!
Images: Trae Patton/NBC; Giphy (3)