These Are 2016's Best Bomber Jackets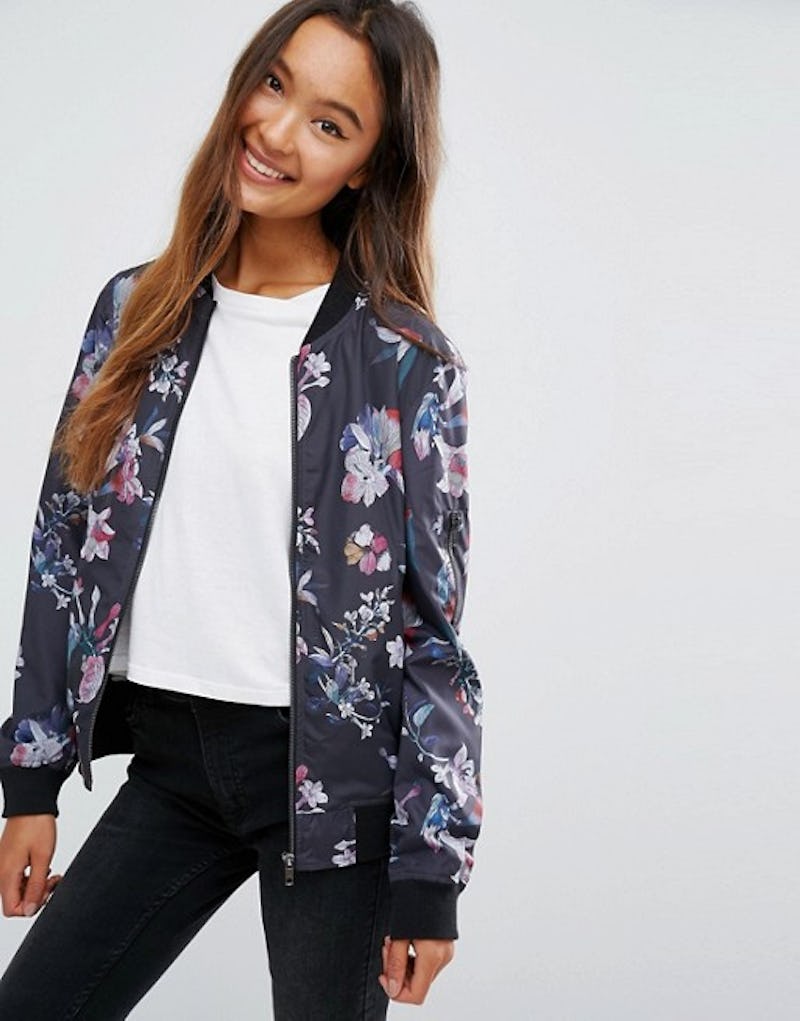 Who could've predicted that bomber jackets would've made such a crazy comeback in 2016? It seemed like all of a sudden, they were everywhere. Whether they're for fashion or function, it's definitely likely that you'll be able to find some great bomber jackets for 2016 that will keep you warm and stylish all the way through 2017.
According to Google's trends report from August (feels like forever ago), searches for bomber jackets went up 612 percent in 2016, and I think really think we can blame their popularity on none other than Gigi Hadid. 2016 was also the year of Gigi.
The first bomber jacket to grab my attention was an artistic floral one with beautiful embroidery. Shortly after, a pink shiny one from H&M caught my eye. Almost immediately after that moment, I was as obsessed with bomber jackets as everyone else.
In my opinion, this trend won't realistically disappear from sight until summer 2017 when no one really needs an extra layer of warmth, but in the mean time, I'm going to take advantage of this cold weather for the next few months and rock some bomb bomber jackets (sorry, I had to). Here are some of 2016's best bomber jackets.
1. This Camo One
Camo Print Bomber Jacket, $27.90, forever21.com
This jacket combines two of this year's hottest trends — camo and bomber jackets. Definitely a must have.
2. This Black One
Plus Rosie Satin Bomber, $35, boohoo.com
You can never go wrong with black.
3. This Velvet One
Velvet Bomber Jacket, $54, missguidedus.com
There is no sign of the velvet trend slowing down for 2017. Plus this one is a perfect color for transitioning to spring.
4. This Tiger One
Silence + Noise On Tour Satin Varsity Jacket, $159, urbanoutfitters.com
This one is a little pricier than the others, but the tiger embroidery is the coolest.
5. This Sporty One
Adidas Originals X Rita Ora Banned From Normal Bomber Jacket, $97.71, asos.com
Kind of vintage-y, kind of sporty, totally cool.
6. This Floral One
JDY Floral Bomber Jacket, $45.10, asos.com
This perfectly muted floral is, well, perfect.
7. This Satin One
Satin Bomber Jacket, $49.99, hm.com
I really just love this one.
8. This Metallic One
Crack The Code Fleece Bomber Jacket, $98, nastygal.com
Shiny on the outside, warm on the inside, exactly what you need to get through winter.
9. This Pink One
Bomber Jacket, $29.99, hm.com
Last, but not least, this pink one. Can't have a bomber roundup without a pink bomber jacket.
Images: Forever21.com, Boohoo.com, Missguidedus.com, Urbanoutfitters.com, Asos.com (2), Hm.com (2), Nastygal.com