John Legend Sings Joe Giudice's Song For Teresa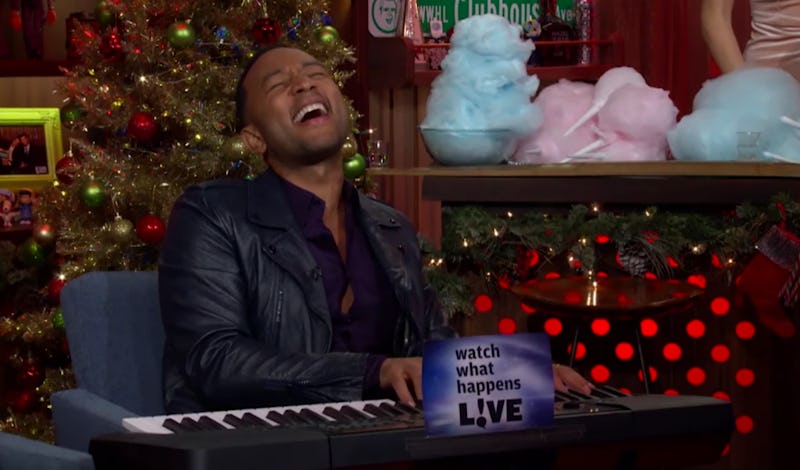 If this doesn't put a smile on Teresa and Joe Giudice's faces, I don't know what will. During a Wednesday appearance on Watch What Happens Live, John Legend sang the song Joe Giudice wrote for Teresa Giudice. Yes, Juicy Joe wrote a song for his wife and wanted the one and only Legend to perform it. Who wouldn't want the John Legend to sing a romantic song for their significant other? Admittedly, the "All of Me" singer was unsure at first, but after WWHL host Andy Cohen handed him a keyboard and Joe's lyrics, Legend brought the song to life.
Back in October, Teresa told E! News that her husband had written her a song for their 17th wedding anniversary. "He said he had a surprise for me, and that he wrote me a song," she dished. "I gotta pitch it out there: He wants John Legend to sing it to me. So, we'll see. You never know!" Then, while appearing on WWHL in October, Teresa told Cohen, "He sent me the song and then he wrote in there [in prison] that he would love for John Legend to sing it to [me]. You never know! Maybe season eight." Yeah, you don't have to wait untile Season 8 of Real Housewives of New Jersey, Teresa.
"When I heard this, it made me crazy," Cohen said Wednesday about Joe's song for Teresa. "I have the words and a keyboard right here. I know that I'm putting you on the spot, but John Legend, can you make Joe Giudice's dream come true?" The 37-year-old artist answered, "Why are you doing this to me?" Cohen replied, "Because we love you!" Despite being hesitant, Legend did it and managed to turn Joe's song into a hit. Would you really expect anything less? There's nothing Legend can't do, especially when it comes to music.
To be clear, the song's lyrics are 100 percent from the mind of Joe, but the melody is all Legend. Speaking of the lyrics, they go as follow:
Because I'll love you foreverI'll never lie, no never'Cause you are my babyMy empress, my ladyTeresa, you are my I, I, I, I, I, I, I, I, I, I, I, I, I, I heavenOh, You're my I, I, I, I, I, I, I heaven
It might not be winning a Grammy anytime soon, but Joe's song for Teresa will certainly go down in history. Of course, that's also partly due to Legend. When watching the above video, be sure to also pay attention to Trevor Noah, the other WWHL guest. He was absolutely feeling the song and loved Cohen putting Legend on the spot.
So, where can Real Housewives fans downloand this hit song? Cohen, you better get on that, stat.
Image: WWHL Clubhouse!/YouTube