The Fenty Creepers Are Popular At This Retailer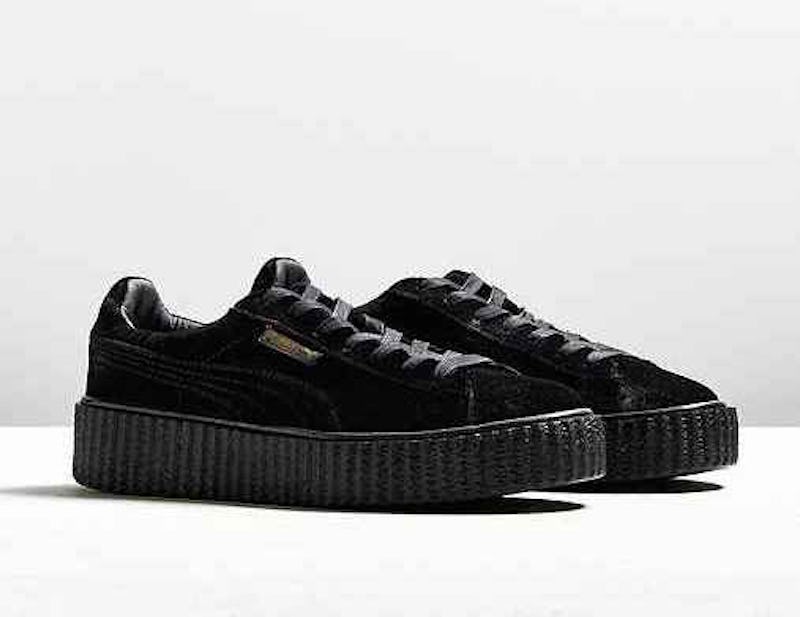 For a shoe named Creeper, Rihanna's Puma Fentys hardly slink. More like, BOOM, they're here, you blink, they're gone. C'est la vie when everyone wants those velvet, wealth punk shoes, but here's the good news: If you're late to the game and haunted by the very specific question, "are the Rihanna Puma Creepers sold out at Urban Outfitters," you still have time. The velvet sneakers are still in stock, for now.
A quick click over to Urban's website reveals that you can still grab the online exclusive Puma Fenty by Rihanna Women's Velvet Creeper Sneaker in a mix of sizes. If you're feeling the black with gold metallic accents (and who isn't) snag a pair in sizes 5.5, 7.5, or 8.5, and shove your foot in accordingly. Cinderella step sister-style, it's the hot new look. Think fast, though, because both the 5.5 and 7.5 flash the message "Hurry! They're almost gone!" when you click — time is of the essence.
Things are inverse for the Velvet Creeper sneaker in Grey, which is still available in 6, 7 and 8.5 (8.5s, enjoy the options). Featuring silver accents on the plush velvet background, the low-profile shoe comes complete with dull, metallic grey laces, the chicest sneaker this side of Rihanna's wardrobe. If you loved the Fenty sneakers the first time around, this is an upgrade, with the plush velvet finish a comfy counterpoint to velvet high-heeled boots.
While the grey is distinctive, there's no arguing that classic black goes everywhere.
Especially with the Creeper sneaker's trademark 1-inch platform, which toes the line between style and comfort.
Sizes are selling out and briefly coming back into stock as we speak (can only assume people's carts are expiring), so your best bet is to get over there and make a decision post haste. Whether you wear them with jeans or an Alexander Wang dress, versatility is the Fenty line's strong suit. That Rihanna influence: They do what you want, when you want.
If it just so happens that what you want is to look good, real good, while not setting yourself up for foot pain down the line? Rihanna gets it. Luxe, modern, and androgynous, the velvet Creepers' description reads that they're "ideal for giving every outfit a bad gal touch." Obligatory wordplay, it's never felt so good to be bad.
Images: Courtesy of Urban Outfitters.