Ginny & Her Team Deserve Another 'Pitch' Season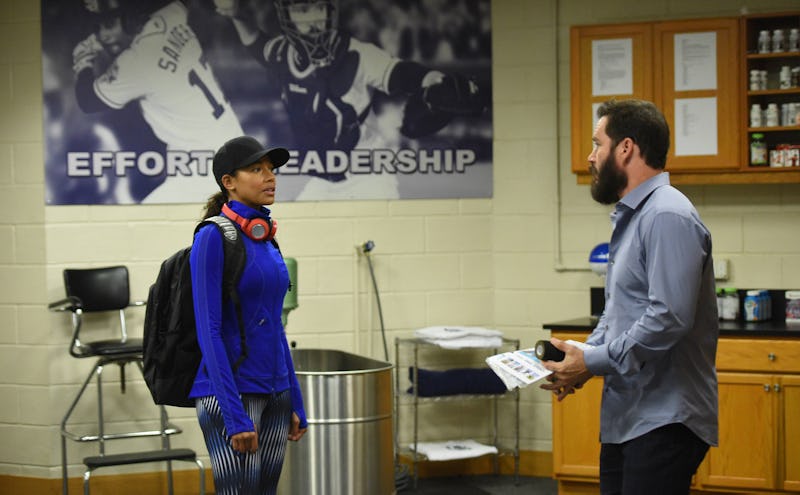 The first season of Pitch came to an end on Thursday, Dec. 8, and I'm trying not to throw a fit, Mike Lawson style, over the prospect of being without it. Over the past few months, I've fallen totally in love with this show and its great cast, and I'm bummed we still don't know whether or not Pitch Season 2 will happen. There's been no word from FOX on whether the series is renewed or cancelled, but I'm still optimistic that it return — and I'm not the only one.
When asked if he though there'd be more Pitch, Mark-Paul Gosselaar told TVLine:
"Absolutely. I'm not even entertaining the thought that we won't come back. Mo [McRae] and Kylie [Bunbury] and myself, we've all said that we'll give our bodies about a month break before we go into our preseason routine and begin training again for next season."
Star Kylie Bunbury, however, told Entertainment Weekly after the finale aired that it's been "really hard" not knowing the series' future. "I think that everyone's stories on the show aren't over yet," she told the magazine. "We want to see more. You can see that with the fans; the fans love this show. If anyone gives this show a chance, they love it as well." It's been so refreshing to see a show that deals so accurately with the many struggles of a female character living in a male-dominated world, and Ginny is in a league of her own when it comes to taking charge. She doesn't stand for backlash based on her gender or her race, and it's been inspiring to see her push forward.
Pitch deserves to continue pushing forward too, and if (or hopefully, when) it returns, these plots need to be addressed.
Mike & Ginny's Feelings For Each Other
In the penultimate episode, Mike and Ginny almost kissed, and I think their desire to finally act on feelings that had been swirling around for some time partially came from the fact that Mike was about to be traded. Now that he's no longer in danger of that and Noah has gotten in the way, will Mike and Ginny ever acknowledge their feelings for each other?
Amelia's Future
We've seen a huge evolution in Amelia since we were introduced to her. She's still Ginny's pushy, sometimes annoying publicist and agent, but she really does just want what's best for Ginny. And you have to feel for her after Mike lead her on and then essentially dumped her because of his own issues (men, amirite?). I'd love to see her come into her own with a meaty storyline.
Brotherly Business Ventures
Let's face it: even though Ginny's brother, Will, has a great idea with his sports bar, his past mistakes make me concerned for its future. But after so much family drama found its way into Ginny's life on and off the field, I'd like to see him succeed.
A Padres Championship
Will the Padres ever win the World Series? It's the question that's keeping Mike Lawson (and the rest of the Padres) up at night, and after Ginny's injury in the season finale, things aren't exactly looking good.
Cara & Ginny's Friendship
Though she wasn't exactly responsible in the moment, I loved seeing Ginny let loose with Cara, the cocktail waitress who took Ginny out for a night she never got to have as a teenager. By the end of the night, it seemed like Ginny had made a real friend, and I think she needs to keep that friend around.
What About That New Catcher?
While Mike worried about his age, Oscar was off recruiting up-and-coming star catcher Livan Duarte. Already, we've seen the tension rise between Mike and Duarte, and especially between Ginny and Duarte. What's going to become of the young all-star? I'd love to see him integrate more into the team aside from just getting yelled at by Mike.
Pitch has a lot of opportunities to explore its existing storylines even further and break more boundaries, so hopefully we'll get to see more of Ginny's journey with a second season next year.
Images: Ray Mickshaw/FOX; Giphy (4); mylifeisfandom, gosselaars/Tumblr