The 2017 Golden Globes Are Going To Be Competitive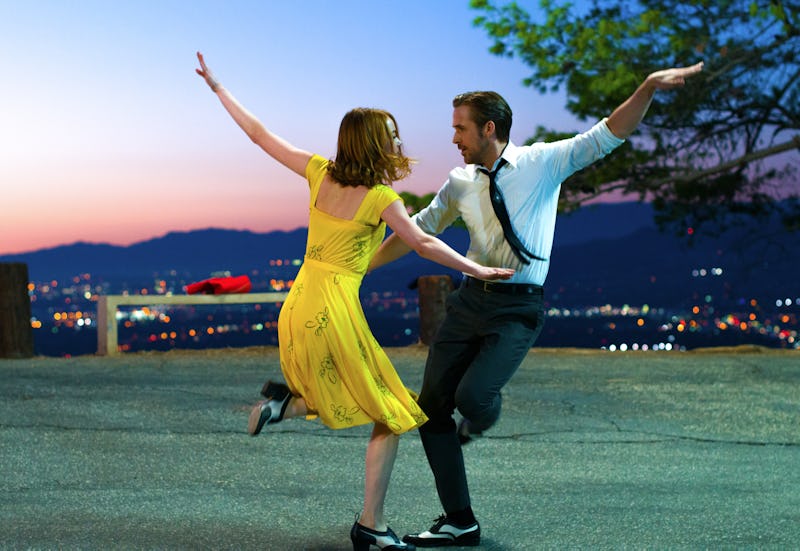 Trying to predict awards shows is a fairly masochistic endeavor. You're never going to get it 100 percent right, and every surprise — whether pleasant or not — will inevitably be a little disappointing just because you didn't see it coming. On top of all that, it can be notoriously difficult to guess the whims of voting bodies like the Hollywood Foreign Press Association. And yet that never seems to stop us from trying, now does it? So let's take our best shot with the 2017 Golden Globe nominations predictions before they're announced this coming Monday.
The HFPA can always be counted on for a few things when it comes to their awards show: nominating a bunch of big-name celebrities they get to mingle and drink champagne with, fudging the definition of "comedy" by nominating movies like The Martian in that category, and giving preference to fresh and exciting new television programs. (2016's Best Series winners were the buzziest new drama of the year, Mr. Robot… and the considerably less buzzy new comedy Mozart In The Jungle.)
Things look a little different this year, as the Musical or Comedy category seems like it could be home to both the rowdiest, most popular comedy of the year, as well as a few honest-to-goodness musicals. And the television races are shaping up to be real nail-biters, with everyone's favorite new shows going head-to-head in super competitive categories.
1. Best Picture — Drama
Fences
Lion
Manchester By The Sea
Moonlight
Silence
Watch out for…
Arrival: If they want to honor the smartest sci-fi movie of the year — and one with timely themes of xenophobia, communication, and international cooperation, to boot.
Hacksaw Ridge: If they find themselves drawn to a movie about faith and war from one of Hollywood's most controversial filmmakers. (More on him in a moment.)
Loving: If they're enraptured by a feel-good movie about love overcoming all obstacles… and changing the literal course of history.
2. Best Picture — Musical or Comedy
20th Century Women
Deadpool
Florence Foster Jenkins
La La Land
Sing Street
Watch out for…
The Lobster: One of the kookiest and most original movies of the year, but not without a touching message regarding love, companionship, and societal pressures.
Love & Friendship: A comedy of manners based on a lesser known work by Jane Austen. Who can resist?
Rules Don't Apply: Hollywood legend Warren Beatty is back, writing and directing this movie, that he also stars in, about another legend: Howard Hughes.
3. Best Director
Damien Chazelle, La La Land
Barry Jenkins, Moonlight
Kenneth Lonergan, Manchester By The Sea
Martin Scorsese, Silence
Denzel Washington, Fences
Watch out for…
Mel Gibson, Hacksaw Ridge: Is Tinseltown ready to overlook this controversial figure's horrible past actions? According to reviews, his new movie is perhaps his best yet. This will be his first real test.
Mike Nichols, Loving: How do you take a groundbreaking, game-changing Supreme Court case and make it one of the most subtle, grounded romances of the year? Ask Nichols, who never misses a beat in Loving.
Denis Villeneuve, Arrival: What would happen if extraterrestrials actually came to Earth? Villeneuve's eerie, anxiety-inducing, ultimately hopeful film feels like the closest thing to a real-life scenario Hollywood has dreamt up yet.
4. Best Actor — Drama
Casey Affleck, Manchester By The Sea
Joel Edgerton, Loving
Andrew Garfield, Hacksaw Ridge
Tom Hanks, Sully
Denzel Washington, Fences
Watch out for…
Andrew Garfield, Silence: The formerly amazing Spider-Man has not just one, but two award-worthy performances in contention this year. Could this one make the cut instead? Or will the two films cancel each other yet, yielding space for one of these other dark horse contenders?
Jake Gyllenhaal, Nocturnal Animals: Gyllenhaal has been turning in some of the best work by an American actor over the past several years, including his roles in Prisoners, Nightcrawler, and Southpaw. Isn't it about time awards shows started recognizing his talent?
Will Smith, Collateral Beauty: Never underestimate the power of one of Hollywood's most likable celebrities. Smith couldn't quite land an Oscar nom for Concussion last year, but he still made the cut with the Globes. Could the same thing happen this year?
5. Best Actress — Drama
Amy Adams, Arrival
Jessica Chastain, Miss Sloane
Isabelle Huppert, Elle
Ruth Negga, Loving
Natalie Portman, Jackie
Watch out for…
Emily Blunt, The Girl On The Train: Blunt has never been less likable — or more compelling — than in this adaptation of the best-selling novel.
Taraji P. Henson, Hidden Figures: Henson won a Golden Globe just last year for her performance as Cookie Lyon in Empire, so the HFPA clearly likes her — and with good reason.
Jennifer Lawrence, Passengers: Like I said, never underestimate the power of one of Hollywood's most likable celebrities — even when she's not starring in typical "awards bait" material.
6. Best Actor — Musical or Comedy
Warren Beatty, Rules Don't Apply
Colin Farrell, The Lobster
Ryan Gosling, La La Land
Viggo Mortensen, Captain Fantastic
Ryan Reynolds, Deadpool
Watch out for…
Don Cheadle, Miles Ahead: In which Cheadle plays jazz legend Miles Davis.
Robert De Niro, The Comedian: In which De Niro plays an aging insult comic.
Michael Keaton, The Founder: In which the Birdman and Spotlight star plays the founder of the McDonald's fast food chain.
7. Best Actress — Musical or Comedy
Kate Beckinsale, Love & Friendship
Annette Bening, 20th Century Women
Sally Field, Hello My Name Is Doris
Emma Stone, La La Land
Meryl Streep, Florence Foster Jenkins
Watch out for…
Hailee Steinfeld, The Edge Of Seventeen: The young star of True Grit is at it again with this hilariously awkward coming-of-age film.
Kristen Stewart, Café Society: Stewart has been turning in stellar work in respectable films (like this Woody Allen comedy) for years now, but is still struggling to overcome her Twilight image; a nod here wouldn't hurt.
Renée Zellweger, Bridget Jones's Baby: She's at it again. Zellweger actually landed an Oscar nom for the franchise's first film back in 2001; could this one send her back to the awards circuit?
8. Best Supporting Actor
Mahershala Ali, Moonlight
Jeff Bridges, Hell Or High Water
Hugh Grant, Florence Foster Jenkins
Lucas Hedges, Manchester By The Sea
Dev Patel, Lion
Watch out for…
Ben Foster, Hell Or High Water: It's rare for two actors from one film to make it into the same category… but, if anyone deserves it, it's definitely Foster's electric turn as a brash bank robber.
Liam Neeson, Silence: Not much is known about Martin Scorsese's latest epic just yet, but hype has swirled around Neeson's performance since his casting was announced.
Michael Shannon, Nocturnal Animals: As a cancer-stricken cop out for vengeance, Shannon is easily the best thing about this dark and delightful film.
9. Best Supporting Actress
Viola Davis, Fences
Gerta Gerwig, 20th Century Women
Naomie Harris, Moonlight
Nicole Kidman, Lion
Michelle Williams, Manchester By The Sea
Watch out for…
Felicity Jones, A Monster Calls: This category seems pretty sewn up, but, if anyone can crack it, it would be the Rogue One star as a dying mother in this weepy coming-of-age fantasy.
Janelle Monáe, Hidden Figures: The singer-turned-actress turned in two stellar performances this year — including a smaller role in Best Picture frontrunner Moonlight — so it would be nice to see her recognized for her work in at least one of them.
Kristen Stewart, Billy Lynn's Long Halftime Walk: If she doesn't make it into the Best Actress race, then perhaps Supporting Actress? Ang Lee's latest film may have underwhelmed, but Stewart's performance was one of its most universally praised aspects.
10. Best Drama Series
The Crown
Game Of Thrones
Mr. Robot
Stranger Things
Westworld
Watch out for…
Narcos: One of four freshman shows honored in the category last year, but can the Netflix drug cartel drama pull a repeat?
Outlander: Another nominee last year whose chances this year seem more slim. It has a devoted audience, but does it have devoted voters?
This Is Us: The weepy NBC family drama is easily broadcast's biggest new hit of the fall, but is there room for it among these high-profile cable and streaming series?
11. Best Comedy Series
Atlanta
black-ish
Divorce
Transparent
Veep
Watch out for…
Insecure: Perhaps even more critically-acclaimed if less high-profile than HBO's other new comedy, the Sarah Jessica Parker vehicle Divorce.
Mozart In The Jungle: Last year's victor didn't exactly build on its buzz; its second season was just as obscure as its first. But will the voters care?
One Mississippi: If Mozart doesn't repeat, perhaps the HFPA will go for another low-profile freshman Amazon comedy instead: namely, this autobiographical show by comedian Tig Notaro.
12. Best Actor — Drama Series
Anthony Hopkins, Westworld
Rami Malek, Mr. Robot
Bob Odenkirk, Better Call Saul
Matthew Rhys, The Americans
Kiefer Sutherland, Designated Survivor
Watch out for…
Sam Heughan, Outlander: Heughan's co-star Caitriona Balfe made the cut in her category last year, while the dreamy Scot was left out in the cold. Voters could make up for that snub by giving him a shout-out this year.
Hugh Laurie, Chance: Laurie is still an incredibly popular actor from his days on the long-running medical drama House. His fame and likability could push him to a nod for his new Hulu series.
Wagner Moura, Narcos: A nominee for the first season playing real-life drug lord Pablo Escobar, voters might give him one more shot at gold — especially since (spoiler alert!) Season 2 was his last on the show.
13. Best Actress — Drama Series
Viola Davis, How To Get Away With Murder
Claire Foy, The Crown
Taraji P. Henson, Empire
Winona Ryder, Stranger Things
Evan Rachel Wood, Westworld
Watch out for…
Caitrione Balfe, Outlander: If Outlander has a chance at repeating any of its freshman year awards glory, it's probably with the show's compelling leading lady. But who could she dethrone?
Tatiana Maslany, Orphan Black: Maslany finally won an Emmy for her outstanding work portraying approximately 10 million characters on BBC America's sci-fi series. But is the show too nice for the HFPA?
Robin Wright, House Of Cards: Wright won this category in the Netflix drama's first season and has been nominated every year since — and Season 4 was arguably her strongest yet. Who would dare say no to Claire Underwood?
14. Best Actor — Comedy Series
Anthony Anderson, black-ish
Gael García Bernal, Mozart In The Jungle
Donald Glover, Atlanta
Patrick Stewart, Blunt Talk
Jeffrey Tambor, Transparent
Watch out for…
Thomas Haden Church, Divorce: The new HBO comedy is all about its famous leading lady, but Parker's co-star could conceivably ride her coattails to a nomination of his own.
Ted Danson, The Good Place: Once a Golden Globe darling for his work on Cheers, Danson could potentially be invited back to the party thanks to the feel-good hit comedy of the fall.
Nick Nolte, Graves: This Epix comedy about a former President wasn't the buzziest of the season, but, combine a well-known Oscar-nominated movie star with timely political themes, and you've got the makings of a serious contender.
15. Best Actress — Comedy Series
Kristen Bell, The Good Place
Ellie Kemper, Unbreakable Kimmy Schmidt
Julia Louis-Dreyfus, Veep
Sarah Jessica Parker, Divorce
Tracee Ellis Ross, black-ish
Watch out for…
Rachel Bloom, Crazy Ex-Girlfriend: She took home the Golden Globe last year, but are the voters still crazy about this particular ex-girlfriend?
Minnie Driver, Speechless: Driver takes what should be a fairly standard sitcom mom role and imbues it with the kind of fire and wit only she can. Will it be enough for a nod?
Issa Rae, Insecure: In a perfect world, Rae would be a serious contender for the trophy. But is the HFPA hip enough to recognize her hilariously self-aware performance?
Find out who will be competing for the trophy when the nominees are announced at 8:00 a.m. ET on Monday, Dec. 12 — and then tune in to the 74th annual Golden Globes on Sunday, Jan. 8, to see who takes home the gold.
Images: Summit Entertainment; Giphy (15)