Funny & Cheap Gifts To Get Your Secret Santa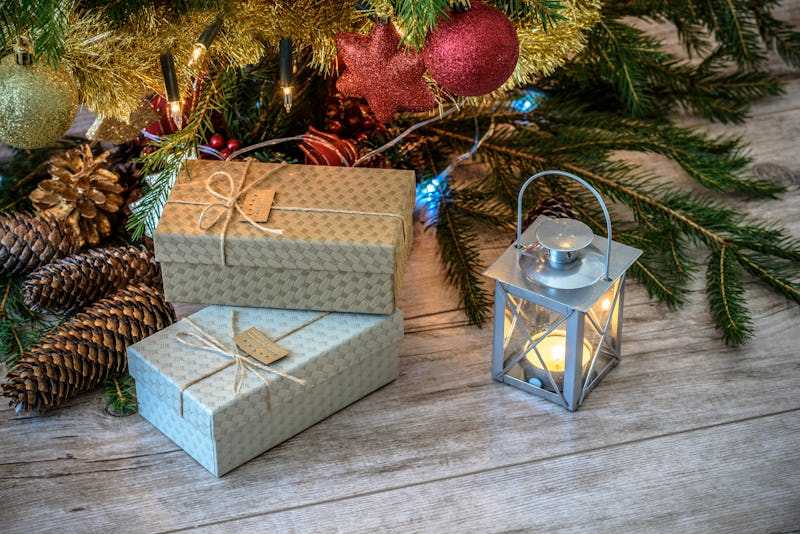 Despite how lovely the thought behind Secret Santa parties and gift exchanges are, it's no secret that finding actually funny and cheap Secret Santa gifts is pretty tough. No matter how much money you've saved for gift-giving and no matter how much time you've set aside to shop, it always seems like you don't have enough money to get people the things you know they'll love, or even find the time to do the shopping.
But, I firmly believe we should change our thought process on the whole Secret Santa process. Being someone's Secret Santa gives you the room to buy that personal something special that involves some planning without being overwhelmed and without putting too much time aside for shopping. Because let's be real, we don't have a ton of full shopping days left in the holiday season, and many of us were too busy freaking out over the last few months to plan ahead properly. So, bless your Secret Santa squad, you've got one thing that's bound to go smoothly this holiday season.
So this year, to honor the magical perfectness that is your gift-giving squad, get your Secret Santa something that's both funny, and useful. There's no reason to break the bank because there are plenty of cheap or affordable gifts out there that show you care and show you have a sense of humor. At the end of the day, the gifts that make us smile are the ones we remember. Here are a few suggestions:
LuMee Case
Your friend would probably never get this on her own out of embarrassment, but they'll be really happy to get it. Who wouldn't want to play around with the infamous Kardashian light?
LuMee Light Case, $53, Urban Outfitters
Cat Ear Headphones
These are so freakin' adorable and they're totally functional. Other headphones are all too easy to tangle and lose, but not these!
Kitty Headphones, $35,Urban Outfitters
Pizza Shirt
They were thinking it, but the shirt's saying it. Who doesn't want to be comforted by their favorite meal in the form of a sweatshirt?
Pizza Sweatshirt, $21, Etsy
Dog Cheeseboard
Every host has a great cheeseboard. Good luck to anyone ever topping your friend's cheeseboard game after they whip this out.
Scottie Cheese Board, $48, Anthropologie
Wine Soap
For your favorite wine-drinking friend, get some wine soap (which, yes, is literally soap made out of wine). Even if you know they're just going to put them on display in the bathroom and never use them, it's a neat idea — and they're artisanal!
Wine Soap Set, $28, UncommonGoods
Literary Scarf
It's punny and it's funny, but it's also pretty cute and functional. This passage features Jane Eyre.
Literary Scarf, $48, Uncommon Goods
Wine Pairing Towels
If you have a friend who really wants to be into wine but isn't quite there yet, this discrete chart will totally help them out when they're trying to impress guests.
Pairing Towels, $28, UncommonGoods
Comedy Book
In spirit of Gilmore Girls' revival, get your friend Lauren Graham's new book Talking as Fast as I Can.
Talking As Fast As I Can, $15, Amazon
Pizza Snow Tube
The perfect excuse to get the girls together to go sledding this winter. Plus it's in the shape of a pizza so it's already a winner no matter what. Plus, in the summer, she can use it as a pool float.
Donut Pajamas
This adorable pajama set is super cozy and a perfect gift considering the cold weather ahead. They're silly and they're soft — what's not to like?
Chill Out Pajamas, $35, Mod Cloth
Lava Lamp
Because who doesn't love lamp? Also, no friend would ever be expecting this nostalgic throw back. (Of course, the truth is, lava lamps are awesome and really bring an intense vibe to whatever room you put them in.)
S'mores Pillow
OK, maybe there's no dire need for anyone to have a plush s'mores pillow, but also why not? This cute fuzzy little guy will be perfect to cuddle up to on the couch or take with you on a plane.
Dwelt It Pillow, $45, Mod Cloth
Craft Beer Game
If your squad is looking for a new party game, this is it. It's easy, it's classic and you can learn from playing.
99 Bottles Scratch Off Chart, $35, Pop Chart Lab
Fiction Game
This is perfect for the writer or film buff in your life. They'll spend hours just looking at the graphics — plus, it makes some great low-key wall art if they choose to frame it.
Fiction Genres Plotting, $29, Pop Chart Lab
Cocktail Carry-On Kit
Some people love to have their favorite drinks while they're flying, but often, airlines only offer wines and simple mixers. For the person who can't live without their Bloody Mary, get them the mix kit so they can have it any time.
Carry On Cocktail Kit, $28, Pinkolive
Game Of Phones
Got a friend who literally won't ever get off the phone? Get them this phone centric game for a major reaction and a lot of back talking.
iPhone Game, $20, UncommonGoods
Mermaid Tail Blanket
Yes, we all want to be mermaids, and we all want to wear snuggies around our legs all the time. This gift easily covers both issues.
Mermaid Snuggie, $22, Amazon
Images: Pexels, Pop Chart Lab (2), UncommonGoods, Mod Cloth (5), Etsy, Urban Outfitters (2), Anthropologie, Pink Olive, Amazon (2)