21 Empowering Resolutions For A Better 2017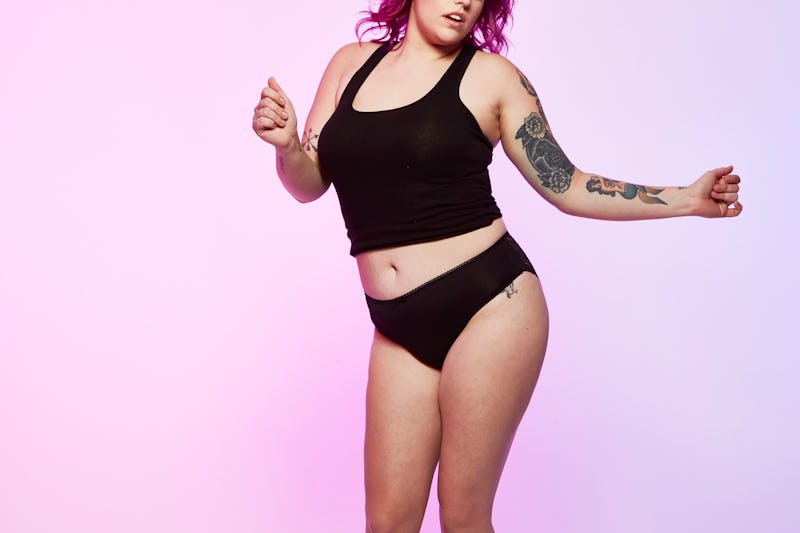 A new year, 2017, is finally around the corner, which means it is time to start thinking about resolutions. Of course, there are the ones you hear about every year: join a gym, eat healthier, cut something out of your diet... the list goes on. In a survey of 822 Bustle readers, 41 percent said they're resolving to lose weight or exercise more in 2017. But while these goals may be common, they aren't always the most empowering resolutions for 2017. In fact, 23 percent said that New Year's resolutions made them feel depressed, stressed out, or disappointed in themselves. So what are some inspiring resolutions that will actually lift you up?
Maybe you want something to change in 2017 — maybe you're looking for more balance in your life or to grow at work. Or possibly you need to challenge yourself to take care of yourself better. These resolutions below will take a deep dive into all of those changes, while not making you feel inadequate in the slightest. These small steps will make you feel so empowered that, well, you may even strut down the street humming Flawless.
But don't feel like you have to start all 21 of these resolutions at once; take your time with them! When Gretchen Rubin started The Happiness Project , she ended up setting resolutions for each month of the year instead of doing them all at once. Take a page from her book, and try these resolutions in small handfuls.
Psst! Check out the "You IRL" stream in the Bustle App for daily tips on how to have an empowering 2017 starting Jan. 1. Right now, tweet @bustle about how you plan to make 2017 the best year yet. Use the hashtag #2017IRL, and your tweet could be featured on our app.
It's extremely easy to hop into your list of resolutions feeling completely guilty about your previous year. That's probably the least empowering thing you could do. So before even getting started on that list, think about all that you achieved this year, the impact made, the struggles or failures you have seen (and how you may have overcome them), and even the crazy experiences you had, like winning Hamilton lottery tickets, or watching the Chicago Cubs win the World Series for the first time in 108 years. This will help you feel empowered, not only because you see the growth in yourself this year, but you'll also see what inspired you.
Take some time to reflect on one big goal you would like to achieve by this time next year. You know, the day when you sit back down to review all of your goals before setting new ones. What is that big something that you've always wanted to do, but never challenged yourself to do it? Personally, I want to write a short story and do more creative writing on a consistent basis. What do you want to achieve by next year?
It seems a bit silly since you're setting resolutions, but sometimes planning one big trip that you can look forward to will help you stay motivated in your daily life. For example, if you actually book that trip to Nashville that you and your girlfriends have been talking about for years, you will probably feel more inclined to be better about your money so that you can have a fun trip.
In 2015, Vogue published an article that challenged people to stay off their phones during the first and last 50 minutes of their day. The whole point is for the addictive phone user to take time every day to wake up and wind down, which can actually help to improve your sleep and start each day in a happier mood.
Sure, you may say that you check your phone in the mornings and evenings to stay up-to-date with the news, but that probably turns into mindless scrolling on social media, too. Instead, try creating a different routine. It could include journaling, yoga, and coffee in the mornings, while your nights could be spent finally diving into that book you've been dying to read.
Is there any skill you've been hoping to try after numerous hours of watching YouTube videos? Why not spend a few bucks and take a course that will teach you this skill? You could even Rory Gilmore the whole thing and take tap lessons. It could even help with anxiety.
Seeing yourself commit to something from start to finish is massively empowering. Whatever that may be, either a reading challenge or one of those Instagram challenges, you are able to see yourself tangibly achieving something after 30 days.
If you want to be the ultimate grown-ass woman, then it's time to start organizing your life. Go out and splurge on a cute planner from Paper Source or Anthropologie, or you could even download some of these organizing apps.
Reading books — or magazines or newspapers or newsletters, etc. — is actually great for your health. It can help improve your memory, reduce stress, and it may even be therapeutic. Try one of these important books from 2016 to start.
If reading more is one of your resolutions, then this is a great next step. Even though practically every publication has a digital outlet these days, a lot of the time those print versions will contain content that you've never seen. Give your favorite publication some love next year by subscribing to its print edition. The New York Times offers 50 percent off for your first 12 weeks, and other publications, such as Vogue and The New Yorker, are offering discounted monthly rates.
Are you a huge smoothie fan but don't have a blender yourself? It might be worth the purchase if you compare it to the amount of money you are spending on smoothies throughout the summer. For example, say you spend around $7 on a smoothie at least twice a week for six months out of the year. That's around $336. Wowza. Instead, if you buy this individual Ninja blender (which comes with a smoothie cup) for only $51, that gives you $285 of freedom for smoothie groceries.
On the topic of food, you could also seriously save some cash if you plan out your meals each week. This can force you to make healthier decisions simply by cooking your food in advance and not having to worry about what to eat during the week. To get you started, Cookie & Kate has some great steps for meal planning (and great vegan meals), and so does The Kitchn.
If you haven't heard of it, the capsule wardrobe is the ultimate chance for you to be a minimalist within the contents of your closet. Here's what you do: Pick out 30 to 40 clothing items, ones that will mix and match well such as pants, dresses, leggings, shoes, purses, coats, and accessories. After doing so, you are only allowed to use those items for three months. It may sound impossible, but this may actually help you to get ready every morning instead of standing in front of your closet with no idea what to wear... again.
If doing a capsule wardrobe isn't enough, try giving The Life Changing Magic of Tidying up by Marie Kondo a read. She is seriously empowering when it comes to getting rid of all your junk. No joke, I got rid of 16 bags of crap after reading her book.
While 2016 may have been a tough year, staying silent isn't the answer. Create an appropriate space that gives you the chance to speak up. Sure, Facebook rants feel good, but it's not making an ultimate change. Instead, get out there, talk to those hurting, and try to make a postive difference — whatever that may look like in your life.
Studies show that taking a small break and being outside for 15 minutes (especially in a natural setting) can actually decrease negative thoughts, while also giving you a full portion of Vitamin D for the day (aka sunshine). Having a daily amount of Vitamin D can protect you from multiple diseases and tragedies later on in life.
Channel your inner middle-schooler and break out those dear diary moments, because daily journaling can seriously help. According to a review published by the University of Rochester Medical Center, journaling can help you manage anxiety, reduce stress, cope with depression, prioritize problems and fears, track your bad habits, while also creating an opportunity for you to stay positive.
Still using the furniture and décor from your college dorm? This year is the year that you adult the crap out of your apartment. Try these nine simple DIY ideas to get you started.
Not only will you become that morning person you've always desired, but your daily life can seriously benefit from it. By waking up earlier and giving yourself time every morning to do what you need to do, you actually give yourself the chance to have a happier day, resulting in a happier life.
I'm sure you've heard this one way too many times, but it's actually super necessary. By drinking water not only are you improving your daily mood, but you are helping your immune system, kidneys, joints, and cartilage, while also giving yourself lots of energy. It may motivate you to drink more water if you get to sip out of a cute tumbler, like this one from Kate Spade.
It is very tempting to want to drink wine and hop on the couch every single night after work, because being an adult and making friends is hard. However, having a few close friends to grab coffee or brunch with on the weekend can actually help to improve your mood during the work week. Plus, by being supportive to those friends you love, you are able to be a beacon of hope in any level of despair they are feeling. And honestly, vice versa.
If Beyoncé can't make you feel empowered on the daily, then I have no idea what will.
Happy New Year!
Check out the "You IRL" stream in the Bustle App starting on January 1 for daily tips on how to have an empowering 2017.
Images: Hannah Burton/Bustle