'TWD's Negan & Carl Have A Complicated Bond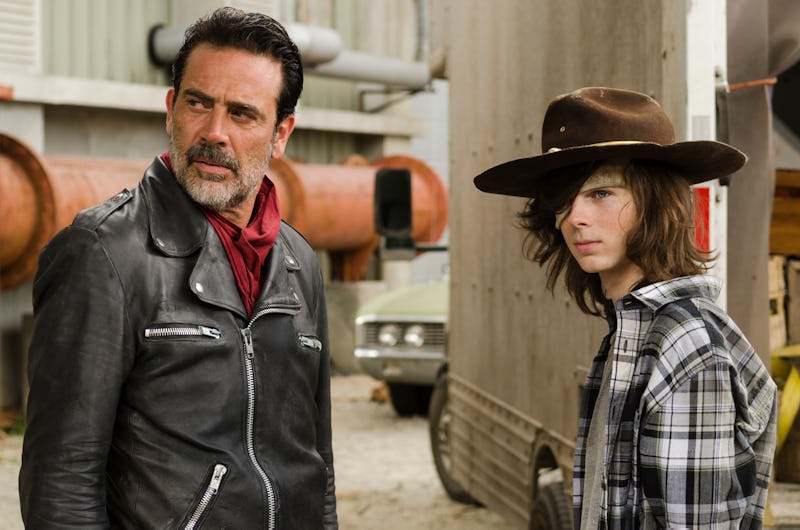 The Dec. 4 episode gave viewers just a glimpse at what Negan and Carl's relationship is like in The Walking Dead comics and so far, it seems like the next few seasons will closely stick to the source material in that sense. Everything in "Sing Me a Song," down to making Carl unwrap his eye bandage and sing "You Are My Sunshine," was taken right from the comics. And if you thought that interaction was weird and uncomfortable, start bracing yourself now, because their dynamic will only get stranger.
Of course, we can only speculate on how exactly the AMC series will adapt future storylines from the comics, but it tends to go off-script when we're least expecting it. For example, the horrifying double deaths at the beginning of the season were a way of switching things up, as in the comics, Negan only kills Glenn (because Abraham is already dead by then). However, Jeffrey Dean Morgan recently said during an Aol BUILD talk that he hopes the show will explore the comics' take on Negan and Carl's relationship. "It'll be interesting to see if we play that out on the show at all," he said, adding, "but that was always something that I looked at as a reader and fan of the graphic novel that I would really like to approach in the show."
In the comics, Carl is constantly hoping to kill Negan, while Negan is convinced there's a special bond between them. It was clear from the Dec. 4 episode that Negan has something of a soft spot for Carl because of his fearlessness and the fact that he's a smart, tough kid who's been through a lot. Maybe he sees a little bit of himself in Carl and thinks there's a chance of a friendship or pseudo-father/son relationship. Spoiler alert: Carl does not agree with that sentiment.
Without giving a play-by-play of all of every interaction, sometimes Negan puts Carl back in his place when he tries to kill him, but other times, like when Carl unwrapped his eye and started crying, you can see a very different side of Negan. There is one moment in the comics that sums up their relationship pretty well. After the war is over and Rick has put Negan in jail, Carl often visits him to talk about his life. At the end of one of their talks, Negan asks Carl if he still wants to kill him. Carl says, "You know I do," and Negan gets genuinely (well, as genuine as Negan can be) offended because he thought they were friends. Basically, their dynamic is all over the place, with Carl never considering Negan his friend, but going to him for these talks nonetheless.
I think this relationship is crucial part of the comics and deserves to be adapted to television. It's going to get real old, real fast if Negan is just a murderer on a rampage who isn't given depth beyond that. There have to be moments in the future that make Walking Dead viewers see Negan as a real person, if even for a second, and his contentious bond with Carl would definitely accomplish that.
Images: Gene Page/AMC; DailyTWDgifs/Tumblr (2)