Kylie's 2016 Holiday Collection Might Not Be Back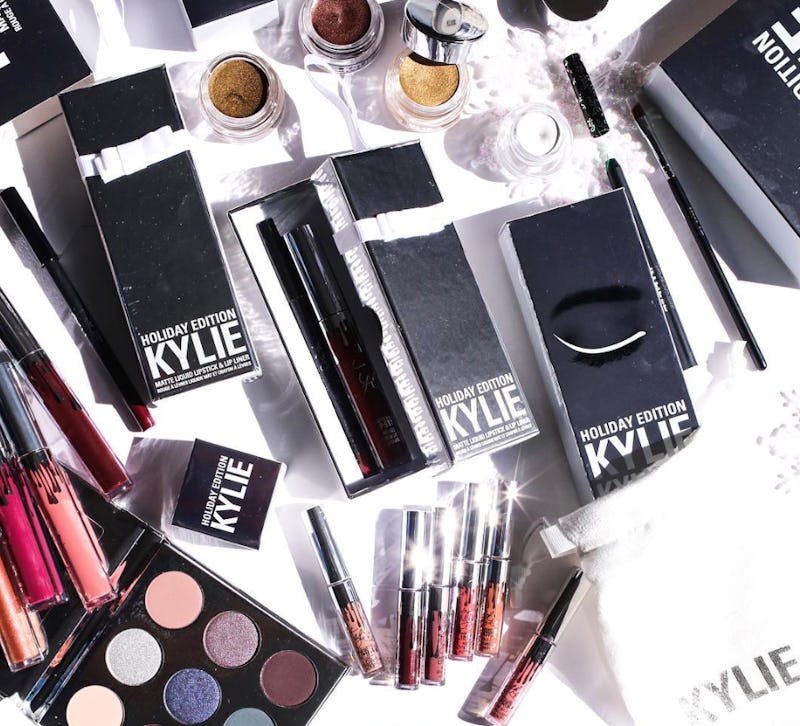 It's back... but for how long? Kylie Cosmetics restocked the entire 2016 Holiday Collection on Thursday, Dec. 8. Her Kylie pop-up shop in California also opens on Friday, Dec. 9. However, if you don't live in So Cal and you can't experience the Kylie Cosmetics pop-up shop IRL, you're relying on the Kylie Cosmetics site to purchase the silver-packaged, limited edition holiday set. Several items in the restock have already sold out, but there's plenty of product available as of press time, including the bundles, the white stocking, and more. But will the Kylie Cosmetics 2016 Holiday Edition Collection be restocked again?
Well, it's not looking likely, Kylie-philes. On the Kylie Cosmetics site, the brand states that the Holiday Edition is back while supplies last. That suggests that the last of the stock has been replenished and put on sale and once it sells out, it's gone for good. That said, the brand is all about holiday surprises. Plus, the Kylie Cosmetics Birthday Edition Collection, which was gold-dipped and featured tons of new products, enjoyed a final encore a few weeks after its final restock. So, there is some hope to which you can cling.
Below is the screen grab from the Kylie site, noting that Holiday 2016 is back "while supplies last."
Creme shadows, a new palette, fresh Lip Kits, glosses, and more are part of the collection.
Here is the screen grab from the email blast I received from Kylie Cosmetics mailing list on Dec. 8, as well. It says "Last Chance" and that sounds final.
Jenner really beefed up her repertoire of products in her 2016 Holiday Edition Collection.
The Kylie Cosmetics Lipstick Vault was one of the biggest and most awesome surprises during a season of surprises for customers.
With limited edition products, freebies, shipping discounts, and more, Kylie Cosmetics went all out to celebrate the holidays. Grab some of the 2016 Holiday Edition before it's gone for good. Or at least before a surprise, post-holiday restock, which is entirely possible because it happened with the Birthday Edition Collection.
Images: Kylie Cosmetics/Instagram (3)