Here's How To Enter ColourPop's Cute Swag Giveaway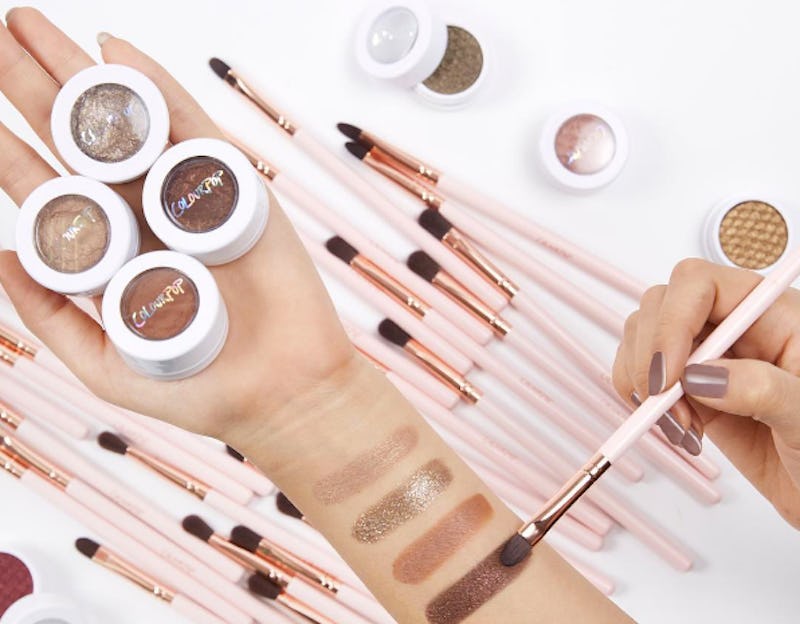 If you thought the news about ColourPop creating makeup brushes was big, then just wait until you hear this. In honor of the new launch, the company created a huge giveaway that will give you everything you need for the upcoming brush launch. Think all the shadows you could possibly need sitting in your makeup drawer. How do you entire ColourPop's Cutie Swag Giveaway? They're doing things a little differently, so here's what you need to know.
Just imagine having every single shade of ColourPop shadows. Well, it could just become a reality. According to the website, the company's latest giveaway is giving one lucky winner the entire existing eyeshadow collection. I'm talking every single color. That's a lot of product, people!
There's just one catch — this isn't your typical ColourPop giveaway. Instead of doing an Instagram repost or tagging a certain number of friends, they've decided to switch things up. All you have to do is go to the ColourPop website and click on the little smiley face at the bottom left corner of the page. That will take you to a submission page where you fill in your name and email address. You have until Dec. 9 at 8:30pm EST to enter. It really doesn't get much easier than this!
While the page will only give you one submission, there's a way to gain more. First, you can up your chances by adding the email address of the friend that referred you. Once you submit, you'll have to go to your email and confirm your subscription. That will lead to a page where you can refer friends as well. The more of your friends that sign up, the higher your chances are at winning.
From the looks of the page, it seems like this is the way ColourPop giveaways will be from now on. The page says that you'll be able to click the link every day to see new giveaways. It doesn't say exactly when the gifts will end or what they are, but it's still pretty darn exciting.
You never know what this brand will do next, and their latest giveaway is proof. If the next Cutie Swag setups are this good, then fans are in for quite the exciting season of giving. So what are you waiting for? Go sign up before it's too late!
Images: ColourPop/Instagram (1)