Act Fast To Get A Free Gloss From Kylie Cosmetics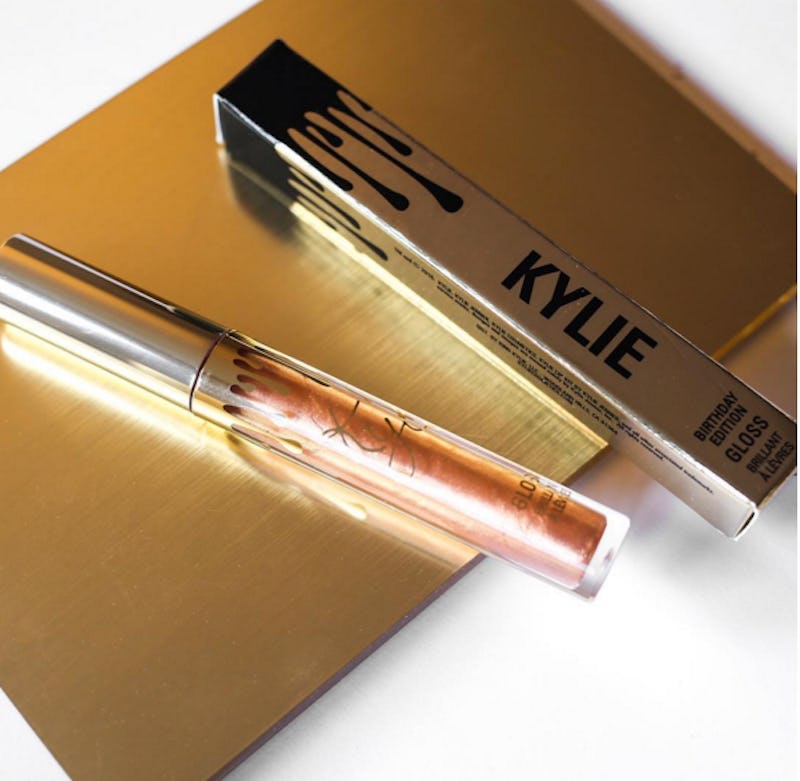 Those who were able to attend the Kylie Cosmetics Pop-Up Shop opening were in for quite the treat. But, folks who couldn't make it to the IRL location were left feeling just a tad resentful about the whole thing. That can't just be me, right? So, you're going to want to find out how to get a free gloss from Kylie Cosmetics so you can feel a little bit more cheerful this season.
According to the Kylie Cosmetics Instagram account, the site will offer a free Poppin' Gloss from the limited edition Birthday Bundle while supplies last. You know, just as a way to treat online customers, as well. Now, you don't have to feel too left out! Kylie Jenner was thinking about the rest of us with this very special offer, as well as by launching an online Kylie Shop for our purchasing pleasure. Seeing as how several items from the limited edition Holiday Collection were still up for grabs at the time of publication, this whole free lip gloss with purchase thing makes buying from the site even easier!
This is part of her 12 Days of Christmas promo, and today's deal marks Day Ten. There are still a couple more opportunities to score amazing offers, so be on the lookout. Because if you're like me, you're bound to need major retail therapy after missing out on an IRL shopping experience!
Thank goodness there's a treat for the virtual customers!
Especially since, you know, not everyone could make it to this event.
But who wants to stand in line anyways? *Wipes tears* I'll just shop from the comfort of my home, thank you very much.
Most of the holiday lippies are still up for grabs on the site, so I'll just go ahead and help myself to a few of those.
Jolly Gloss, $15, Kylie Cosmetics
I'm sure to feel more jolly after adding the Jolly Gloss to my cart, right? It's certainly worth a try!
You're bound to have a merrier Christmas, all thanks to this promotion.
It's hard to resist a purchase! According to the brand's Instagram, this offer is available while supplies last so be sure to take advantage while you can!
Image: Courtesy Kylie Cosmetics (1); Courtesy Kylie Cosmetics (1)