Here Are The Deets On ColourPop's New Brushes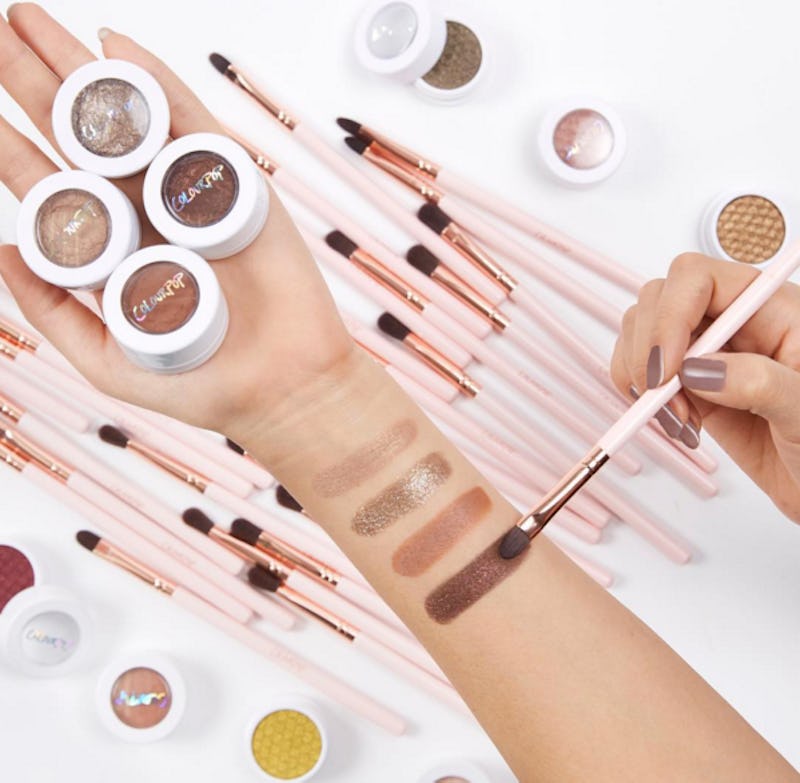 Just when I think I can't love ColourPop any more than I already do, they go and drop even more surprises. When you shop while supplies last, you can add eye shadows to your cart and get brushes for free. So, what are the ColourPop brushes? It's time to find out exactly what you're getting with these new products.
According to the brand's Snapchat, customers are always asking how they should apply ColourPop Super Shock Shadows. While I like to use my finger to pack on the pigments, like they recommend on their website, they've also created some bristles to help you get the job done. There are two eye shadow brushes that will allow for flawless application.
They explained why these two tools are the only ones you'll need to amp up your shadow game on the ColourPop Snapchat account. There's a fluffy Blending Brush that's great for sweeping on product and blending it to perfection. Then, there's the Shader Brush that's made to pack color onto the lid and provide precise payoff in the crease or at the edge of the eyelid. These items are vegan and have a pink handle complete with a rose gold tip. So, when they said these were everything you'd need in your makeup collection — they meant it!
Leave it to ColourPop to help you complete your beauty routine.
The Shader Brush has a sharper edge and firm bristles that will make it easy to apply color right where you want it.
Going for bold look? This tool will give it to you.
Then, there's the Blending Brush. Once you've applied color with the Shader, you can go in and make sure the edges are clean with this little guy. Or, you can use it on it's own for a more subtle color payoff.
The rose gold finishes and the fact that the utensils are vegan make them pretty hard to say no to.
Be sure to take advantage of this promo. The brushes aren't available for purchase on the site just yet, so the only way to get your hands on them is by shopping eye products and scoring them for free in the process.
I mean, that's not a bad deal, right? These are a match made in eye shadow heaven, after all.
Images: colourpopcosmetics/Instagram (1); ColourPopCo/Snapchat (5)