Stephanie Wrote A 'Fuller House' Song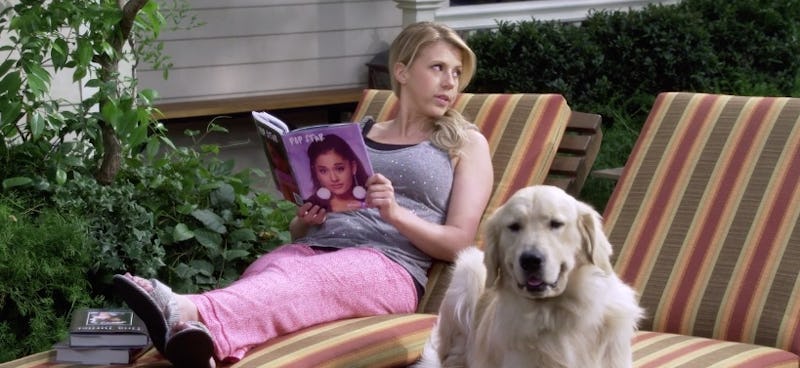 Fans saw Stephanie dance and sing in the original Full House series, and now, in Fuller House, Stephanie sings the song, "The Boy Next Door." SPOILERS ahead. In addition to being catchy and cute (it's about her BF Jimmy Gibbler), it's exciting to see her living out her musical dreams. In Season 1, Stephanie revealed that she was a DJ (DJ Tanner, to be specific), and that she wanted to continue her musical dreams in San Francisco while staying close to home to help her sister out (the real D.J. Tanner). In Season 2, her tune proved that her success in that industry is totally possible. The song was really good, so if you want to listen to or buy "The Boy Next Door" from Fuller House, I have a way (several, actually) for that to happen.
Jodie Sweetin's version of the song is available for purchase on Amazon and iTunes. It's also available on Spotify for all your listening needs. You can also check out the cheesy music video that goes with it at about 15:28 in Episode 8, or go to 23:47 to watch the Kimmy-fied version.
And, if you were wondering just what those catchy lyrics are, I've collected the sweet words here:
Used to think I was unlucky in love,Lonely days what my nights were made of.Broken hearts and lots of empty wishes,Tired of wasting all of my best kisses.Opposites attract, perfectly mismatched.We were black and white, now it seems so right.Hey, hey, the boy next door, You could be the love I've searched everywhere for.Hey, hey, the boy next door,Who'd have ever thought it'd be him I would adore?Ooh, the boy next door.
Stephanie may not like Kimmy that much, but she and Jimmy are meant to be — just listen to those lyrics. It's true love.
Images: Netflix; Amazon