Revolve Has Some Beauty-Related Surprises In Store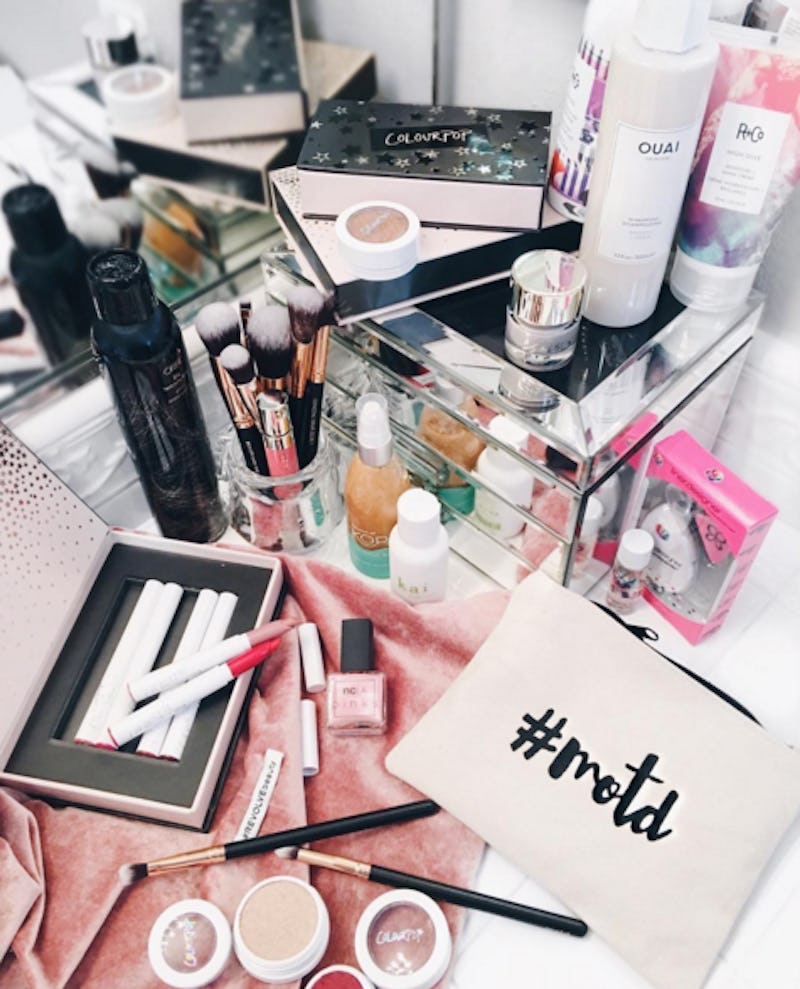 Your favorite online retailer just got a major makeover. And trust me, you're going to want to open up a tab and get to shopping, immediately. Because if you don't already have presents for every makeup-loving pal on your list, well, get ready to consider your gift-buying complete. Can you buy beauty products at Revolve? Umm, yes. So, my next question: who's ready for a spa night?
Treat yourself to nail polish, skincare, makeup and more when you head over to the Revolve site. Because you guessed it — this online store is now selling more than just wardrobe essentials. The newly added beauty section contains an array of perfectly curated items that you're going to love. The retailer is carrying brands and goods that you're familiar with, but they also have some super cool exclusive items.
For example, you'll find exclusive ColourPop eye palettes, lip kits, and a highlighter/bronzer set, and items from Onomie, all retailing only at Revolve, according to a press release. So, get ready to stock up on items you're running low on, as well as fill your cabinet with makeup goodies you've never tried before. Do they know how to make a girl feel special this holiday season or what? New must-haves for my top shelf? Don't mind if I do! Thanks, Revolve!
Is this major vanity goals or what? Well, now yours can look like this, too, courtesy of Revolve Beauty.
ColourPop X Revolve Eye Shadow Kit, $30, Revolve
Cool-toned neutrals to deep warm plums, all in one eye shadow set? Looks like this duo has your makeup needs sorted.
Onomie Powerful Priming Serum, $50, Revolve
This little baby will work wonders for your skin. Not only will it have your face prepped for makeup application, it'll also gently exfoliate the skin to give you a natural glow.
Kopari Coconut Body Milk, $30, Revolve
Now that cold weather is here to stay, you're going to need some intense moisturization. For a lotion that's lightweight, but sure to keep skin hydrated, look no further!
anese.co Bless This Mess Soothing Body & Hair Elixir, $26, Revolve
This mist will help revitalize dry skin and hair to get you feeling amazing, even on your dullest of days.
Stila Stay All Day, Sparkle All Night Lippie Set, $39, Revolve
A liquid lip set that contains rich pigment along with a glittery top coat is just what you need to find in your stocking! Who says you can't play Santa to yourself, after all?
Lux Vegan Essential Brush Set, $75, Revolve
For flawless makeup application, you've got to have the best tools on-hand. This fancy-looking eye and face brush set has everything you need to get glam in no time!
What are you waiting for? Make Revolve your one-stop shop for beauty products and more this season.
Images: revolve/Instagram (1); Courtesy Revolve (6)