These Holiday Potluck Recipes Will Wow Everyone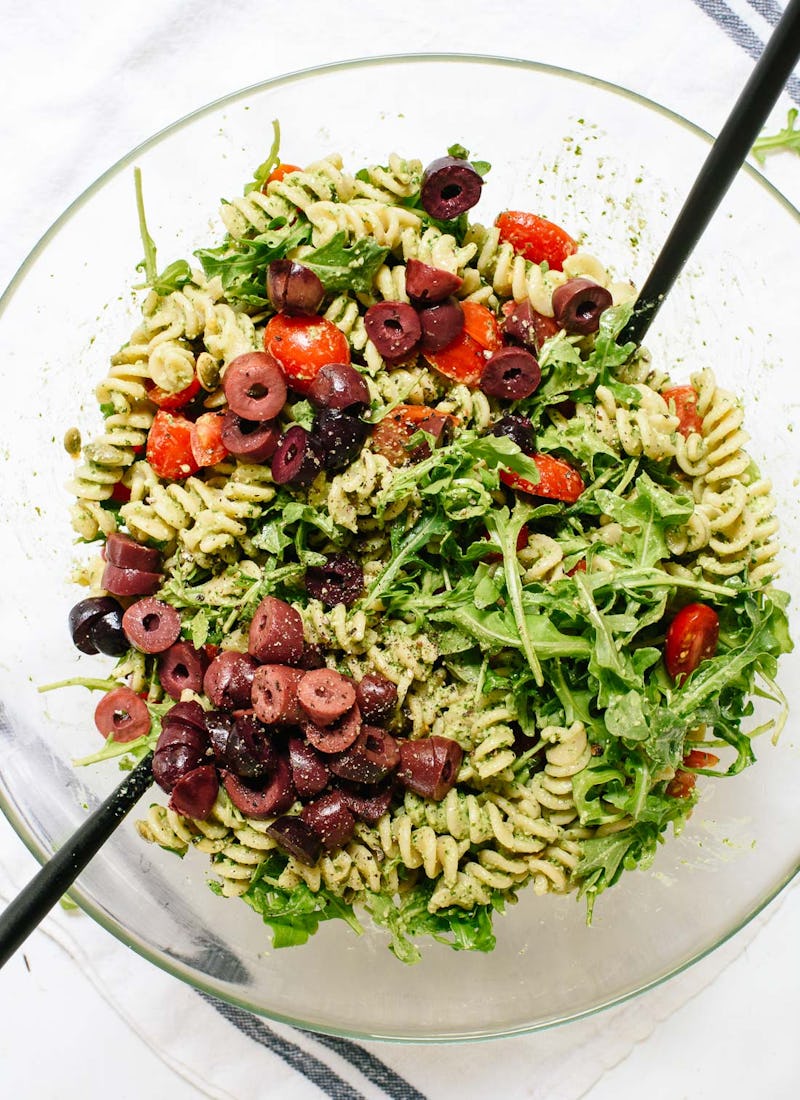 Holiday potlucks can be so tricky to navigate, y'all. I once went to a potluck dinner where there were only mysterious, gray foods in casserole dishes. There were zero proteins, drinks, or desserts — which is all to say the dinner was a total bust. If you're hosting a potluck this holiday season, be sure to ask your friends what they're planning to bring so you can prepare a few other items in advance. If you're attending a potluck, bringing one of these delicious holiday potluck recipes is a surefire way to be the most popular guest in the room.
And, if you don't have any potlucks on your holiday party schedule just yet, consider throwing one yourself. Potlucks are actually a great way to host a party for your friends this holiday season without going broke because everyone proverbially (and literally) brings something to the table. They're also great because you get an eclectic mix of foods (ranging from pizza to cupcakes) and, well, who doesn't love that? No one I want to be friends with, that's who.
If you're stumped on what dish to bring to bring to your next holiday get-together, try one of these delicious holiday potluck recipes that everyone will love.
1. Peanut Butter Blossom Cookies
It isn't the holidays until I've had one (OK, six) of these cookies from Table for Two.
2. Creamy Cheesy Potatoes
These Creamy Cheesy Potatoes from The Kitchn are the ultimate winter comfort food.
3. Brussel Sprouts That Don't Taste Healthy
OK, be the responsible one and bring these healthy brussel sprouts from I Am A Food Blog to the potluck.
4. A Wintery Mocktail
This pomegranate, lime, and ginger mocktail from Offbeat + Inspired can easily be made in batches for your next get-together (and you can totally add in some vodka to make it a cocktail).
5. Rhubarb Linzer Cookies
These Rhubarb Linzer Cookies from My Name Is Yeh are so stinkin' cute.
6. A Vegan Dip
This Vegan Kale and Artichoke Dip from Love and Lemons is made with chickpeas for an extra kick of protein.
7. A Pasta Salad
Pesto and olives take this pasta salad from Cookie and Kate to the next level.
8. Simple Deviled Eggs
The Comfort of Cooking puts a twist on classic deviled eggs with bacon, chives and sour cream. Mmm.
9. Strawberry Nutella Pull-Apart Bread
Go ahead, get your hands a little dirty with this decadent pull-apart bread from What's Cooking, Love?
10. Chicken That's Flavorful AF
This Lemongrass Chicken from Nom Nom Paleo is made in a pressure cooker, so it only takes 30 minutes and packs incredible flavor.
11. Next-Level S'Mores
These Salted Caramel S'mores from The Simple, Sweet Life are, well, simple and delicious. Need I really say more?
12. Swoodles
These Crispy Swoodles with Bacon from Nom Nom Paleo are the perfect balance of sweet and salty. And you should also make them because it's fun to say "swoodles".
13. A Healthy/Comforting Casserole
Cookie and Kate nails the whole healthy comfort food thing here with this Better Broccoli Casserole.
14. Raspberry Lemonade Prosecco
These festive cocktails from Endless Simmer can be made in big batches, and you can switch out the raspberry lemonade for other juices if you'd like.
15. Mac And Cheese That's Not From A Box
Because no party is complete without mac and cheese — especially this version from Savory Sweet Life with bacon and gruyere.
16. Cookies!
These Red Velvet Cream Cheese Thumbprints from Something Swanky look ridiculously good, and I want to inhale 12 of them right now.
17. These Delicious Vegetables
Try these Winter Skillet Vegetables from Whitney Bond.
Images: Table For Two; The Kitchn; I Am A Food Blog; Offbeat + Inspired; My Name Is Yeh; Love And Lemons; Cookie + Kate (2); The Comfort Of Cooking; What's Cooking, Love?; Nom Nom Paleo (2); The Simple, Sweet Life; Endless Simmer; Savory Sweet Life; Something Swanky; Whitney Bond