You Can Now Buy Glossier's Black Tie Products Solo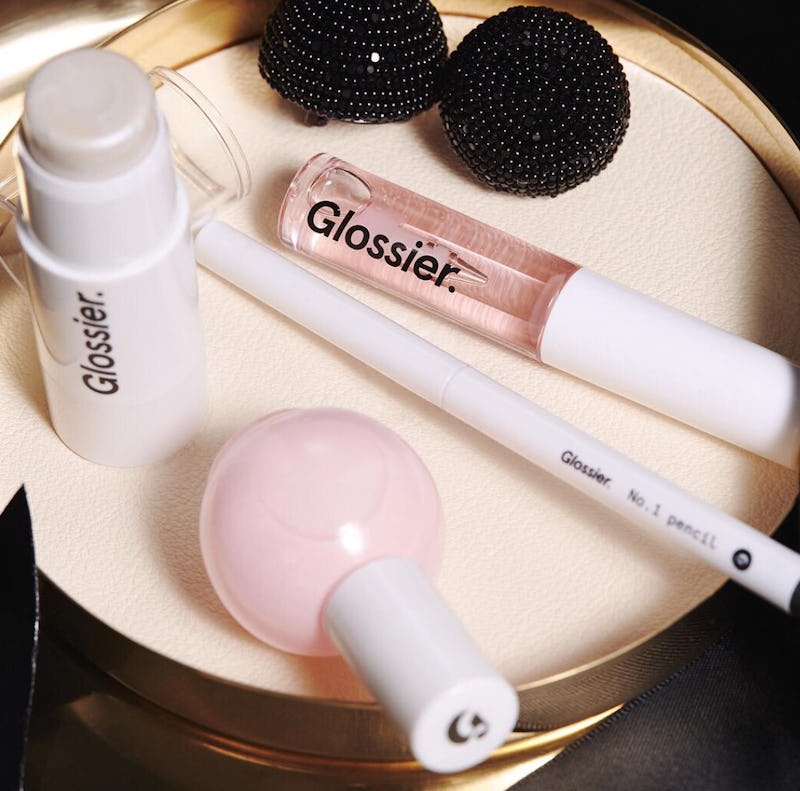 You asked, they answered! Previously, the items in Glossier's Black Tie Set — comprised of all new products, including a pink polish, black eyeliner, pink gloss, and a new Haloscope highlighter shade — were available for purchase solely as a set for $50. The Black Tie Set includes a black satin bow that can be repurposed as a decoration or a hair tie! But what about fans that maybe didn't want the highlighter or only coveted the gloss and polish? Well, customers had to buy the entire limited edition set to get the products they desired. But what about now? Can you buy Glossier's gloss, eyeliner, polish, and highlighter individually, rather than as part of the complete Black Tie Set?
The status of the Black Tie Set has changed. Yes, all four of the offerings are now sold on their own. Glossier even noted in an Instagram post that its devotees and fans asked for these pretty products to be made available a la carte, so the brand then answered the call. If you simply want to slick your pout with glassy shine, grab the gloss. If your are magnetically attracted to the eyeliner, snag one or two. If the pale pink polish is too pretty to pass up, scoop up a bottle.
While the Haloscope highlighter is a new shade of an existing product, the gloss, eyeliner, and lacquer were all brand new and marked the first time the brand created products in those categories.
No. 1 Pencil, $16, Glossier
It's a shimmery graphite... perfect for smoking out and triply lining your eyes. Gray all day.
Nail Polish, $12, Glossier
"Glossier Pink" has been bottled and transformed for your digits, complete with a wide contour brush. Expect a ladylike mani and pedi with this shade.
It's glossy AF and loaded with moisturizing Vitamin E. Move over, mega mattes. Gloss is on the comeback trail.
Moonstone Haloscope Highlighter, $22, Glossier
The Haloscopes are permanent, but this white hot shade is limited edition. Glaze, glow, 'n' go.
The entire Black Tie Set is certainly economical. You get four lovely, minimalist products at a great price. But if you only covet one of the items, you can now buy them on their own. As a set, Glossier Black Tie is $50. Each product on their own adds up to $64. It's up to you and your budget how you want to shop these items most effectively.
Images: Glossier/Instagram (1); Courtesy of Glossier (6)