11 Glitter-Free Holiday Makeup Tutorials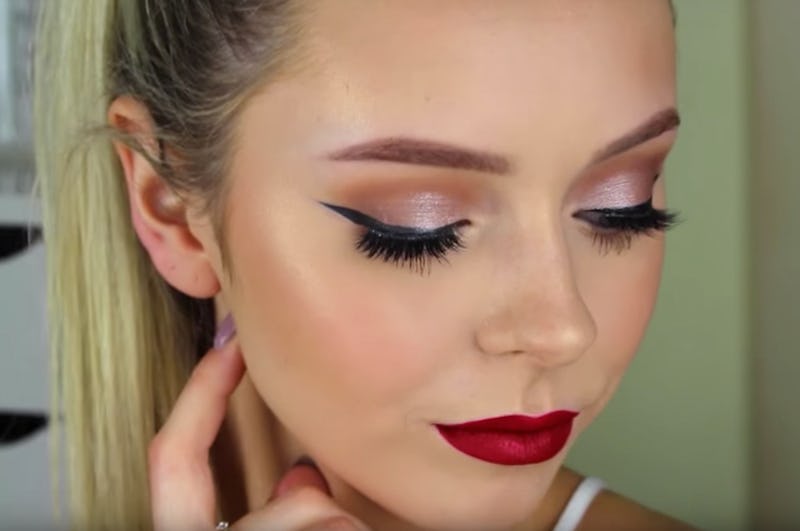 Every season has its makeup clichés— summer time is all about that dewy glow, you couldn't do fall glam without deep hues, and glitter everything is essential during the holidays. If glitz isn't your thing, there are holiday makeup tutorials that take glitter shadows and liners completely out of the equation without sacrificing their festive flair.
It's not that there's anything wrong with packing your face with a thousand sparkling specs. Truth be told, there's just something about glitter holiday makeup that brings out the cheerful spirit this time of year. Plus, twinkling like Christmas lights from your lids on down to your pout is guaranteed to make anyone stand out in the best way during a party.
However, not every makeup lover is glitter obsessed, however. Come holiday season, scoping out a beauty tutorial that doesn't include the least bit of sparkle is nearly impossible. Still, it can be done, perfect for beauty fanatics on the hunt for last-minute party makeup or looks that showcase smoky eyes and creative liner work.
If all of the sparkle has you feeling a tad overwhelmed, check out these 11 tutorials that slay holiday looks without reaching for for the ever-popular glitter products.
1. Quick And Subtle
Although the holiday season is the perfect time to try out ultra glam makeup, your look doesn't have to be over-the-top to be a head turner. Stephanie Ledda's quick and easy tutorial features a soft glow, doll-like eyes, and a light cranberry lipstick for a toned down aesthetic. No glitter in sight and yet, it's still so right.
2. Classic Red Lips
CosmobyHaley's how-to pairs a neutral eye with bold red lips. Although her shadow and lippie have a sheen, don't mistake it for glitter. Metallic and shimmer finishes give you the same sparkle without being glittery.
3. Candy Cane Liner
Tune into Angel Bright's candy cane eyeliner tutorial for a party look that'll satisfy your sweet tooth. Let your liner be the real star of the show by complimenting it with subtle makeup.
4. Super Smoky
Calling all drama queens. A combo like RawBeautyKristi's black and red smoky eye makes for a dramatic face that's too gorgeous for words.
5. Cool Toned
Ellaire's party makeup proves that silver doesn't just come in glitter form. A shimmering cool gray shadow or duochrome pigment has the same glitzy effect without the mess that often comes along with using loose glitter.
6. Cranberry And Nude Lips
Stepping away from two holiday makeup clichés, glitter and red lips, Ryan Potter's tutorial features cranberry eyeshadow and a flesh toned lippie. Deep burgundies add a perfect touch of color to an otherwise neutral smoky eye, and the nude lip balances out the sultry eyes without competing with them.
7. Red And Green Eyeshadow
MannyMUA's holiday makeup makes copper and emerald shadows the key players for the ultimate Christmas look. Paired with dramatic falsies, the eyes really pop.
8. Cool Toned Smoky Eye
MakeupD0ll's drugstore tutorial puts a spin on traditional holiday makeup by opting for a cool smoky eye. It may not be the warm brown, reds, and gold shadow we're so used to seeing this time of year, but it competes with the best of them.
9. Everyday Glow
Kryssartt's get the glow how-to replaces glitter with a dazzling highlighter. Using soft gold shimmer, she achieves a subtle glow for an everyday makeup look that goes beyond the holidays.
10. Unique Liner
Naomi Jonzeck's holiday glam puts funky liner to good use. Complementing deep red lips with a green liquid lipstick for liner, she makes the Christmas staple colors look so darn dreamy.
11. Bold Lips
Jbunzie's unique holiday tutorial switches things up in a major way. Instead of going with a traditional lip color, she paints on a bold, metallic green lippie to offset neutral eyes. Glitter isn't the only way to stand out, after all.
A little glitter never hurt anyone. But just in case you can't be bothered with adhering a bunch of loose sparkle to your face, these alternative holiday looks prove there are ways around it that are equally as stunning.
Images: SMLx0, CosmobyHaley, Angel Bright, RawBeautyKristi, Ellaire, Ryan Potter, MannyMUA, MakeupD0ll, Kryssartt, Naomi Jonzeck, Jbunzie/YouTube (11)