Hate Your Flat Iron? This Brush Straightens Hair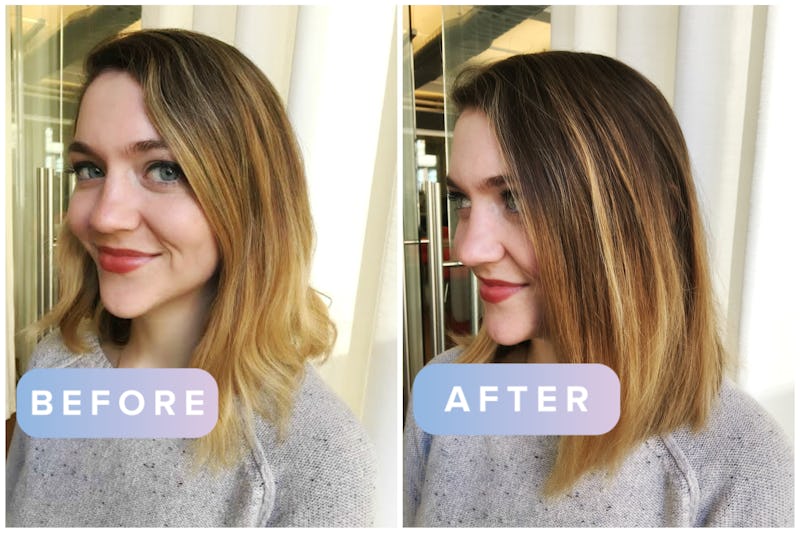 I rarely straighten my thick, wavy, prone-to-fly-aways hair anymore. Not because I don't enjoy having silky hair that blows in the wind like a shampoo commercial, but because I like having that extra hour to live my life without flat iron-induced hand cramps. When I heard there was a multitasking hair brush straightener on Amazon that straightens hair as you brush it, I was skeptical. But curiosity peaked, I checked out some hair straightening brush reviews — these straightener brushes weren't kidding around.
When Sharon Rabi, founder of the Dafni ceramic straightening brush, stopped by the office for an in-person tutorial, I was pretty excited to see the brush in action. Rabi has one of the first-ever hair straightening brushes, which she developed as an engineering graduate and — having long, thick hair herself — a sympathizer of straightening struggles. This straightening brush she invented is different from others in that it speedily heats up in 60 seconds, it's ten times as powerful as the average flat iron, and it's got seven times the surface area, making straight hair as simple as a once-over with the brush.
If that's not enough to immediately convince you of this brush's seemingly magic powers, take a look at how the Dafni straightening brush worked for my shoulder-length, fairly thick hair.
The Dafni Ceramic Straightening Brush:
DAFNI The Original Hair Straightening Ceramic Brush , $120, Amazon
I plugged in the corded hairbrush and turned it on. It quickly heated up to 365 degrees in 60 seconds; its red power button turning green as it did so.
It felt a little heavy as I ran it through my shoulder-length hair, but not having to continuously clamp it down as I would a flat iron really did make a difference in comfort and ease. Plus, it actually did cut straightening time in half — it went from my usual 20 minutes to less than ten.
It was a little more effort than simply running a brush through my hair, as I had to slowly pull sections through the heated ceramic bristles, but the results were totally worth it.
To keep my hair protected from heat damage while styling, I prefer to spray on a thermal protectant, like Art Naturals Thermal Hair Protector. It uses natural oils and extracts (such as rosemary, peach, thyme, sage, and more) to condition hair and keep heat styling and sun exposure from damaging it.
Then to ensure your second-day hair's as great as the first, try a little flexible hold styling spray once you're done with the ceramic brush. Kenra Platinum Working Spray is a great option to try, if you want to add a little shine while still keeping that brushable hold intact. The formula is engineered to add a little texture and volume, as well, so if you struggle with flat next-day hair, this spray's your friend.
Art Naturals Thermal Hair Protector, $11, Amazon; Kenra Platinum Working Spray, $14, Amazon
Bustle may receive a portion of sales from products purchased from this article, which was created independently from Bustle's editorial and sales departments.