What's In Kylie Cosmetics Limited Edition Bundles?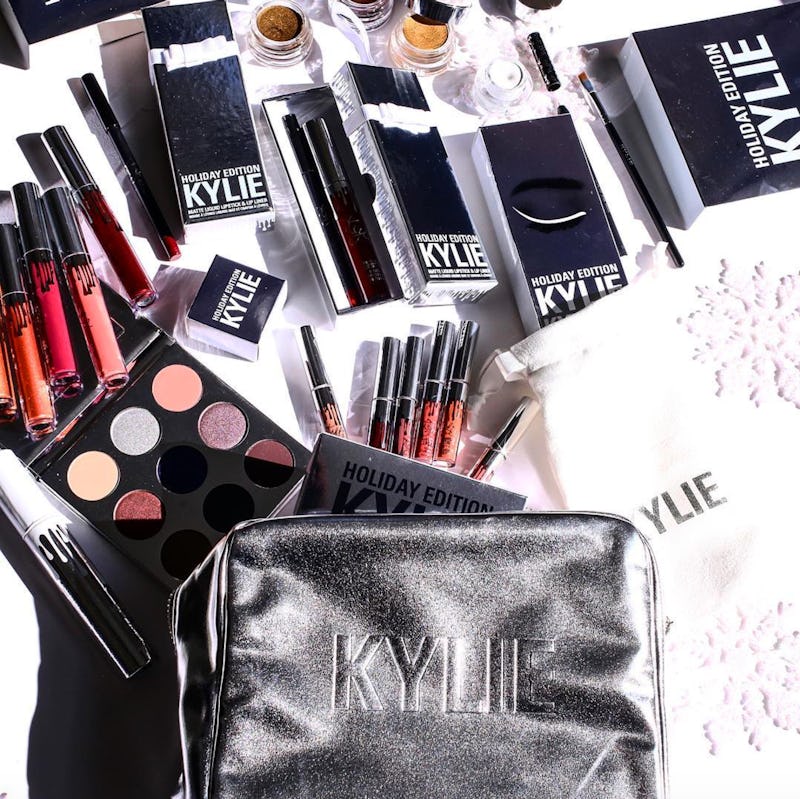 If you're a fan of Kylie Cosmetics, you've probably been rabidly following the 12 Days of Christmas rollout. Well, the last day is (sadly) here, with one last new promo. So, what are the Kylie Cosmetics Limited Edition Bundles? The name itself is a little on the vague side — what exactly are you getting when you purchase one?
Well, it's actually pretty exciting — you see, the two new bundles come with the opportunity to nab some previously sold out/soon-to-be sold out items for yourself, which we all know is quite a coup when it comes to Kylie Cosmetics. Things are already hard enough to get ahold of in the first place, and when it comes to the brand's limited edition stuff? Well, it's pretty much game over.
The Limited Edition Bundles promo includes two new bundles of favorites like the Holiday Must-Haves Bundle (which retails for $125 and includes a Merry Lip Kit, a Vixen Lip Kit, 3 Creme Shadows, 1 Five-Piece Brush Set, 1 Silver Makeup Bag, 1 Pom-Pom Keychain, and 1 Holiday Stocking), as well as her equally well-curated Fan Favorites Bundle (which retails for $150 and includes 1 Kristen Lip Kit, 1 KoKo Lipkit, 1 Literally Lip Gloss, 1 Bronze Kyshadow Palette, 1 Kyliner Kit in Black, 1 Five-Piece Brush Set, 1 Black Makeup Bag, and 1 Dripping Lips Keychain).
The only downside to the bundles? Well, it'll be tough to choose just one. The Holiday Must-Haves Bundle is pretty darn covetable, after all — and the Fan Favorites Bundle might be even more splurge-worthy, if that's even possible.
The exciting new offer launched today at 10:00 a.m. PST, and it probably won't be around for long. Past deals have included everything from major giveaways, to free makeup brushes, to adorable pom-pom keychains.
What do you think of the last day of the 12 Days of Christmas? Everything you'd ever hoped for? If you weren't able to make it out the the Kylie Pop-Up Shop, it's definitely a pretty good consolation prize.
Images: kyliecosmetics/Instagram